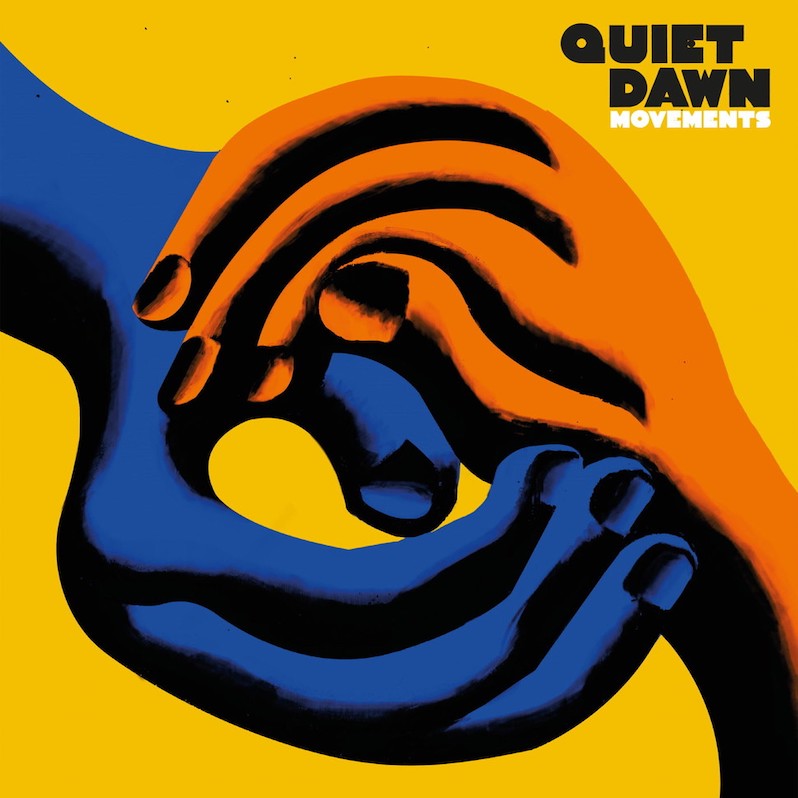 Rhythm is everything. "Lively Up Yourself" is what Bob said back in the day, right? In these times, damn if that ain't the triple truth, Ruth. In previous efforts, French producer Will Galland, who records and performs under the name Quiet Dawn, would arrange his hip-hop, house and broken beat compositions with some type of detailed narrative; Using the Fender Rhodes as a protagonist and set up the diligent string chart moving over the top of his synths melodies like a scene from an outdoor nature show displaying the tendencies and behaviors of the Luna Wolf.
I dig Galland. He's always interesting and proficient, but sometimes just a tad heady. After the birth of his Son, he took the proper time to get back into making music. "I wanted to compose something without concept, unlike my previous records, just because time is precious and I wanted to find pleasure again when I compose and not be fixed to a concept, or a story" he says in a press release.
Then his storied imprint, First Word Records, Label of the Year by the highly influential Gilles Peterson Worldwide Awards in 2019, threw one of their infamous birthday party get downs at the landmark Total Refreshment Centre. TRC has been a pivotal contributor and incubator for music and culture in London over the past ten years. Game-changing bands who put London on the map, pushing that new jazz movement detail—such as Sons of Kemet, The Comet Is Coming, Neue Grafik Ensemble, Alabaster Deplume, Binker and Moses, Vels Trio, Makaya McCraven and more—have all recorded there. Historic energy up in the place.
Add to all of that, Galland playing at the function alongside label-mates Kaidi Tatham—a steadfast agitator moving Broken Beat forward by pushing soul and space through electronic rhythms close to thirty years without compromise—and Children of Zeus the quintessential soulful hip-hop outfit pumping out the UK today.
When Galland got home and ran all that back? Game over. That was it. Inspiration arrived and manifested itself in the sumptuous grooves and humid rhythms found all over his six track EP, the aptly named Movements. Stately choice in name that lends itself to the physicality and numerous world events that took place while he worked on this project during the pandemic.
The EP begins with "Yellow," full of keys radiating with glow and affection, doubled and tripled polyrhythms, superb drum programming, inspired synth work and keen but still sparse at times, vocal arrangements. The idea of movement stays plentiful, of the moment and loose, not strategic. Gallant is operating with a real sense of place and scope here with these six BRUK arrangements pointed at the dancefloor. There is a simplicity to this project, not just in the apt title but in the way these staccato brazen charts, such as emblematic "We Can Do Everything" that cross stitches funky jazz and dense bass music into something unifying and electric.
"Coming Up" maneuvers drum programs and congas into cooking at half-tilt boogie, honeyed Fender Rhodes usher smoothness into the stutter beat. Even the modal basslines give additional text without overload. Grooves, inch toward full bump, with a couple minutes left when Galland adds Roy Ayers type vocal augmentation to the chart. It's just a vibe throughout that keeps Movements bumping along, sustaining listeners in the good-good trance.
---
Label: First Word
Year: 2022
---
Similar Albums:
John-Paul Shiver
John-Paul Shiver has been contributing to Treble since 2018. His work as an experienced music journalist and pop culture commentator has appeared in The Wire, 48 Hills, Resident Advisor, SF Weekly, Bandcamp Daily, PulpLab, AFROPUNK and Drowned In Sound.