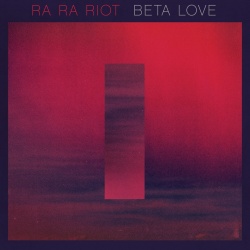 Ra Ra Riot is dead. Long live Ra Ra … well, no, let's just say, Keep on keepin' on Ra Ra Riot.
On Beta Love, the group lays aside most of its string session (and with it all those pesky comparisons to the Arcade Fire) and steers head long into the indie pop and new wave that have always been a part of their sound. Ra Ra Riot wants to dance, they want you to join them, and the merits of this shift will depend largely on your views on dancing, and your opinion of the band in the first place.
If your favorite parts of Ra Ra Riot were cellist Alexandra Lawn and violinist Rebecca Zeller, these aren't the droids you're looking for. Lawn has left the band, and – perhaps in keeping with the albums themes of robot love — Zeller hasn't been given much to do. Songs like "Binary Mind," "For Once" and "Angel, Please" feel similar to what we're used to hearing from the group, but the rhythms are more pronounced, and synthesizers take center stage. Wes Miles has always liked pushing his voice into the falsetto range, but when he does it on Beta Love, it's more reminiscent of Passion Pit than Kate Bush.
Beta Love is not Ra Ra Riot's best album. It probably wouldn't even crack a list of the top 25 albums about artificial intelligence discovering what it means to feel. But it is fun in a way that the group has never been, and I for one have always enjoyed fun. The chorus of the opening song, "Dance with Me," begs "Come and dance with me you bitter sweet fool," and it's easy to imagine Miles crooning to unconvinced fans.
Rock bands have the predictability of quicksilver in a wind storm, but if Ra Ra Riot do go on to keep making albums, its foreseeable that Beta Love could prove a transitional album as they shift personnel and learn to juggle competing projects. It has the growing pains ("What I Do for U"), but also the potential ("When I Dream").
One quality that hasn't changed is Ra Ra Riot's earnestness, which counterintuitively rescues much of the record. Sincerity and ardency aren't always thought of as hallmarks of dance music, but that's probably why some dance music isn't that good. For it to work, you really have to feel it, and none of Ra Ra Riot's new beat seems forced. "Who wants a human love? / A death trap / A suicide club / I do / I do," sings our sentient, binary friend on album closer "I Shut Off." They may be powered by circuits and currents, but it sure feels real to them.
Similar Albums:


Passion Pit – Gossamer

Stars – The North


Yeasayer – Fragrant World