Radiohead : The King of Limbs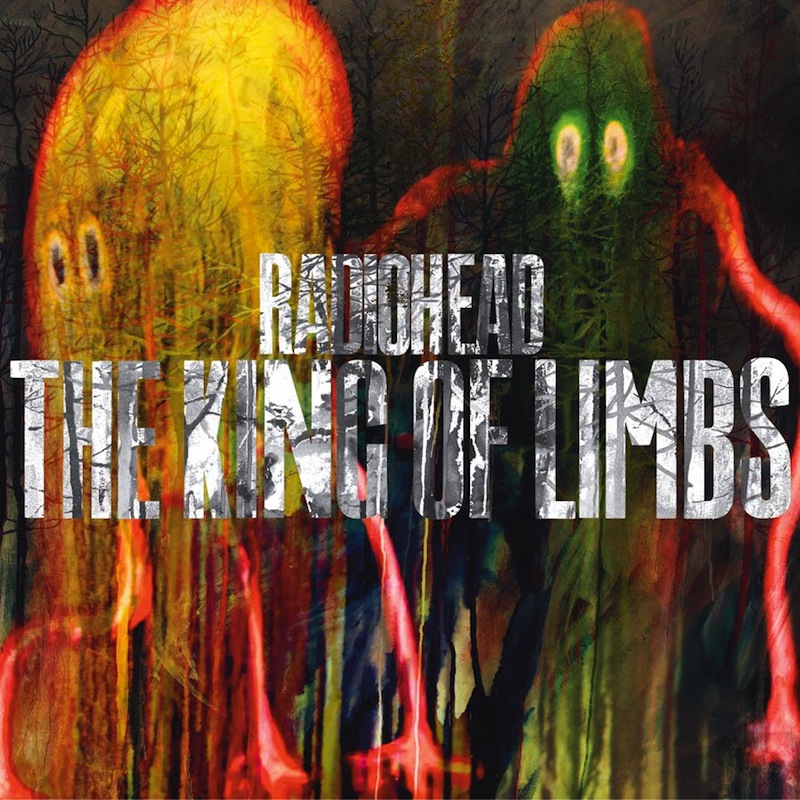 Radiohead has always had a complicated relationship with their luminous reputation. They are truly in a league of their own, but despite their consistency, they rarely manage to please everyone. Each entry in the band's catalogue is so exclusive that each one of their albums is met with diehard enthusiasts as well as detractors; but Radiohead has obviously never been about trying to please the public. Sure, In Rainbows' brilliance managed to appease the widest margin of followers that they possibly could at that point, but that seems like a one-time occurrence. Even Kid A, which topped end-of-decade lists around the globe (Treble's included), managed to upset quite a few fans and critics upon release; still to this day it manages to confound more than a few guitar-happy OK Computer fans. So where is the band this time around? Apparently they're as ready as ever to sever ties with any remaining expectations altogether.
Given this history, it was pretty much inevitable that The King of Limbs would represent another left-turn for the band. It certainly is a different kind of Radiohead album. The first half of it is nearly inscrutable, especially upon first listen. It's dense and intangible. The focus of typically melodic instruments is shifted to their rhythms, making it some of the most rhythmically intense music in the band's discography. Melodies are like gems hidden throughout, which require time and patience to uncover. Each of these songs is its own variation on these ideas and there are truly no weak links to speak of. It can be a bit disorienting at times, but stick with it and the pieces will really start to gel.
As the first song unfolds, each instrument introduced has its own pulse beating around the song's frantic drumming. The restlessness is counterbalanced immediately with the onset of Thom's dreamy vocal delivery. There becomes quite a contrast between the rhythmic palpitations of the drums, bass and keyboards and the long languorous notes expressed in the vocals and wind instruments, which eventually become so overwhelmed with reverb they threaten to engulf the entire song. It's this kind of interplay that makes the first half of the album so captivating and they really manage to get the balance right.
And then there are the last three songs, which are as ambitious in their austerity as they are downright gorgeous. All three tracks start off simple, pretty and unadorned, but subtly build into transcendent works. The first, "Codex," is in the same lineage as "Pyramid Song" and "Sail to the Moon," a piano-based requiem that is eventually overtaken by a mournful horn section and a stirring string arrangement. It's skillfully executed, as nothing employed here falls into the realm of grandiose or overindulgent. Radiohead has proven time and again that they are experts in the realms of sonics and atmosphere-it's undoubtedly one of TKOL's greatest strengths-and nowhere on the album is this showcased better than on the final track "Separator." Easily an album highlight, "Separator" starts with a stripped-down, infectious groove but slowly adds layers of melodic guitar work and haunting synth pads. It's a stunning closer to this brief but satisfying work.
I certainly respect and even appreciate the band's desire for the communal experience of everyone being able to hear these songs for the first time at the same time, but it doesn't bode well for how this kind of music is absorbed. This is certainly Radiohead's most difficult album to date, so snap judgments presented in reviews posted within hours-or even days, for that matter- of the album's availability seem dubious at best. Here we are nearly three weeks after TKOL's release and I'm still discovering new facets in this thing. This just isn't the kind of album you can truly understand until you've spent some time with it. Like any Radiohead album, it requires attention before the dividends come in-and a listen on headphones brings out new dimensions entirely. It may not achieve the same level of perfection that The Bends, OK Computer, Kid A, or even In Rainbows does, but ultimately, it certainly deserves a place alongside less consistent masterpieces Amnesiac and Hail to the Thief. So rather than lament over what The King of Limbs isn't, let's celebrate what it is: an album that holds its own in one of the most impressive catalogues in Rock and Roll history.
---
Label: tbd/XL
Year: 2011
Buy this album at Turntable Lab
---
Similar Albums: