The Replacements : Let It Be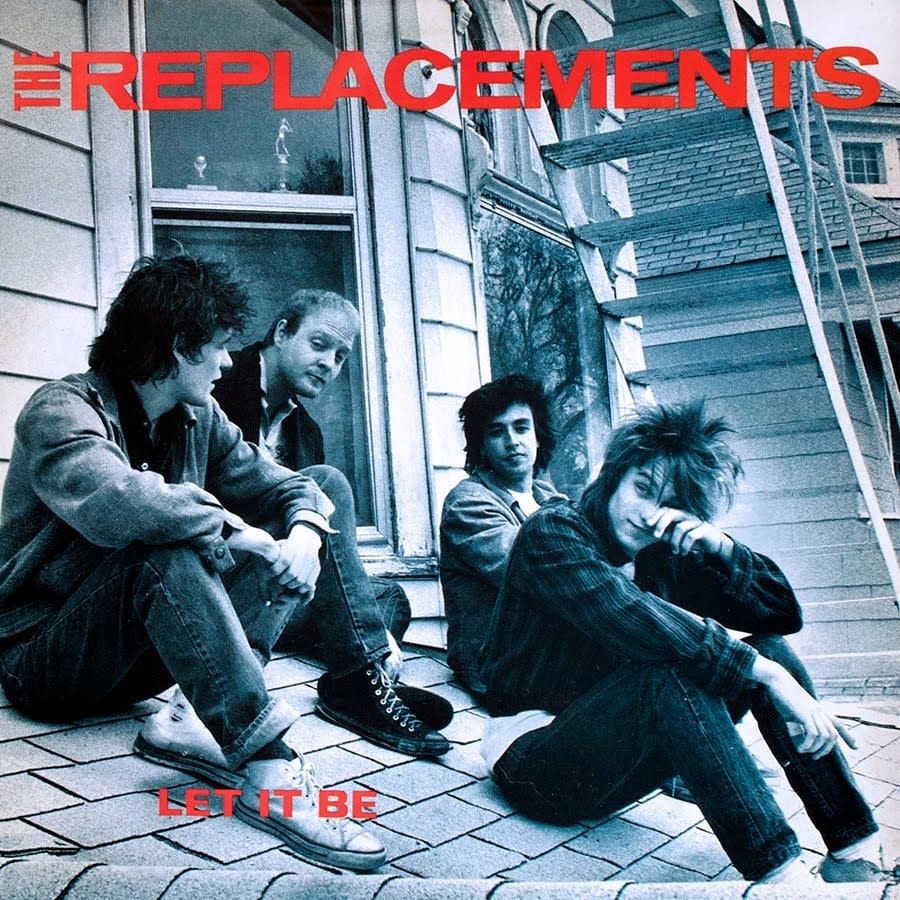 People love The Replacements. Some of them mildly and with a knowing smile, others desperately and without cessation. All of those characteristics responsible for this love can be found in one shape or another on Let it Be. It is one of those rare albums which, though a departure from a band's previous work, seems to at once define them more accurately and more completely. That is, it does not feel like experimentation or the band getting away from its itself, but a more accurate distillation of what The Replacements are, of what they sound like.
The manic punk songs are still here, but so is the piano driven comment on gender and love, "Androgynous," so is the whimsical homage to teenage angst "Sixteen Blue." There is still plenty of energy, it has just been funneled in different directions, placed in a broader range of forms which allow for more precise expression of the crux of each song. Let it Be is one of the more directly affecting albums that I know of, whether because of the tasteful decisions about the instrumentation of each song, the ideas behind them and the way they are realized, or, as is often the case, the raw vulnerability of Paul Westerberg's vocals. But aside from the strength of its parts or even the greatness of the songs, there is something extremely necessary about this album—historically speaking.
Let it Be opened up a whole new vein of what was and is indie rock. It is not only that it is one of the most audible bridges between punk and much of what was to come; the very essence of what so many of us love about indie rock, the very breadth of the music that has come to be filed under that infinitely reducible genre title is expressed in different ways throughout its eleven songs. It is not for nothing that Colin Meloy wrote an entire book dedicated solely to Let it Be. These songs are emotional, funny, disconcerting, abrasive, silly and introspective; they are full of euphoria and they are full of confusion. They express something of what it is like to be a human being. They are in the most desirable sense very real—songs that assert their necessity, songs that affirm the composition and production of themselves and others like them. As such, this album exists in something of a time warp. It still sounds vital and modern. It has aged gracefully and more than that the passing of time has shown us how very much we should appreciate it. Like Alex Chilton's work with Big Star which Westerberg so admired, The Replacements' best albums carved out their own territory in the vast homogeneity of a musical landscape and have been the inspiration for any number of bands that have come since. They are the kind of albums that make people start bands of their own in force.
When Westerberg begins berating phony rock and roll on "Seen Your Video" he makes it clear that The Replacements are aiming for something more than simply "making it." The band's Minneapolis punk ethic is still at work. This is music that is meant to save your life. This is music that is meant to save their lives. This is still a band that believes in the redemptive quality of music whether they make as much noise as they used to or not. In fact, those bands for which music is a sacred thing always have to continue moving, continue changing. (There are exceptions to this rule as there are to all rules.) Salvation is a serious matter and as such resists easy answers or formulaic apprehensions of itself.
I hear "I Will Dare" and I want to dance and I want to celebrate rock and roll; "Tommy Gets his Tonsils Out" and I want to laugh and exult silliness. "Androgynous" is one of those songs the wonder of which no comparison will be of avail in expressing. The frazzled emoting of "Unsatisfied," "Sixteen Blue" and "Answering Machine" never ceases to stop me in my tracks and make me take account of that rare something which is present in these songs and which so many others struggle toward in vain.
---
Label: Twin/Tone
Year: 1984
---
Similar Albums: