Celebrate the Catalog: The complete Roxy Music discography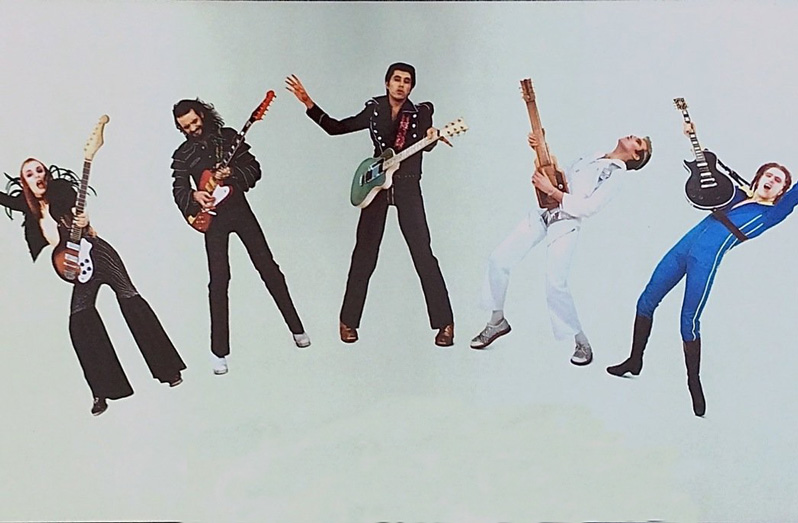 Here's a thought exercise: What band in rock history had the best decade of music? One could easily point to David Bowie, whose run from Space Oddity to Lodger, or The Man Who Sold the World to Scary Monsters, could each stand as evidence that's pretty hard to argue against. Led Zeppelin from 1970 to 1980 had only a few minor hiccups, and there is of course, The Beatles (who didn't release anything prior to 1962, making it a couple years shy of a decade). But I submit for your consideration a possibility that's not suggested often enough: Roxy Music.
It's not quite right to say that Roxy Music is an underrated band. They influenced countless bands in the '70s and '80s, and some of them—like Duran Duran—took that blend of commercialism and artsy weirdness to new mainstream heights. Ostensibly a glam-rock band in their first iteration, the UK group balanced the muscular rock 'n' roll of T. Rex with a penchant for electronic experimentation thanks to original member Brian Eno, credited for "treatments." Theirs wasn't a straightforward rock 'n' roll sound, however. It was enigmatic and dark. Sometimes it was vibrant and luxurious. At others, sensual and mature. And it was always changing. At the front of the band was Bryan Ferry, whose musical persona was something of an outsize character, the kind of too-handsome, suit-clad playboy who you'd imagine always had a cocktail in one hand and a supermodel under his arm—late to the party in an expensive car, always charming but never the type to let you in close enough to understand who he really was. Sometimes he'd even wear an eyepatch—it was a thing people did in the '70s, apparently. And on record, he provided only more questions than answers. But image was a major part of the band's appeal, from the campy cheesecake album covers to their often outlandish stage getups.
Roxy Music came to a halt after their 1982 album Avalon, which produced the hit song "More Than This," already a standard by the time Bill Murray crooned it in a Japanese karaoke parlor in Lost In Translation. But that decade, as short as it was, was wild and unpredictable. It was enough to get them inducted into the Rock and Roll Hall of Fame, and the ceremony takes place this weekend (sans Brian Eno, who is taking a year off from plane travel, it would appear). Before they accept the honor, we're taking a look back at the complete Roxy Music albums ranked and rated (but presented in chronological order), from their art-glam weirdness to the serene shores of Avalon.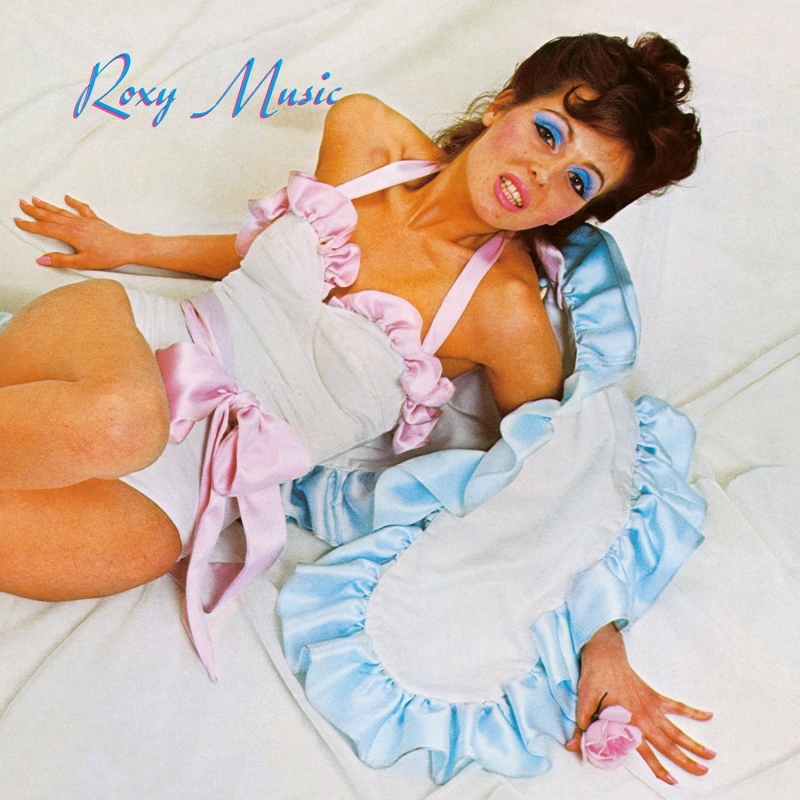 Roxy Music
(1972; Island)
It's not often you can say a band's weirdest album is their first, but that's certainly true of Roxy Music. That's in part due to the presence of Brian Eno, who only appears on two Roxy Music albums and whose purpose here is to mostly add a layer of bonkers electronic weirdness behind the band's charged-up glam rock. Listen carefully to what's going on in opening track "Re-Make/Re-Model" (whose title we stole for one of our columns) and it's hard not to pick up on the various oscillating noises going on in the background. But then again the song itself is pretty badass, with Bryan Ferry frantically barking, "I could talktalktalktalktalk myself to death!", immediately leaving his comfort zone of effortless cool, and it's quite a thing to hear. But only a few tracks here actually qualify as "glam," so to speak, as Roxy Music never quite fit into that campy proto-punk mode so comfortably. "Virginia Plain" does, of course, as well as later singles like "Street Life" or "Do the Strand." But "Ladytron" certainly doesn't, all art rock grandeur, nor does the soulful pop of "2HB," the space-age "The Bob (Medley)" or the drunken prog of "Sea Breezes." So yeah, this is an odd one. Which is to say, it's one of the best albums the band released, which probably doesn't narrow things down much when at least half of them could be argued as being their best.
Rating: 9.3 out of 10
For Your Pleasure
(1973; Island)
There's no hard and fast rule about this, but as far as I'm concerned, weird Roxy Music is the best Roxy Music. And For Your Pleasure is the weirdest. And that has less to do with Eno's otherworldly treatments, I'd imagine, than it does with Bryan Ferry dipping into the depths of depravity, while John Porter, Phil Manzanera and Paul Thompson cook up some of their nastiest grooves. For Your Pleasure frontloads the sugar: "Do the Strand" sends the message, perhaps erroneously, that this is going to be an album of "Virginia Plain"-style rock anthems. It's not. It's much more experimental and dark than that. Not that the idea of an absurdist rock single about doing a series of irreplicable dances isn't charming in its own way, but it's a red herring. The closest thing to that upbeat high here is "Editions of You," which is in maybe the band's top three songs, period. But boy, do things get odd quickly. "In Every Dream Home a Heartache" is an ominous dirge in which Ferry narrates a romance with an inflatable woman. "The Bogus Man" is a nine-minute funk jam that feels deliciously sinister. And the voice at the end of the album? Why none other than Dame Judi Dench. This is an album that sounds like its cover looks—with model Amanda Lear walking a panther in the street, looking fabulous and dangerous all at once. That's Roxy Music in a nutshell.
Rating: 10 out of 10
Stranded
(1973; Island)
Released the same year as For Your Pleasure, but just after Brian Eno left the band, Stranded doesn't actually feel like that dramatic a transition in the schemed of things. Maybe that's just because the pace at which they were working was so frenetic, or because they just had so many ideas to go around that one less cook in the kitchen didn't actually hurt them at all. Whatever the case, Stranded is an exciting, vibrant and often very weird album. Though it kicks off with "Street Life," one of Roxy Music's most straightforward rockers, it doesn't stay in that mode long, instead spreading out into the art funk of "Amazona," the overwrought grandeur of "A Song For Europe," featuring Bryan Ferry singing in various languages, and "Mother of Pearl," arguably the best song of the bunch, with a medley-like structure akin to that of their self-titled debut's "The Bob." Stranded is maybe the Roxy Music album that rewards repeated listens the most, though it's probably not the one that anyone should start with. Although diving into the deep end of Bryan Ferry's luxuriant and romantic character here should convince a listener pretty much immediately whether this is the band for them.
Rating: 8.7 out of 10
Country Life
(1974; Island)
If Country Life didn't produce the biggest hits of Roxy Music's career, it'll at least be remembered as the one with their raciest cover. In fact, censored versions were distributed in the '70s with the cover models completely removed from the artwork. And if you see any copies in used bins, it'll be those, understandably. It's not like anyone remembers the album that has, uh, some trees on the cover? But Country Life, aside from its provoking-the-puritans cover photo, contains some of Roxy Music's best overall songs. Opener "The Thrill of It All" is maybe their single greatest anthem, six minutes of hard-driving art-rock that puts a greater emphasis on the rock. That isn't necessarily the case for "Bitter Sweet," a Kurt Weill-ian rock operetta with Bryan Ferry doing his best German (which works better here than his multilingual approach on "A Song For Europe"), and whose influence can be heard in some of Radiohead's OK Computer-era output. "Out of the Blue" is nearly as strong a rock anthem as "Thrill," while closer "Country Rose" showed that even couture-clad highbrow rockers from the UK could attempt country rock (more rock than country, naturally) and pull it off brilliantly. Even the whispered overdubs of "Texasssssss" don't come across as over-the-top as they might seem on paper. A year removed from Brian Eno's departure, Roxy Music didn't just continue delivering some of their greatest songs on Country Life, but ones that were actually pretty damn weird at that.
Rating: 10 out of 10
Siren
(1975; Island/Atco)
Siren is probably one of Roxy Music's better known albums because of its biggest single, "Love Is the Drug." Everyone knows that song. Dare I even say everybody likes that song? It's so catchy, so cool, so funky. It's Roxy Music finding the sweet spot between their avant garde creative impulses and the commercial sensibility that they could pull out whenever they wanted to. Of course it was a hit—it comes on and you start dancing, or singing, or at the very least quietly enjoying it. But it's also just one small reason as to why Siren is a strong album, and an underrated one at that. It's arguably the hardest rocking album Roxy Music ever released, with songs like "Whirlwind" and "Both Ends Burning" finding them firing on all cylinders. And at its peaks, it was still gloriously weird. The coda of "Sentimental Fool," despite the song's initial low-key charm, is one of the band's most intense psychedelic nightmares. It is, of course, the album with the hit. It's just that it's so much more than that.
Rating: 9.2 out of 10
Manifesto
(1979; E.G./Polydor)
In a couple decades of digging through vinyl crates, there are two albums that I will inevitably see once I get to the Roxy Music section: Manifesto and Flesh and Blood. Never fails. They've earned the least charitable reputation of all eight of Roxy Music's albums, but for Manifesto it seems mostly unearned. It does have the distinction of featuring their pop hit "Dance Away," a kind of castanet-clacking adult contemporary softcore favorite that doesn't quite match up with the spacier art rock sounds of the rest of the album. While Roxy Music had abandoned the glam of their early records for the most part, they made up for it with a rich, sumptuous sound that essentially created the template for Japan's next couple of records. (That's a good thing.) Songs like the title track have the spacey funk weirdness of Bowie's Station to Station, while "Stronger Through the Years" proved they had an epic in them in this new phase of their career—one that stands up to some of their strongest moments on the previous few albums. That being said, the album feels like a really strong EP with three extra songs tacked on. "Dance Away" isn't a bad song, but it doesn't match the character of the others, while "Cry, Cry, Cry" and "Spin Me Round" feel like last-minute additions that don't really add much. But eight great songs was never a problem for the band before—it's more than enough reason to liberate this one from the used crates.
Rating: 8.0 out of 10
Flesh and Blood
(1980; E.G.)
Of the two least-loved Roxy Music albums, Flesh and Blood is the one whose reputation is mostly earned. As the group transitioned toward the 1980s, their '70s-era art rock sound needed a refresh, and while someone like, say, David Bowie pretty spectacularly bridged the decades with his Berlin albums and then 1980's Scary Monsters, Roxy Music did so in fits and starts. Though Manifesto actually succeeded for the most part, even if a handful of tracks felt shoehorned in, Flesh and Blood is an identity crisis. That it opens with a cover, and Wilson Pickett's "In the Midnight Hour" at that, seems to indicate that Roxy Music are ceding the floor to other people's hits, which Bryan Ferry has done, himself, with his own solo albums. This isn't a Vegas act, but it's also not a set of songs that holds together very well. Some of them are quite good—the driving "Same Old Scene" and darkly grooving "My Only Love" are late-period Roxy at their strongest—but some of them are uninspiring ("Oh Yeah!"), some of them are awkward pop throwbacks ("Over You") and some of them are, well, more covers, only disco ("Eight Miles High"). To call this an outright bad album would be a bit harsh, but it's also far from a great one, and an understandable cut-out bin standard.
Rating: 6.5 out of 10
Avalon
(1982; E.G./Warner Bros.)
Anyone who got in on the ground floor with Roxy Music probably didn't expect that they'd end up with a smooth, sophisti-pop album like Avalon, all shimmering grooves and pristine funk. But by the late '70s it was fairly clear that this was where they were headed. And it was also pretty clear that they could pull it off, once they cast aside the ill-advised covers, filler tracks and questionable sequencing. Hearing Avalon, though, is essentially to hear a band embracing the comedown. "Now that the party's over/ I'm so tired," sings Bryan Ferry on the title track, at once signaling that the art-chaos of the band's earlier years were well behind them, and that Roxy Music, itself, was about to turn off the lights for one last time. And as such the listening experience is a little mellower, a little more adult-contempo, a little less intense. But it's still a wonderful record, one that's perhaps more appealing with age, but immaculate sounding regardless. Which isn't to say it's perfect, or that "Avalon" doesn't still sort of evoke a kind of all-inclusive resort vacation cheese, but with tracks like "The Space Between," "The Main Thing," "Take a Chance With Me" and, of course, "More Than This," Roxy Music went out on a high.
Rating: 9.0 out of 10
---
Support our Site—Subscribe to Our Patreon: Become one of our monthly patrons and help support an independent media resource while gaining access to exclusive content, shirts, playlists, mixtapes and more.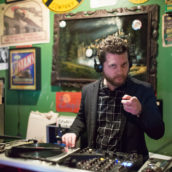 Jeff Terich
Jeff Terich is the founder and editor of Treble. He's been writing about music for 20 years and has been published at American Songwriter, Bandcamp Daily, Reverb, Spin, Stereogum, uDiscoverMusic, VinylMePlease and some others that he's forgetting right now. He's still not tired of it.