Growing Pains: An interview with Saintseneca
When you listen to an album with as much character as Saintseneca's Dark Arc, you get the sense that there are a lot of moving parts that brought that music into play. In a way, it echoes the band's own personal and artistic evolution. Originally a core line-up of four musicians, the band's make-up waxed and waned over the years. Due to that slow dissolve, Saintseneca recorded Dark Arc as a much smaller band. Perhaps counterintuitively, though, that slimmer line-up resulted in such a grand sound — much more so than Saintseneca's previous albums
Speaking with Treble from the band's home in Columbus, Ohio, group leader Zac Little explained the lengthy evolution leading up to Dark Arc; the many tiny parts that have grown to make a rather impressive, illustrious whole.
"A lot of the way we approached [Dark Arc] came out of the line up dissolving in some ways," says Little. "I want to say that there were fewer people [on the album]. There were only the couple of us core people focusing on it everyday. But then we drew so much on what was around us. I think, all in all, there were maybe 14 people who recorded on the record? And those were all friends of mine and people where I was like 'Hey, you're a good drummer — want to come play drums on this song; or come play flute, or piano'; those kind of things."
The resulting sound is deceptively slick; layers of folk and electric instrumentation meshed with Little's expansive songwriting palette. Because of the varied instrumentation and Saintseneca's one-time occupation as a fully acoustic act, it's easy to slip the band into a the category of "folk"-something. But a closer listen exposes Saintseneca's more direct influences, which are anything but. When asked what albums most influenced his songwriting for Dark Arc, Little drops titles like The White Album, The Replacements' Tim, Animal Collective's Merriweather Post Pavilion, and a handful of album's by some fellow Ohioans: Guided By Voices.
"His melodies are so good," Little says of Guided By Voices frontman/writer Robert Pollard. "I really like his songwriting, and I like how — in the context of a record like Alien Lanes or something like that — it's pretty lo-fi, but you'll have a lot of different kinds of production and a lot of different kinds of songs and things like that… But above all that, his sense of melody is just pretty amazing.  That's one of those things about that band that really inspires me."
And that inspiration shows on Dark Arc; the dark songs on the record all sound damn good. But more than that, there's a tireless sort of experimentation Little shows throughout Saintseneca's discography, as if he's never done expanding on the band's sound. Take tracks like "Uppercutter," "Happy Alone," "So Longer," and "We Are All Beads…" that feature Little playing lead parts on an electric bass.
There's something in that desire to push forward that boasts a strong element of folk and blues influence, but not necessarily in the way that most people mean when they say 'folk rock.' Thematically, Dark Arc focuses on the sort of blissful catharsis one can find in otherwise negative circumstances: "I think that in many ways, I thought of the record being a meditation on doom," Little says. "At that time in my life I was going through so many transitions and I think that was something that kind of prompted that exploration — having relationships change, and the band line-up change and all sorts of things like that. I think, inevitably, that began to lead me to sort of reflect on the way that all things kind of end. … It was really about finding a certain level of transcendence in that; when it's something that you accept that you have the capacity to transcend it.
That personal transcendence is what makes Saintseneca such a fulfilling band; whether in the studio or on stage, they carry an aura of progress and growth that is hard to ignore. In fact, even Dark Arc itself went through an unexpected transformation when the band turned in their finished product to Anti and the label suggested they work with producer Mike Mogis to put on some finishing touches.
Initially, Little admitted to being reluctant — the record was, at that point, finished as he saw it. Still, the thought of working with someone like Mogis excited him. And for good reason — Mogis is an Omaha producer most well known for producing and playing on most of Bright Eyes as well as producing classics like Cursive's The Ugly Organ, The Faint's Wet From Birth, Rilo Kiley's More Adventurous, and M. Ward's Post-War.
Little's reluctance, however, was put to rest quickly.
"I think the tipping point for me was when I had the opportunity to actually speak with him and I got the sense where it wasn't this thing where he thought that he could make something better, but I really got the sense that he was excited about the work we had done and had a certain level of respect for the record we had created," he says. "It was about serving the work we had put into it originally; not undermining it."
The band spent a month in studio with Mogis. On some of the tracks, Mogis simply worked with the band to clean up the EQ and find the best match for the song.  On others, Saintseneca was able to live-track new versions of the tracks and mix in bits of the old recordings for a fuller sound. "It was one of those things where you do a project, you get to finish it, and then inevitably you have time to reflect; 'If I could go back in time, what would I do, how would I change those things — what would I add?' We had this sort of unique opportunity to actually do that."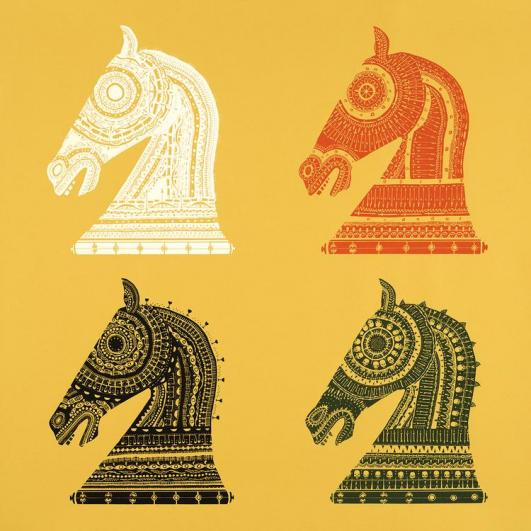 One of the more refreshing qualities of the music Little creates with Saintseneca is the natural thirst he seems to have for creating new music; striving toward new and innovative ideas. Growing up in rural, southeast Ohio, Little was disconnected from any major indie or punk scenes. But in the late '90s, he ended up on his own path of discovery, listening to bands like Nirvana and Smashing Pumpkins on an alarm clock radio in his bedroom. This is where his interest in music began to flourish.
Little's interest only grew from there. Alternative rock led to skateboarding, which introduced him to indie-rock legends like Sonic Youth and Fugazi, and eventually to being strongly active in their hometown D.I.Y. scene.
"Eventually I started playing guitar," Little says, "and we just kind of started rocking. We'd play at like a coffee shop in town…  I think coming from that, it was a logical step to go from that kind of thing to moving to Columbus and then finding the punk scene and specifically the house show DIY scene because it was a really exciting thing and it felt like 'this is what I want to be involved with'."
"That's rock at its most raw, finest state; nevermind the prefix."
"I definitely think [Columbus, Ohio] lends itself well to that kind of thing, just cause it's a very nurturing and community oriented music scene," he continues. "There's a really good punk scene and everything, and just a lot of friends and people who are supportive of one another. Y'know, you meet a lot of people in other bands, and that definitely gives you a lot of opportunities and people to sort of draw from, or be inspired by or to incorporate into the band when it comes to that."
That DIY background is definitely in the water, even on the more traditional club-tour surrounding Dark Arc.
"Just because we're not playing house shows, that doesn't mean we want to eschew all the things that are special about playing house shows," Little says.  "I think that there's a lot about that that's really special and unique. So, yeah, I think we try to carry that sort of ethos; bringing what's good into the context of a club; ideally we'll get the best of both worlds."
He's not kidding. At a Saintseneca stop in my home of Bloomington, Ind., there are local punk bands opening for the touring acts and comical banter during mic checks, and the band hangs around for the opening acts, even on the last night of a rather lengthy tour leg. And that's exactly what a band like Saintseneca is all about; playing music they love for their community, whatever that word may grow to mean as they grow in the public eye of the music industry.
That's rock at its most raw, finest state; nevermind the prefix.
You might also like: