Shadow of the Horns: Heavy Metal Summer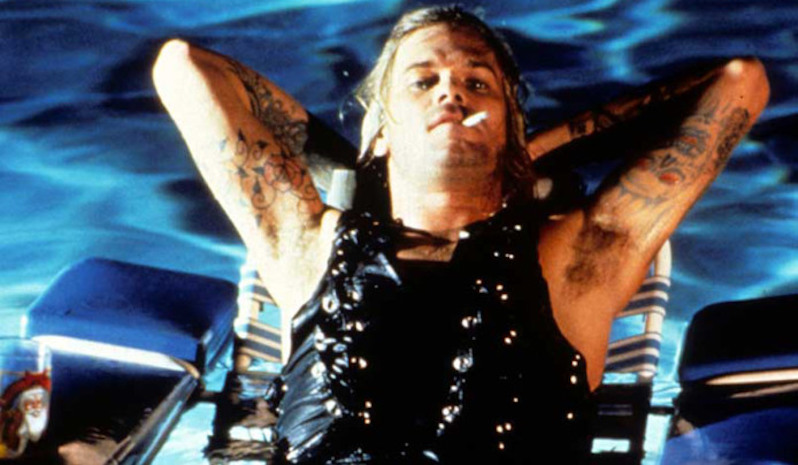 It all started with Skeleton. This year, I've kept up with metal as much as I could, given the weird unraveling of the music industry that's been happening during the ongoing pandemic. And I've even loved a lot of metal—I could make a pretty easy top 10 of the year right now, and most of it would hold up pretty well to last year's. (Though I'd probably bump that Blood Incantation album up a little bit higher—sometimes the hype gets attached to the right bands, you know?) But a lot of it just wasn't connecting with me. I'd see a lot of Bandcamp pages tagged "true black metal" and roll my eyes. And I've heard a lot of conceptual, high-art records that require at least 90 minutes of my time, which are great. But what I really needed is to be able to have fun with metal again.
So that's where Skeleton came in. The Austin band, whose debut album creates a remarkable hybrid out of thrash and crust punk, basically made a perfect summer metal album. It's hot, and we're all miserable, and though we can't go out and see live bands, the least we can do is put on some music that feels good when we hear it. Even if it's about spiders and magic and evil and shit. And Skeleton's debut is that album, a half-hour of lean, bullshit-free metalpunk that feels like youthful destruction and driving nowhere in particular, but really, really fast.
I've spent a lot of time with the album, which doesn't require a lot of your time, and it's helped make what's otherwise been a very frustrating year a little less aggravating. It had something of a secondary side effect, however, in that it simply made me want to listen to more metal. Metal of all kinds: death metal, mathcore, thrash, powerviolence. Essentially anything that dials up the speed and aggression. I've also been listening to a lot of Sunn O))), which is a different story entirely, but for now I'm not going to get into that.
All of which is to say: I'm calling it. This is the heavy metal summer. For me at least, and probably for several of my friends and a lot of readers. Playing metal loudly and frequently throughout the summer will is my way of finding catharsis and fun in a year that really doesn't want me to have any. Though I should clarify, not just any metal. There is such a thing as the metal equivalent to the summer jam. And it's more or less exactly what you think it is. A couple weeks ago I fired up Motörhead's "Ace of Spades," and damned if that song—basically a classic rock song at this point—doesn't just perfectly summarize reckless summertime hedonism. The same goes for Judas Priest's "Breaking the Law." That song comes on and you feel like, well, breaking some laws. Maybe just vandalism or driving over the speed limit, but that still counts.
It probably sounds like I'm mostly sticking to old-school metal tracks, and look, you're never going to go wrong with the rippers from the '80s when it's hot and you need some immediate heavy metal gratification: Priest, Motörhead, Venom, Iron Maiden, Exodus, Kill 'Em All, go wild. Turn 'em up and crush some cans of Stella Artois (or any preferable beer of your choice). But there are plenty of 21st century metal bands that belong on any summer metal playlist or mixtape, such as Spirit Adrift, Kvelertak, In Solitude, Tribulation, High on Fire, Visigoth, Power Trip and, of course, Skeleton. Not that you have to stop there—mix it up! Add some new-school old-school death metal like Tomb Mold, Horrendous and Blood Incantation. Give yourself a righteous tantrum with Full of Hell or Pig Destroyer. Just stay away from the funeral doom (except for the track I recommend below—spend a few minutes with that before getting back to the loud, fast and leathery stuff).
You can't invite people over to a barbecue, go have a beach bonfire, have a pool party—well, you shouldn't anyway. Safety first! But you can drop the needle on something loud for the summer. I sure as hell plan on it.
The Best Metal Tracks of July 2020
Ars Magna Umbrae – "Of Divine Divergence"
Generally by the second half of the year, a trend starts to emerge of what sector of metal has the strongest showing of exciting, innovative and simply thrilling new music. For instance, last year belonged to death metal. Death metal owned 2019, and we're all the better off for it. But this year, while there's still five months to prove otherwise, it's an avant garde black metal kind of year. Between Oranssi Pazuzu, Spectral Lore/Mare Cognitum, Fluisteraars and now Ars Magnum Umbrae, occult alien vortex blast is the sound of 2020. You can quote me on that. Poland's Ars Magna Umbrae are capable of doing somewhat more straightforward black metal, but on "Of Divine Divergence," sole member K.M. reads a page from the book of Blut Aus Nord, juxtaposing menacing arpeggios against loose, jazzy rhythms, ultimately working his way toward a swirling noisescape that swallows the track whole. It's weird and terrifying, yet exhilarating all at once. As this year feels like one constantly on the brink of certain disaster, "Of Divine Divergence" feels like the apocalyptic soundtrack waiting for a chaos event to unfold. (Though, hey, I'd rather things got better and we just had the evil music—call me an optimist.)
from Apotheosis, out August 21 via I, Voidhanger
---
Skeletal Remains – "Illusive Divinity"
Death metal wreckers Skeletal Remains hail from Whittier, a city I briefly considered moving to out of college to take a job but ultimately decided against. That ended up being for the best, but that does mean I didn't get on the ground floor of this utterly nasty and incredible metal band. I've written about Skeletal Remains in the past, so it's not exactly a total surprise that the group's latest smokes. But now that they've ascended to the pristine heavy metal shores of Century Media, that does mean they're likely to be given a bigger platform and reach a larger audience. I don't know if that means new album The Entombment of Chaos was made with a bigger budget, but I do know that "Illusive Divinity" sounds like a million bucks. Machine-gun rapid-fire drum assaults, razor-sharp guitars, and Chris Monroy's snarling bark. What takes this track from badass death metal ripper to something even more glorious is the final 30 seconds of the song, in which dual melodic guitar leads provide a brief moment of commercial-friendly transcendence. Whittier should be proud.
From The Entombment of Chaos, out September 11 via Century Media
---
Atramentus – "Stygian III: Perennial Voyage (Excerpt)"
It's not common practice for me to reserve this space for excerpts of tracks rather than complete songs—sometimes it feels a little like saying an album trailer is one of the best tracks of the month, which is never true. (Although that new Touche Amore teaser is 50 seconds of the best music I've heard all year, just sayin'.) Canadian doom metal band Atramentus, however, have shared four minutes of a track that certainly sound like something truly special. In what's already feeling like another outstanding year for 20 Buck Spin (you see that whole thing about Skeleton above?), Atramentus are preparing a gargantuan funeral doom debut that, thus far, we've only heard some small slivers of. But this excerpt, which comes from the third piece of the extended doom cycle, is both massive and delicate, with piano and guitar intertwined in a delicate, wintry helix around what sounds like a Yeti bellowing from his cave. This is certainly not summer metal, its frosty chill the doom metal equivalent of biting into a York's peppermint patty. It's outstanding.
From Stygian, out August 21 via 20 Buck Spin
---
Lantern – "Cauldron of Souls"
The title of "Cauldron of Souls" makes me think of Morbid Angel, in particular the cover art for their debut album Altars of Madness, which looks like a soup bowl full of ghouls. Or, if you will: a cauldron of souls. Finnish death metal outfit Lantern share more than an affinity for Halloween aesthetics with Morbid Angel, however—they capture a similarly classic death metal sound, one defined by a kind of chaotic aggression juxtaposed with big, meaty riffs that just so happen harbor a good hook. In that sense, "Cauldron of Souls" feels about as catchy as death metal gets without going full In Flames—accessible, but still evil, often ugly, and hell-bent on fucking shit up good and proper. To dust off an overused and appropriately mocked phrase, "Cauldron of Souls" is all about the riffs, bruh.
From Dimensions, out now via Dark Descent
---
Uniform – "Delco"
Me, I'm a fan of the classic Uniform sound—the one defined by sternum-rattling drum machines that sound like Godflesh at 45 RPM. While there's sometimes nothing more satisfying than the sound of a kickass drummer, the rigid robot percussion of industrial metal is a sound I have a lot of affection for. And yet, the addition of Mike Sharp to Uniform's lineup is a move that comes at exactly the right time for the band, the physical crack of his kick and snare sound adding an extra dose of muscle to the band's pummeling hardcore. (It should be noted that their last album featured Greg Fox, who's an amazing drummer as well, just not a full-time member.) On "Delco," the first single from the band's third album Shame, those drums provide a fitting concrete-block thump to the opening squall of sludgy noise rock. Mike Berdan snarls his way through recollections of childhood trauma and building up survival methods, and it feels more motivational anthem than primal scream as a result of the soaring power-chord-driven chorus. Uniform have always been a band that's hovered between worlds—punk, industrial, metal, hardcore, noise—but when all's said and done, they also just rock really fucking hard.
From Shame, out September 11 via Sacred Bones
***
Don't forget to read my interview with Boris this week—we talk about making music during a pandemic and playing some nasty hardcore.
I also made a Beginner's Guide to the music of Sunn O))), in case you need cosmic vibrations in addition to your summer metal jams.
---
Support our Site—Subscribe to Our Patreon: Become one of our monthly patrons and help support an independent media resource while gaining access to exclusive content, shirts, playlists, mixtapes and more.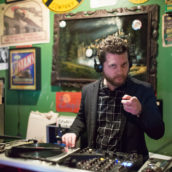 Jeff Terich
Jeff Terich is the founder and editor of Treble. He's been writing about music for 20 years and has been published at American Songwriter, Bandcamp Daily, Reverb, Spin, Stereogum, uDiscoverMusic, VinylMePlease and some others that he's forgetting right now. He's still not tired of it.