Shadow of the Horns: A heavy metal anniversary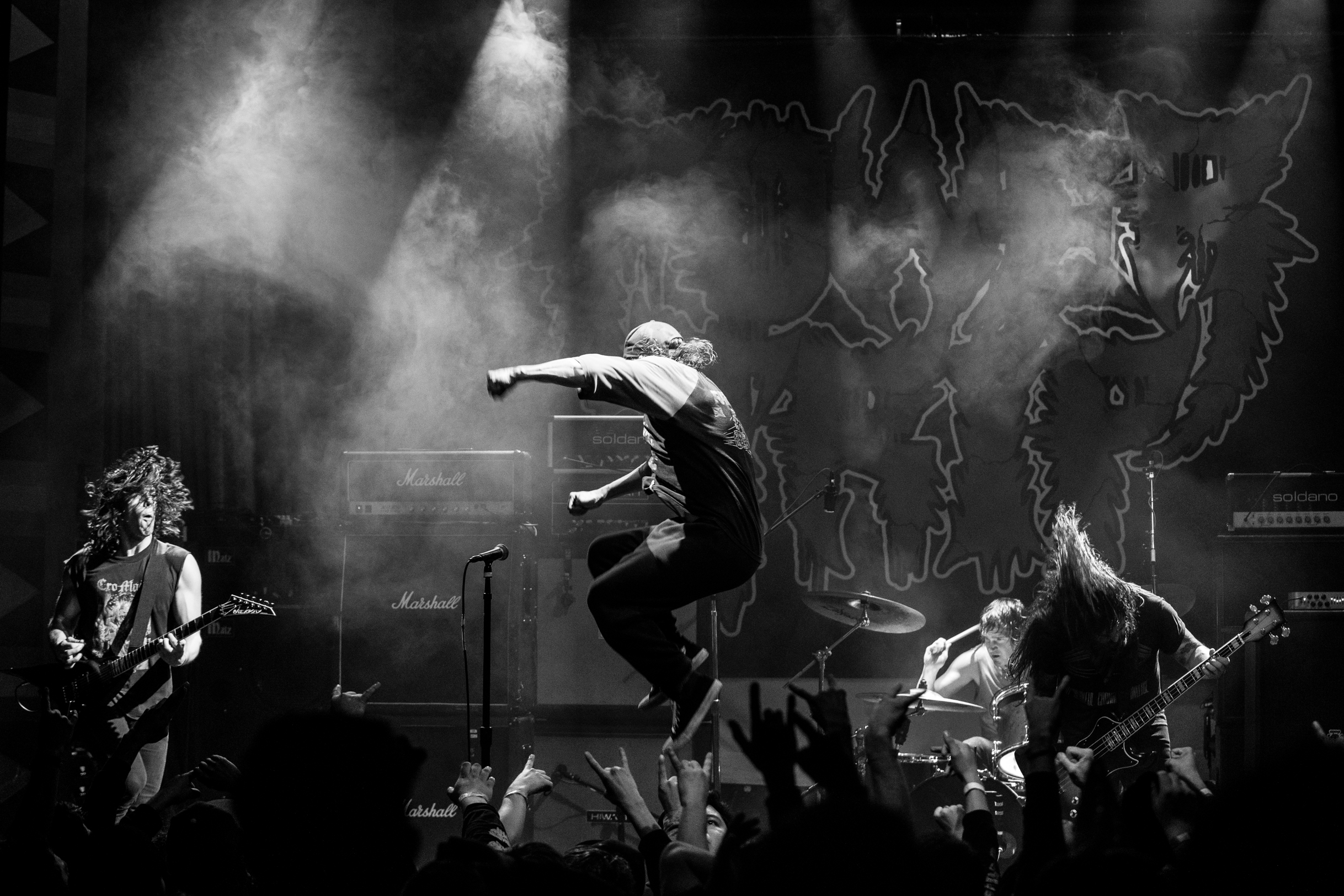 I've never been a nostalgic person. I don't yearn for times that have passed me by. While I certainly wouldn't mind feeling less exhausted all the time or having fewer gray hairs, I've always been more interested in what's happening tomorrow than what's already come to pass. So it goes somewhat against my general outlook on these sorts of things to draw attention to something that, well, I'm kind of proud of and a little sentimental about: This year is the fifth anniversary of Shadow of the Horns.
That's over 250 monthly track picks, dozens of essays about the state of metal, legendary metal records, my concerns about the vitality of an artform whose worst fans are given too much latitude, and the occasional contemporary update of a cult B-movie soundtrack. Not bad! And in that time, well, the state of media has grown more dire and a lot less encouraging. In just the last month, both FACT and Tiny Mix Tapes announced they were ceasing publication, and though they're not metal-focused publications, it's still discouraging to see other voices in music media go silent. But Treble is still going, and as long as I feel the urge to be obliterated by loud, abrasive music, I'll continue to dig deeper to find new records that remind me of why heavy music resonated with me in the first place.
As I look ahead to the sixth year of this page, I feel the need to do what I more or less always do in January, which is to meditate on the potential year ahead. And I'm not too complicated in a lot of ways—really, I just want to introduce people to some spectacular metal, highlight underground artists who work hard and fight the good fight, and continue to advocate for extreme music that's innovative in all regards, not just simply the part that's "extreme."
But there's another thing I do at the beginning of every year: air grievances. And I'm going to do it again, if only to lament the fact that some things, annoyingly, will seemingly never change. There's the whole issue with fascists in black metal; not long ago Treble contributor and prog columnist Langdon Hickman had a brief, two-part story on Twitter that more or less went like this: "I hope this band isn't fascist. Ah, shit, they're fascist." There's the whole issue with rewarding bad behavior; As I Lay Dying, fronted by Tim Lambesis—who went to prison for hiring someone to murder his wife—is up for Artist of the Year at the San Diego Music Awards. Yep, right in our own backyard, here. Very cool to give awards to bands for going back on their anger and resentment over their frontman's abhorrent behavior for…I'm going to say money? Great job everyone. And then there's the issue of not letting an artist get away with the "I just like trolling people" defense when they're doing something racist, or at the very least fascist friendly.
Now, look, I'm not telling people to throw away their Behemoth records or anything like that. I also recognize that it's next to impossible to do right with every consumer decision we make—there's a reason that "There is no ethical consumption" is such an oft-repeated phrase. And that's because it's true, essentially. And if The Good Place has taught us anything, it's that it's essentially impossible to untangle everything into a simple good-vs.-bad binary. A number of metal labels recently have come under scrutiny for either selling NSBM records or signing a number of problematic bands. And it's easy enough to avoid buying from those labels if that's what you want to do. But, well, there's essentially a problematic artist on most labels you've heard of. D'Angelo's Black Messiah is one of the best albums of the past decade, and I'd even take it a step farther by calling it one of the most important. It's also released via RCA, which has been releasing R. Kelly records for a long time. Not to mention the fact that all these artists in question are on Spotify, whose global audience is massive.
It's not even always that blatant. I'm a firm supporter of local businesses, and choose to buy records from small retailers as often as I can. And unfortunately sometimes a local shop will stock a Burzum record. In fact, Burzum has a Bandcamp page—and there's perhaps no platform more socially conscientious, artist friendly or just plain nice as Bandcamp. We can choose where we draw our line in the sand, and I'm not here to tell anyone what that line should be. And it's not because I don't do it myself, it's just that eventually, we all make some kind of compromise. Not because we want to, or that we're morally corrupt, but because we don't always have better options.
We can, and probably will, play problematic wack-a-mole for the foreseeable future, both inside metal and out. I don't see that changing. My hope for 2020 is less about cancellation than it is about elevating artists who are doing amazing work, and who themselves are doing and saying things that make me proud to be a metalhead. And despite what feels like a painfully long January, amid all the usual stupid crap that makes me roll my eyes, I couldn't help but be touched by this statement from one of my favorite contemporary metal bands, Power Trip.
we've only ever been vocal about 4 things: no tolerance for racism, homophobia, transphobia, xenophobia, etc..not at our shows, not anywhere. a woman's body is hers and right to choose. every person on earth deserves food, clothing, shelter, and healthcare. the planet is dying.

— POWER TRIP (@powertriptx) January 23, 2020
More of this, please.
The Best Metal Tracks of January 2020
Immiseration – "Alienation of Humanity"
I'm not sure if such a thing as a metal supergroup can really exist anymore, considering pretty much every band has current and former members of other bands, all of which can be considered supergroups on some level—just look at how many members move around in death metal and black metal circles. It's incestuous. Maybe not "super" per se. But Immiseration is one such band with a collective resume worth taking note of, its members having been in prior bands such as Noisem and At the Gates. Not that those bands give you much preparation for "Alienation of Humanity," the first track they've released from the album of the same name (which, best I can tell, is a Karl Marx reference). It's a burly one to be sure—the guitars are so thick and noxious they barely resemble anything that could possibly be played by human hands. But by its midsection the song transforms into a melancholy, psychedelic slab of post-rock, transitioning from Demilich to Slint with ease and grace, as strange as it is to be using such words in the context of a gut-churning death metal vomitorium. Yet it's that contrast that makes it interesting, curious, and an early preview into one of the year's most promising bands.
From Alienation of Humanity, out March 8
---
Worm – "Rotting Spheres of Sentient Blackness"
This is, technically, a holdover from late 2019, but bear in mind that by the time this was released, I had already made my list of the year's best metal and went into my annual hibernation cycle. Once I emerged from my grotto, my untrimmed beard extended to my waist, I found myself greeted by various bands named Worm, or Wvrm, or some variation thereof. This Worm is from Florida, and they have an old-school funeral doom/death doom sound that to my ears roars with the kind of vintage filth that Autopsy were slinging back in the early '90s, as covered with a diaphanous sheen of synth. Some metal of this ilk can get mired in grand concepts, way-too-long track suites and complicated barriers for entry. Worm does no such thing, and "Rotting Spheres" has a crossover appeal that progressive types and make-it-uglier death metal aficionados will have no problem agreeing upon.
From Gloomlord, out now via Iron Bonehead
---
Spectral Lore – "Earth (The Mother)"
But then again, sometimes you actually really crave a sprawling, artful, 13-minute track that moves slowly and emphasizes the journey over the immediate gratification of those sweet, burly riffs. Greece's Spectral Lore are exceptional at this sort of thing—their 2014 album III featured seven tracks, and only one of them was under 10 minutes. "Earth (The Mother)" is one of the early tracks released from their split release with Mare Cognitum, and at the expensive of overselling it, it's breathtakingly gorgeous. Such is not a rare thing in progressive, atmospheric black metal realms, but this epic piece of post-metal grandeur aims beyond the tried-and-true tropes, balancing moments of aching delicateness against raw, surging power. Every instrument is locked into a mesmerizing symphony of poetic darkness, surging toward a climax that's both entirely justified and far from the only focal point here. Every moment along the journey is worth savoring, every passage a brilliant moment in its own right—including the bass-drum overload in the final third (sweet holy jesus what is going on?!). "Earth (The Mother)" is a lot of song, a lot of emotions, just a lot. And it's just one-tenth of this massive planetary concept album.
From Wanderers: Astrology of the Nine, out March 13 via I, Voidhanger
---
Midnight – "Rising Scum"
I grow weary of cliche tropes in metal pretty easily—how many executioner-looking dudes in bandoliers do we really need? The answer may shock you. (It's somewhere between zero and, like, five.) But I'll make an exception for Midnight, the Ohio-based band that's been reviving vintage heavy metal a la Venom for five albums straight now. And with Rebirth by Blasphemy, they've made the step up to heavy metal heavyweight Metal Blade, delivering an album that retains all the occult horror mythology of black metal in the form of '80s stadium metal anthems. "Rising Scum" is worthy of all the spandex and bungee that MTV had to offer over 30 years ago, its anthemic sound full of chant-along growls and clanging ride-cymbal bell clangs. It's the kind of metal that would have made suburbanites, church congregations and Geraldo Rivera extremely worried once upon a time. That it's one of the catchiest metal tracks I've heard in ages is just gravy.
From Rebirth by Blasphemy, out now via Metal Blade
---
Fluisteraars – "Nasleep"
Only one month into the year, and I can already sense that black metal's going to be having a hell of a 2020. And a lot of that is likely going to come from The Netherlands. Dutch outfit Fluisteraars' new album is titled Bloem, which translates to "flower," and indeed its artwork features a photo of flowers. This artful, abstract sensibility might seem to put them in a category with bands such as Deafheaven or Oathbreaker, who use black metal as a vessel for something more emotionally challenging. And that's true to some extent, but new track "Nasleep" also finds them offering a vision of black metal that's aligned with bands such as White Ward or Imperial Triumphant—avant garde, graceful, experimental, and driven by innovative arrangements. This one in particular includes a beautiful midsection marked by horns and piano, which fluidly integrate with the driving momentum of the song. If this is where black metal is headed in 2020, I'll gladly follow.
From Bloem, out February 28 via Eisenwald
---
Support our Site—Subscribe to Our Patreon: Become one of our monthly patrons and help support an independent media resource while gaining access to exclusive content, shirts, playlists, mixtapes and more.