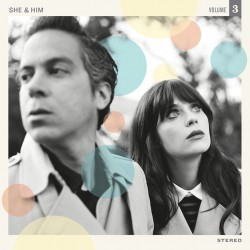 Buy at iTunes | Buy at Insound (vinyl)
The only human more adorable than Zooey Deschanel is Zooey Deschanel circa 2008. She must be aware of this; the third effort by her and M. Ward as She & Him is their most precious yet. With fresh honey injections in Deschanel's vocal chords, the end result is 14 songs that are more milk than milquetoast, more sweet than bittersweet. Volume 3 is a continuation of the first two, but with the added impression of Deschanel trying to outdo herself. Fortunately, Volume 3 is redeemed by Ward's deceptively complex arrangements.
Those familiar with the preceding two volumes know what to expect: old-fashioned melodies over a backdrop of '60s girl-group pop or Patsy Cline-esque country or something else in the alt-retro vein. Interestingly, the creative process of She & Him's songs is anything but retro. Deschanel comes up with song ideas wherever she happens to be: on the set of "The New Girl" or in a hotel or what have you. She'll record them and ship them to Ward who will compose the background sounds. Once it's time to record, the songs are ready to go. All they need to do is hire musicians, which is not a problem for Ward. For Volume 3, he was able to call upon friends like Mike Watt (Minutemen, fIREHOSE) and Joey Spampinato (NRBQ) to help bring these tunes to life.
Volume 3 begins with a Phil Spector-like collection of sounds on "I've Got Your Number, Son." A wall of background vocals supports Deschanel's, and the drums stomp along relentlessly. The opening strings of "Never Wanted Your Love" hint that this album is bound to be at least a little more adventurous than the others, and it is. Deschanel and Ward tag-team vocals on the Brill Building songwriting team of Ellie Greenwich/Jeff Barry's (aka The Raindrops) "Baby," which features melodies that veer in directions previously unexplored by She & Him. There are a couple other notable covers on Volume 3. Deschanel does a nice job on Mel Carter's "Hold Me, Thrill Me, Kiss Me," though the echoing backup vocals are absent and missed. A highlight on the album is the reimagining of Blondie's "Sunday Girl" into a '60s surf-pop tune. Deschanel even tackles the French lyrics with ease.
The problem with Volume 3 is that as hard as it tries to match the kitsch of the first two, it doesn't quite reach the songwriting quality attained earlier on. First single "I Could've Been Your Girl" is not quite as cute as Volume 2's "In The Sun." "Together" is sing-along fun, but it's not quite as fun as Volume 1's "I Was Made for You." There is nothing wrong with this latest effort, per se. If you liked the first two, you'll like this one. It's a little cuter, and also a little more musically intelligent, but not quite as addictive.
Similar Albums:


Best Coast – Crazy For You


Feist – Metals


Cults – Cults