I suppose, in a number of ways, like a psychic saying, "I've expected your call," we should have seen this coming. The popularity of the pairing of Zooey Deschanel and M. Ward should not have surprised anyone. Deschanel has always thrived in pairs, from the disaffected, yet loving Jovie in Elf to the fiercely independent, Holly Golightly-esque Summer Finn of (500) Days of Summer. Though M. Ward has had a fairly successful solo career, he's also benefited from `playing well with others,' such as Bright Eyes, Jenny Lewis and, most recently, Monsters of Folk. But the pairing of these indie darlings was just too much of a good thing not to succeed. By naming their debut album Volume One, we should have also anticipated She & Him to be a continuing project. True to form, two years later, almost to the day, we are treated to the second volume of this duo that can't be called a side project.
The video for the initial single off of Volume Two, "In the Sun," perfectly captures the spirit of the entire album. This is an album that calls to mind images of bobby soxers, laying on the floor with a poodle skirt on, one leg lifted in the air, smacking on gum with one ear glued to the princess phone, twirling the cord in one finger. Our musical couple, both in love with the sounds of older music, capture a playful spirit and energy that seems as fresh now as it did when it was first bottled over 50 years ago. Opener "Thieves" speaks to that spirit, like Nancy Sinatra singing over a Buddy Holly or Roy Orbison track. The aforementioned "In the Sun," like quite a few songs on Volume Two shows that the album's title is more than just a counting placeholder, it shows that this is a continuation of what has come before, a sequel of sorts, rather than a separate entry. Bouncy piano notes and infectious backup singing only highlight the true magic of She & Him, Deschanel's deep, melodious voice and Ward's shimmering reverb guitars.
The same touchstones abound for She & Him throughout Volume Two. Spectoresque girl group doo-wop harmonies, country-soul Dusty Springfield vamping, hypnotizing Linda Ronstadt-like coos, and wholesome Carpenters' sweetness all combine into one precious package. Testament to the timelessness of the duo's songs is the album pairing of "Ridin' in My Car," a cover of an NRBQ song from 1977, itself lifting a Beach Boys flavor from the late '60s, with "Lingering Still," an original composition, that shares the same genealogy. For She & Him, time is traversed as easily as a flux capacitor, where Ward will replace Marty McFly, playing guitar at the "Enchantment Under the Sea" dance. Going along with that theme, the charms of Deschanel, her (ahem) "Power of Love," are pronounced most rapturously in the Skeeter Davis cover, "Gonna Get Along Without You Now," as indie boys everywhere will fall in love to her utterances of "Uh-huh, mm-hmm."
She & Him is the musical equivalent of an ice cream cone and lemonade on a sunny, spring day. "Sing" even shows that the inanities of modern life won't sully the retro feel as the first line, "Talking on the phone and watching Cribs," may raise some eyebrows, but not enough to take you out of the atmosphere. "Over It Over Again" is another highlight, and may cause diabetics to run for their insulin from the sugary sweetness that is sprinkled throughout this girl-group track. "Brand New Shoes" gorgeously slows things down, with somber and beautiful vocals over Ward's simple acoustic guitar notes. It, and closer "If You Can't Sleep," the latter a haunting lullaby, are beautiful postscripts to a treasured love letter that we will most likely read again and again, like a doughboy missing his sweetheart back home.
The content of Volume Two nay not differ too terribly from Volume One, but why mess with perfection? The music of She & Him is still a refreshing change from the usual indie fare, all innocence, sweetness and light as opposed to postmodern angst. The pairing of M. Ward and Zooey Deschanel is proving once again to be a magical combination, but then, we should have seen it coming.
Similar Albums:
The Pipettes- We Are the Pipettes
Nancy Sinatra and Lee Hazelwood – Nancy & Lee
She & Him- Volume One
Video: "In the Sun"
Download at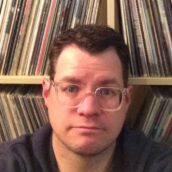 Terrance Terich
Terrance Terich firmly believes that 1985 is the best year for music. He lives near Seattle with his books, movies, and music.