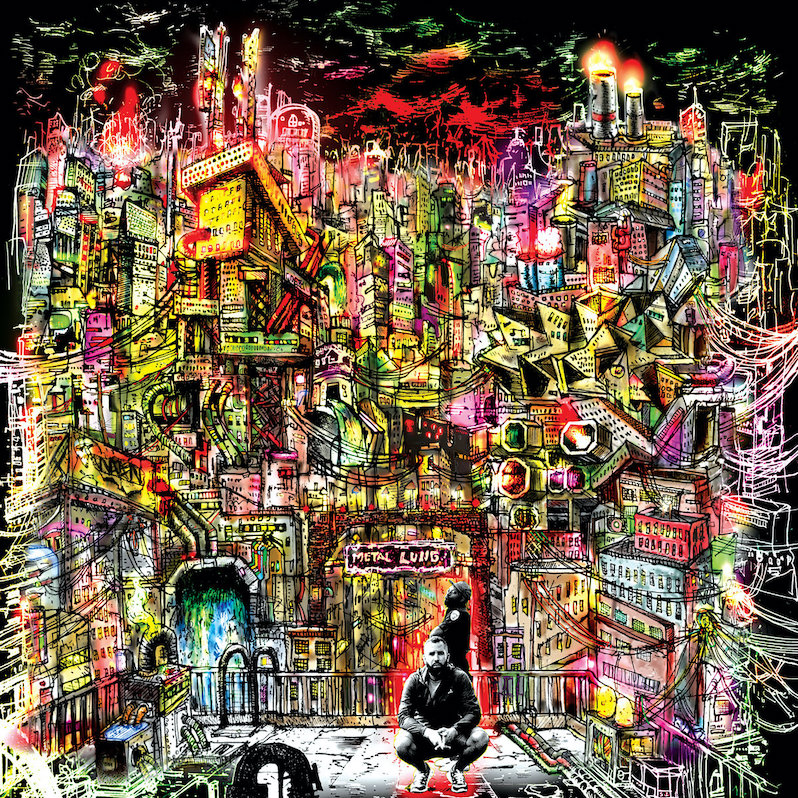 The illustration on the cover of Metal Lung depicts New York hip-hop duo ShrapKnel—emcees Curly Castro and PremRock—standing on a roof in a claustrophobic and massive network of skyscrapers and power lines that looks like a rough draft of a kind of ominous sci-fi metropolis. Everything's connected via ducts borrowed from Terry Gilliam's Brazil, glowing with a shade of eerie neon a la Blade Runner, and featuring a geometrically askew centerpiece that falls somewhere between Guernica and L.A.'s Frank Gehry-designed Walt Disney Concert Hall. It also looks more or less like a real city with its power grid on the brink of overload, an implicit suggestion that maybe the dystopia of cinematic fantasy isn't so far off from where we are now.
That's not all that surprising from a group who take their name from explosive fragments and whose 2020 debut marked something of a new peak in abrasion on Backwoodz Studioz's well-established roster of sandpaper-smooth oracles. Neither horrorcore shock retailers nor strict adherents to gritty realism, ShrapKnel embrace a darkly surreal aesthetic whose spiral staircase can wind through David Cronenberg, The Smiths and John Gotti in a single breath. Information overload is one of the most staggering tools in their arsenal, but on Metal Lung, it's the overwhelming whole of the picture that leaves such a profound impact.
Where Armand Hammer's Elucid handled production on the bulk of ShrapKnel's debut, Brooklyn beatmaker Steel Tipped Dove weaves stunningly otherworldly backdrops for the two emcees' hallucinatory excursions throughout most of Metal Lung. Appropriately enough, one of the earliest highlights is "Damn, Alice!", an extended meditation on Alice in Wonderland ("Mad Hattie Mack meets Mad Hatter/Black lives matter, in case you forgot, with your stupid ass") whose chemical illusions never really dissipate throughout the record's 44 minutes. Some of that's credit to Steel Tipped Dove himself, spinning up menacing drones on "Metal Sum Kids" and nightmare horror-synth loops on "Gravity Falls," though much of it's credit to Castro and PremRock's dizzyingly entangled narratives, connecting pop culture imagery with ripped-from-the-headlines reminders of how fucked up things really are out there until it starts to feel like a cinematic depiction of our own apocalypse.
They start off at a sprint, tearing through Child Actor's urgent, polyrhythmic beats on the tense opener "Running Rebel Swordplay." Castro's first line, "Consider this apex predator/Mike Tyson in the middle of the ring, set it up," feels almost like a challenge, particularly when delivered at a clip few could hope to keep pace with. From there, the duo offers scant few moments to catch up with this gauntlet of one-liners and unsettling images, whether navigating armageddon cityscapes on "Metal Sum Kids" or feeling their way through a bad acid trip on "Mescalito." "A Tribe All Stressed" is a rare moment to breathe, an uneasy waltz that finds both Castro and PremRock returning to a refrain of "We all gotta deal with that stress." But just as the duo take a beat to acknowledge the sources of anxiety they build their jagged scaffolding around, they pull the rug out from under the listener again, on "Lazy Dog" Castro stammering, "bu-bu-but wait it gets worse!"
Metal Lung is wallpapered with nods to decades of hip-hop's innovators, from Castro's "Liquid Swords" cadence on "Acid Vignette" to the echoes of MF Doom that ripple through "Running Rebel Swordplay" and "A Tribe All Stressed" (also read the name of the latter out loud, just in case you missed it). But there's very little here that reads like a straightforward homage; they're more like peeling stickers on traffic signals and old show flyers blowing in a monsoon—fading reminders of a seemingly better past as we head toward a terrifying tomorrow. On Metal Lung, ShrapKnel offer darkly spectacular visions that sometimes feel like guided tours of the underworld. Once it all sinks in it's a vision to behold—hip-hop at its most vividly labyrinthine.
---
Label: Backwoodz
Year: 2022
---
Similar Albums: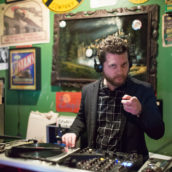 Jeff Terich
Jeff Terich is the founder and editor of Treble. He's been writing about music for 20 years and has been published at American Songwriter, Bandcamp Daily, Reverb, Spin, Stereogum, uDiscoverMusic, VinylMePlease and some others that he's forgetting right now. He's still not tired of it.