Sufjan Stevens : Illinois
Not many artists can approach a concept album the way Sufjan Stevens can. Most prefer to deal in abstracts, narrow in on one particular topic or do something so obtuse it begs the question, "Is this really a concept album?" Stevens, however, keeps his conceptual approach tight, yet open. So open, in fact, that each album he releases is part of a greater whole: The 50 States. Michigan, the first entry, was a deeply personal album for Stevens, as it was the state in which he was born and grew up. Even several of the songs on Seven Swans, his between state follow-up to Michigan, contained references to the Great Lakes State. But on Come On Feel The Illinoise, or Illinois for short, Stevens has done his homework. Each song is part of a cohesive whole, yet holds its own as an individually great piece of music. He gives us not only 70-ish minutes of some of the best songs of his career, but a lesson on the history of Illinois so thorough and comprehensive that its topics run the gamut from Superman to Abraham Lincoln to John Wayne Gacy.
The way Stevens approaches each state-themed album, however, is far different than, say, They Might Be Giants would. Sure, there are quirks. And to be honest, the entire project is more than just a little ambitious. But Stevens runs with it. Rather than try and find shortcuts around finishing his mighty undertaking, he turns each one into a masterpiece, brimming with beautiful music and captivating narratives, both personal and biographical. Each song is a symphony, each lyric sheet a novel (as are the hopelessly long song titles). Sufjan Stevens gets an A for effort each time, and an A+ for the overall package.
Illinois, unlike the more bi-polar (but no less brilliant, mind you) Michigan, comes off like more of a Broadway musical, with far better music. Beginning with a two-minute ballad about a UFO sighting, Stevens opens us into a revolving cast of characters, most of them real, as we are given peeks into their lives, accompanied by gorgeous musical numbers, both melancholy and uplifting. The title track is something of an overture, a two-part credit-scrolling plot starter. Like a nearby cousin to 2003's "Detroit! Lift Up Your Weary Head!", the song is an epic, seven-minute piece of jazzy pop that borrows liberally from Dave Brubeck and closes with a lengthy, beautifully orchestrated coda that, according to the liner notes, is really part two of the song.
As evident on Seven Swans' "A Good Man is Hard to Find," Sufjan Stevens proves that he's the only songwriter capable of making a tear-jerky ballad about a cold-blooded killer. Unsurprisingly, he pulls it off yet again here in "John Wayne Gacy, Jr." Stevens' voice peaks in a high, yet gentle falsetto as he sings "Oh my God,"a chilling moment that could easily reduce you to tears, as could the chilling closing verse:
And in my best behavior
I am really just like him
Look beneath the floorboards
For the secrets I have hid
"Jacksonville" is more laid-back and funky by comparison, with lyrics about Andrew Jackson and civil rights, not necessarily simultaneously. A brief segue ensues, and the map finds us in "Decatur" where "Sang-a-Man River, it overflowed." Here, Stevens plays a more folksy style with banjo and multi-tracked vocals, similar to many an Iron & Wine song. "Chicago" is something of a centerpiece on the album, a powerful, triumphant anthem about the naiveté of youth. Recounting a tale about a road trip to Chicago, then later one to New York, Stevens laments "I made a lot of mistakes" over a repetitive bassline and an empowering horn section. As on many of his larger arrangements, Stevens is backed by a chorus of singers, offering the almost Zen-like mantra "You had to find us/All things go/All things go." It's one of Sufjan Stevens' best songs, but you know, I could easily say the same about any of these tracks.
Between many of the songs lies an instrumental with a hopelessly cumbersome, yet amusing title. Among them are "A Short Reprise for Mary Todd, Who Went Insane, but For Very Good Reasons" and "Let's Hear That String Part Again Because I Don't Think They Heard It." But that's just all part of Stevens' quirky style. They work like scene changes on a revolving theater stage. And around the corner is another captivating scene. "The Man of Metropolis Steals Our Hearts" finds a man calling to Superman for help over alternating folk and garage rock backings. "The Predatory Wasp of the Palisades Is Out To Get Us!" name drops the Trail of Tears whilst Sufjan sings about an old, lost friend stung by winged critters. And the curiously titled "They Are Night Zombies!!" sounds more like Isaac Hayes than one of Stevens' new-folk contemporaries.
Nothing is ever simple for Sufjan Stevens. Whether it's a 50-album project or a song with grand orchestration and countless backup singers, the Brooklynite finds a way to make every little thing enormous. And yet, it's all so easy to digest. The key is, Stevens doesn't write needlessly complicated songs. They're pop songs that just happen to have a lot of external décor. Every song is a masterpiece, even if it's a 30-second minimalist piece, which I imagine will make up the bulk of Alaska, should he ever get to it. I, for one, hope he does, because, gosh darn it, I don't want it to ever end.
Similar Albums:
Iron & Wine – Our Endless Numbered Days
The Polyphonic Spree – The Beginning Stages Of…
Stereolab – Margerine Eclipse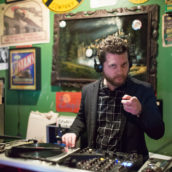 Jeff Terich
Jeff Terich is the founder and editor of Treble. He's been writing about music for 20 years and has been published at American Songwriter, Bandcamp Daily, Reverb, Spin, Stereogum, uDiscoverMusic, VinylMePlease and some others that he's forgetting right now. He's still not tired of it.