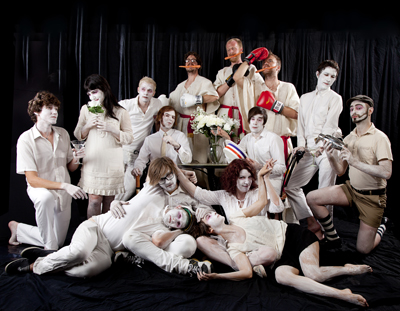 There's no better season for a great single than the summer. Not that a good single can't be enjoyed at any other time of the year. But in the summertime, you need more jams to soundtrack trips to the beach, or house parties, or just make for something great to hear while being lazy around the house. But from a music nerd's standpoint, the summer is also a great time to hear previews of upcoming fall releases. In this installment of the seasonal singles roundup, we've got a little from Column A, and a little from Column B.
All of these songs are available as either free downloads or streams (or videos).
Blonde Redhead – "Here Sometimes"
At intervals around 3-4 years each, the time between Blonde Redhead albums sometimes seems far too long. But when they do release new music, the results are rarely less than sublime. The band's new single, "Here Sometimes," is no exception, a gorgeously hypnotic new wave number that recalls the eerie sensuality of Bat for Lashes more than the dense layers of My Bloody Valentine. It simultaneously floats and throbs, ethereal but with a pronounced and powerful pulse. As the first single released from a new album set for release in September, Blonde Redhead have sent a very intriguing signal of potentially amazing things to come.
Of Montreal – "Coquet Coquette"
On Of Montreal's soon-to-be-released album False Priest, Kevin Barnes & Co. have teamed up with super-producer Jon Brion, in addition to progressive thinking R&B divas Solange Knowles (who recently covered The Dirty Projectors' "Stillness is the Move") and Janelle Monae (who featured Barnes on her own album, The ArchAndroid). So I was understandably surprised that the sound bursting forth from the opening notes of new single "Coquet Coquette" was not, in fact, danceable pop music in the vein of recent work, but rather big, crunchy distorted guitar and thunderous drums. Having previously mastered a prog version of synth pop on previous albums Hissing Fauna Are You the Destroyer? and Skeletal Lamping, Of Montreal has transitioned to a big, operatic rock sound. Songwriting-wise, it's classic Of Montreal, but the amplified production values definitely take the band's baroque style a big step further. This could be great.
Madvillain – "Papermill"
Six years after the jaw-dropping and bizarre brilliance of Madvillainy, Madlib and MF DOOM are reportedly still planning on releasing a proper follow-up to their amazing first team-up. However, while that set is still in the works, the duo have offered up a new tune through Adult Swim's new 8 Singles 8 Weeks series. "Papermill," all 115 seconds of it, is classic Madvillain, with some added fire for effect. DOOM spits his typically nonsensical but impressive lyrics over some '70s funk sounds courtesy of Madlib. It's simple, and in typical fashion, doesn't progress in a fashion that most pop songs do. No chorus, no bridge, just a stream-of-consciousness verse from beginning to end. And it kills. That new album can't come soon enough.
The Pains of Being Pure At Heart – "Say No To Love"
New York twee jangle popsters The Pains of Being Pure At Heart are a very difficult band not to like. And with a name like theirs, they almost seem to invite the challenge. Surface minutiae aside, the music they make is exquisite, a pristine blend of shoegazer layering and simple guitar jangle that makes for a delightful listen all around. "Say No To Love," the band's new single, is no exception, building on the stellar singles from their self-titled debut from last year, and adding some crisper, glossier production. Essentially it's the sound of everything they already did well, but cleaned up and made even better.
High on Fire – "Speak In Tongues"
Adult Swim has a pretty long history of musical collaborations, particularly in hip-hop, having co-released albums by Witchdoctor and, of course, DangerDoom. But their interest in metal is almost as prominent, as evident in the soundtrack to the "Aqua Teen Hunger Force" film, which featured Mastodon's incredible "Cut You With a Linoleum Knife," and fictional black metal outfit Dethklok. So it's only fitting that on the 8 Singles 8 Weeks series' 6th week (the most evil of weeks), AS reserved a spot for sludge metal titans High on Fire. "Speak In Tongues" is classic HoF, nearly six minutes of churning riffs and pummeling rhythms, not to mention Matt Pike's Valhallan bellow. Classic metal destruction for those who prefer their guitars meaty and their vocals beastly.
Kathryn Calder – "Arrow"
Most of Kathryn Calder's band members in the New Pornographers have their own solo gigs, so now is as good as any for the piano-playing singer to offer her own set of originals. "Arrow," the first single from the awesomely titled Are You My Mother? is a twinkly ballad, far removed from the glam-pop of the Pornos, or even the peppy indie pop of her other band, Immaculate Machine. Rather, it's simply a gorgeous little song, consisting of little more than Calder's voice and piano, with some singing saw added for color. Sometimes, a simple idea can go a long way, and this stripped down gem has me convinced.
Fol Chen – "Holograms"
Fol Chen, a mysterious band and/or collective who frequently collaborate with assorted members of the Asthmatic Kitty family, first caught our attention last year with the bizarro pop of Part I: John Shade Your Fortune's Made. The band's latest single, "The Holograms," from Part II: The New December, is more delightful weirdness. With a melody that recalls both Depeche Mode and Animal Collective, the song is a truly strange neon oddity. It's too off-kilter to be new wave, too pulsing and rhythmic to be freak folk. Still, it's a fun tune, and one that grows more complex and interesting as it progresses.
Dan Sartain – "Atheist Funeral"
Alabama singer-songwriter Dan Sartain does rock 'n' roll the old-fashioned way. With rockabilly swing and punk rock swagger, Sartain crafts his tunes in a manner that makes them sound as badass as possible. "Atheist Funeral," the first single from his upcoming album Dan Sartain Lives, channels the greats – Joe Strummer, Tom Waits, Johnny Cash – and lends a dose of infectious fuzz to the song's wild, rockabilly sound. At only two and a half minutes, the song rushes out as quickly as it bursts in, but it most certainly leaves the listener wanting more.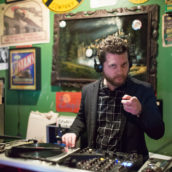 Jeff Terich
Jeff Terich is the founder and editor of Treble. He's been writing about music for 20 years and has been published at American Songwriter, Bandcamp Daily, Reverb, Spin, Stereogum, uDiscoverMusic, VinylMePlease and some others that he's forgetting right now. He's still not tired of it.