Summoning the Lich : United in Chaos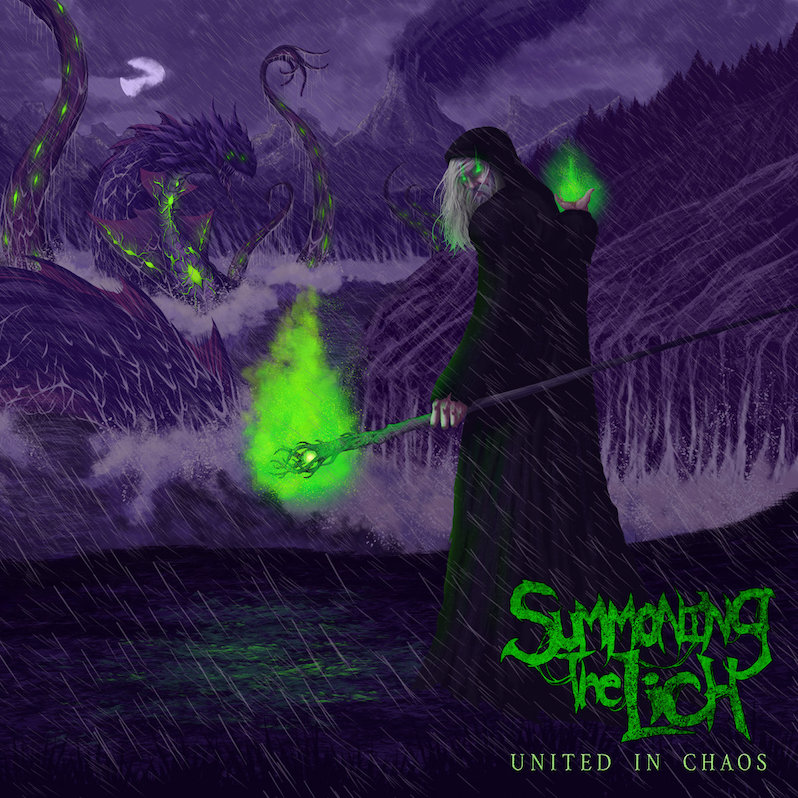 For how much influence death metal takes from horror, there's something to be appreciated when a death metal band goes all-in on fantasy. Not in the sense of zombies eating people or creative depictions of murder, but embracing fantasy elements of literature and games. It's a unique and surreal combination of mediums, taking the brutality of death metal and blending it with adventurous storytelling. It isn't out of place for the genre by any means, for acts such as Wormed and Artificial Brain have provided intriguing takes on science-fiction. Summoning The Lich's approach to the fantastical is in a whole other realm.
On United In Chaos, the St. Louis band draws inspiration from the likes of Dungeons & Dragons, Magic The Gathering and Lord of the Rings. It's an offering of melodic death metal roars with ferocity, underscored by a fun creative spin, following the story of the Lich and the fall of the Kingdom Rodor. Through detailing the protagonist's terrifying power, Summoning The Lich present an enticing premise that will catch the ear of dark fantasy fans. An ominous guitar tone reverberates through "The Nightmare Begins," blast beats pouring outward under a grueling shriek. "Cult of the Ophidian" amplifies that same vibe, eventually shifting into aggressive speed. At key moments, the vocal performance and instrumentation come together to let loose a sonic bloom of sinister energy, further playing into the band's fantastical brutality. 
Where John Flynn's bass work allows for ample moments of adrenaline and heft, Ryan Felps' guitar playing shapes the mood; his riffs stir with a menacing air. TJ Chilton's drumming is relentless and perhaps the most technically interesting of the group; the way he switches up his performance throughout a given song brings a dynamic approach to each track. And David Bruno's vocal work, demonic and villainous, rounds out an already well crafted sonic composition.
Yet for all the band does well, there's a lack of variation in approach that holds United In Chaos back. There may be small inflections in pitch, perhaps a slight change in speed, but the tempo and instrumental tone becomes a little too familiar throughout the record. The similarities between many of the songs dulls some of the edge, but to be fair, there are some standout cuts that help to change things up and breathe some life back into the album. 
"Acid Reign" makes its impact by slowing things down, surrounded by a thick, ominous aura. There aren't so many wicked rhythms in the guitars, which better allows the atmosphere to leave its mark. These small changes bring some freshness to the record, but don't entirely salvage the missed opportunities. That the band is a bit too comfortable in one lane is part of an odd duality, given how exhilarating the music is as well. "Demon of the Snow" and "Death Crystal" both absolutely rip. Bruno roars like a demon, the guitar unleashing a vibrancy of blood red madness.   
United In Chaos is a record with some awesome promise. But there's still some work ahead for Summoning the Lich to make their fantastical adventure as engaging as it could be.
---
Label: Prosthetic
Year: 2021
---
Similar Albums: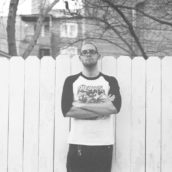 Michael Pementel
A graduate of Columbia College Chicago's Creative Writing Program, Michael Pementel is a published music journalist, specializing in metal and its numerous subgenres. Along with his work for Treble and Bloody Disgusting, he has also written for Consequence of Sound, Metal Injection, Dread Central, Electronic Gaming Monthly and the Funimation blog.