Fetishization of vintage classic rock sounds is rarely, in itself, a means toward creating interesting music. But a band can be forgiven for looking to psychedelic rock music of the `60s and `70s as a model to emulate, especially with regard to production. Drop one of any number of platters from the era onto your turntable and one thing generally stands out — these albums almost invariably sound great, regardless of one's opinion of the actual music. This isn't lost on Australia's Tame Impala, a band who draws a major source of inspiration from the psychedelic era, not only in their affinity for swirling, dreamy soundscapes, but likewise in their appropriation of rich, fuzzed-out production values that project a sensory blend of paisley and incense. A handful of tracks from their debut album Innerspeaker might even fool a first-timer into believing that they were, in fact, recorded in the '60s.
Yet Tame Impala isn't explicitly interested in replicating past sounds. Given that all of the band's members were born in the '80s, it would probably just be a retcon job anyway. For how much inspiration the band pulls from classic psych-rock, however, Tame Impala have taken those influences and run with them to far more unpredictable places on second album Lonerism, a collection that's simultaneously more expansive than their debut and more current. Some of this can be attributed to producer Dave Fridmann, who has aided and abetted some of the most forward-thinking tripmasters of the past 20 years. And yet much of it can be credited to the band's ability to think beyond boundaries, using familiar colors at times but scribbling well outside the lines and onto pages of their own.
The gateway drug on Lonerism is its first single, the rollicking and Bolanesque "Elephant," which maintains the vintage fuzz sound that has been a key element to Tame Impala's identity from the beginning. It's a fun, fiery, even somewhat silly song that finds frontman Kevin Parker spouting lines like, "He feels like an elephant/ swinging his big gray trunk, for the hell of it." But it holds more than a few surprises, particularly during the stunning climax in which organ, synth and guitar all begin to play off each other in an intricately choreographed dance. And still, all three minutes and 31 seconds rock with the urgency of a Queens of the Stone Age song. However, the album's other single, "Apocalypse Dreams," is a stronger example of the bold steps the band have taken since their debut, building a pulsing, krautrock-inspired hypno-gem around eerie flashes of piano. Where "Elephant" is a thick, corporeal beast, "Apocalypse Dreams" is a transcendent hallucination.
Throughout most of Lonerism, Tame Impala maintains a balance of thick, psychedelic sounds undercut with more modern flourishes. First track "Be Above It" is one of the more explicit examples, with sputtering drum loops and vocal samples playing an erratic backing to bright waves of synth. The gorgeous "Endors Toi" doesn't so much feel like a conventional song as an extended bridge that builds and spirals into weirder, more beautiful places as Parker delivers slow and gorgeously detached verses, as if to chase one extended, sublime climax. The jaunty nature of "Nothing That Has Happened So Far Has Been Anything We Could Control" gives it the feel of a new wave track, or even M83 with a lot more reverb, though its booming drums and woozy film-strip synths collide with surrealist impact. And after a skipping, disorienting loop, "Feels Like We Only Go Backwards" marks the rare moment in which the band wears influence on sleeve, with Parker doing his best Lennon falsetto, and turning out one of the album's strongest tracks in the process.
Tame Impala have never shied away from the past — to the contrary, it's provided a seemingly endless well of resources to pluck from and reconstruct in their own idiosyncratic way. That's the key with Lonerism though; nothing about it sounds old or tired, or more importantly, expected. There's no point in reliving the past, but with a fresh perspective, Tame Impala make the compelling case for revisiting a good idea and rebuilding it into something new.
Similar Albums:
Flaming Lips – The Soft Bulletin
The Beatles – The Beatles (White Album)
Melody's Echo Chamber – Melody's Echo Chamber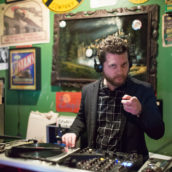 Jeff Terich
Jeff Terich is the founder and editor of Treble. He's been writing about music for 20 years and has been published at American Songwriter, Bandcamp Daily, Reverb, Spin, Stereogum, uDiscoverMusic, VinylMePlease and some others that he's forgetting right now. He's still not tired of it.