The 90 Minute Guide: Metal, Part One
Since the dawn of the 90 Minute Guide, now in its fifth year, the objective was to create a sample of music as an introduction to a specific genre or category of music. And in all this time, one of my long-term goals was to create a 90 Minute Guide to one of the genres that seems to elude many a critic, reader and music aficionado: metal. It's no mystery why metal is a difficult realm to enter for some listeners; it's rock music pushed to its farthest extremes, displaying feats of volume, speed (in any direction) and abrasion far beyond the mainstream. But that's also precisely what makes it so good.
There's a good chance that anyone reading this already has one foot in the door. For some, it's a heavy rock band, such as Van Halen or Kiss. For others, it's grunge, a la Alice in Chains or Soundgarden. And others still may have listened to their share of Rage Against the Machine records. But metal goes much, much deeper than that. In fact, within heavy metal there are subgenres upon subgenres, niches feeding into even more specific niches. There's heavy, and then there's atmospherically heavy, technical, avant garde, dark, depressive, fast, mathematical, sludgy and stoned. It's a complex web of sounds, but there's one thing that it all has in common: it's loud and it's heavy.
However, that created a dilemma. In order to properly create a metal mixtape primer, one volume wouldn't do. My goal is to cover as much ground as possible, from delving into the smoky depths of doom metal to the lightning fast bursts of grindcore, and from the ugly extremes of death metal on to the Pagan windstorms of black metal. There's a richness and diversity to the world of heavy metal that can take a long time to soak in, and at one song per artist, that only scratches the surface. But this should provide a good start.
This week, we cover the span from 1968 to 1990, covering the origins of metal, the New Wave of British Heavy Metal, the origin and evolution of thrash, grindcore's genesis and the birth of death, with each song linking to Youtube for your listening convenience. Next week, we'll take it even further.
Update: This mix is now a Spotify Playlist. Happy listening!
Side One: British Steel or Hand of Doom
Blue Cheer
"Summertime Blues" 3:47
[found on Vincebus Eruptum, 1968]
As with any genre, the birth of metal is open to interpretation to a certain degree, and there are plenty of songs and albums that contributed to its genesis, including The Beatles' "Helter Skelter." But there's a general consensus among critics that the first genuine heavy metal song is Blue Cheer's cover of Eddie Cochran's "Summertime Blues." The San Francisco power trio treated the classic rock 'n' roll tune to a heavy dose of distortion and wild guitar wizardry, creating a sound both massive and fun. Historically speaking, Blue Cheer was mostly a blues-based psychedelic rock band, and "heavy metal" wasn't really a commonly known term at the time. But the seeds had been planted, and soon enough a Birmingham quartet would streamline a similar combination of sounds into something even heavier and darker.
Black Sabbath
"Paranoid" 2:53
[found on Paranoid, 1970]
And this would be that Birmingham band. If Blue Cheer was the prototypical metal band, Black Sabbath was the first metal band to emerge fully formed, their low-tuned psychedelic rumble creating the template from which literally thousands of bands would take inspiration. The band's first four albums laid the groundwork for generations of headbangers to come, their distinctive, bluesy crunch courtesy of Tony Iommi's unique drop-D tuning, which he adopted after an injury affected his ability to form power chords. And Ozzy Osbourne, long before his family became the subject of a reality show on MTV, embodied the ultimate in enigmatic and creepy frontmen. "Paranoid" is one of the band's most recognizable songs, and for that matter one of the most kickass, turning their ominous doom metal into a high-energy anthem that set a gold standard for the genre.
Deep Purple
"Pictures of Home" 5:07
[found on Machine Head]
It took a while to definitively separate "metal" from "hard rock," and by today's standards, Deep Purple may sound much closer to the latter. Yet in the early '70s, the band's heavy, guitar-driven powerhouse contributed greatly to the evolution of metal. Along with Black Sabbath and Led Zeppelin, Deep Purple created a big, burly sound that emphasized riffs and theatrics, forming a holy trinity whose influence fed into the New Wave of British Heavy Metal (NWOBHM) movement of the late '70s and early '80s. "Pictures of Home" is a prime example of Deep Purple at the peak of their powers, with heavily fuzzed-out organ backing Ritchie Blackmore's fiery guitar work. Call it what you will, but it sounds like metal to me.
Judas Priest
"The Ripper" 2:51
[found on Sad Wings of Destiny, 1976]
After Black Sabbath, the UK produced its share of similarly heavy-minded bands like Sir Lord Baltimore, Budgie and Rainbow, but when Judas Priest released their debut Sad Wings of Destiny, metal entered an entirely new phase. Much in the same way that the Sex Pistols had as much of an impact on punk fashion as they did the music, Judas Priest had a big influence not only on metal's musical landscape, but its look as well. Frontman Rob Halford often performed clad in biker-style gear including lots of leather (which they were Hell bent for, as you may recall) and spikes, though his short hair merely added to his distinct look. And guitarists K.K. Downing and Glen Tipton provided a dual-pronged attack that beefed up their sound considerably. On "The Ripper," all of their elements come together magnificently, from the infectious riff that accompanies the chorus to Halford's operatic falsetto, as well as the song's murderous title subject.
Mötörhead
"Ace of Spades" 2:50
[found on Ace of Spades, 1980]
With a faster, slightly more punk-leaning take on metal, Mötörhead carved out a unique niche in the NWOBHM era. Though the band predated the Pistols and never actually played punk rock, Mötörhead shared a similar kind of speed and energy, and created a pioneering speed metal sound that still sounds pretty damn exciting today. Throughout their more than three decade history, Mötörhead has gone through numerous lineup changes, but one thing remains constant: Lemmy Kilmeister. The band's singer and bassist, Lemmy is Mötörhead, and one of metal's most badass frontmen to boot. He drives that point home perfectly on the band's signature tune, "Ace of Spades," which is, like many great metal songs, at heart a great rock 'n' roll song.
Diamond Head
"Lightning to the Nations" 4:15
[found on Lightning to the Nations, 1980]
Diamond Head's story is one of the more interesting in British metal, beginning with the release of their first album, Lightning to the Nations, also commonly known as the "White Album" because it was shipped in a nondescript white LP sleeve. Boasting Sabbath's heaviness, Led Zeppelin's gift for tuneful anthem's, Judas Priest's razor-sharp edge and Queen's theatrics, the band basically got the ratio just right the first time out of the gates. Unfortunately, poor sales, management and decision-making halted their career for a short time in the mid-'80s. But thanks to some endorsements from the likes of Metallica (as well as a cover of one of the band's songs), the band's cult audience has grown over time, and they've subsequently reunited a few times. Their debut contains many classic songs, among them the roaring title track, a song as catchy as it is mighty.
Venom
"Black Metal" 3:44
[found on Black Metal, 1982]
Newcastle's Venom is credited with coining the term "black metal" with their 1982 song and album of the same name, and as such, the band is considered an aesthetic precursor to black metal. But, stylistically speaking, Venom is more accurately a speed or thrash metal band, albeit one that often wrote songs about Satan and the occult. So, when you get right down to it, "Black Metal" isn't actually too far off from a second wave black metal act such as Darkthrone (which I will get to in Part Two). Nonetheless, Venom is actually pretty accessible, and their Satanic schtick was more or less just that – a kind of goofy gimmick that, while plenty effective in terms of cultivating their raw heavy metal image, isn't very scary in retrospect. All the same, "Black Metal" rocks hard, and that's ultimately what makes it a winner. That they got a name drop on The Beastie Boys' Hello Nasty only adds to their credibility.
Discharge
"Protest and Survive" 2:13
[found on Hear Nothing See Nothing Say Nothing, 1982]
UK outfit Discharge isn't a metal band in the same way Judas Priest or Iron Maiden is a metal band, and more accurately, they're actually a hardcore punk band. But for a hardcore band, they made a pretty monumental contribution to metal, pioneering the crust punk/d-beat sound, which has seeped into the works of bands like Disfear, Trap Them, Black Breath and even Converge. "Protest and Survive" has a slightly slower groove to it, one that has a thrash metal streak running through it. Discharge may be more punk than anything, but they did metal a big favor. And 30 years later, they're still tearing shit up.
Metallica
"Motorbreath" 3:10
[found on Kill 'em All, 1983]
I'll be the first to admit that I'm not the biggest Metallica fan in the world, and a lot of that has to do with the fact that they've more or less become an embarrassing rock band. But I certainly recognize that they, at one point, were doing revolutionary things with heavy metal, and are responsible for releasing what's generally considered the first big U.S. thrash metal album, Kill 'Em All. It's, not coincidentally, also my favorite of the band's albums, largely in part for its fast-paced, aggressive sound. "Motorbreath" is a favorite, a short and jagged burst of hyperspeed thrash that owes a lot to Mötörhead, which is more or less expected from its title. Kill 'Em All was released not long after the band fired guitarist Dave Mustaine, who later formed Megadeth, which had its own unique and awesome take on thrash. How big his influence was on the album, meanwhile, probably varies depending upon who you ask.
Iron Maiden
"Aces High" 4:33
[found on Powerslave, 1984]
Fun Fact: Iron Maiden frontman Bruce Dickinson is a licensed pilot, and actually flies the band on international tours via their own plane, Ed Force One, which is always on Flight 666. How rad is that? Anyhow, to be a band with that kind of money to throw around, you have to be incredibly successful, but Iron Maiden has that covered. The band is one of the highest grossing metal bands in history, having sold more than 70 million albums worldwide. Doing that requires a kind of crossover appeal that not every metal band has, and "Aces High," a highlight from their amazing Powerslave, has that in spades (no pun intended, or maybe it was). With harmonized guitar riffing and Dickinson's mighty wail, the song is an anthem among anthems, a peak for which many metal bands should aspire, and likely have. But Iron Maiden always had a larger-than-life appeal which, thanks to songs like this, is pretty easy to understand.
Saint Vitus
"Saint Vitus" 4:49
[found on Saint Vitus, 1984]
California doom metal icons Saint Vitus released their first few records on SST, a label that was best known for being home to Black Flag, Hüsker Dü and The Minutemen. And if you squint, you might hear a little bit of Black Flag in Saint Vitus' dark rumble. More than anything, however, you'll hear the old school riffs of Black Sabbath, albeit with more of an American spin. Their namesake song is the shortest on their debut album, yet it's still an epic anthem, with vocalist Scott Reagers belting out their name (a medieval saint, who also lent his name to a disease) with a dramatic fierceness, and Dave Chandler's fuzzed out guitars booming throughout. No, this is certainly not punk, but it's a very raw take on doom metal, and one that ranks among the best.
Mercyful Fate
"Desecration of Souls" 4:55
[found on Don't Break the Oath, 1984]
Of the many important metal acts to break through in the 1980s, Mercyful Fate is by far one of the most theatrical and dramatic. With the corpse-painted, operatic King Diamond guiding the band via his Alice Cooper-style ghoulish image and over-the-top falsetto, the Danish band played a darker, gothic style of metal that provided a notable influence on black metal, if for the band's image more than anything. But their music itself is bolstered by strong melodies, building off of a similar template as acts like Iron Maiden and Judas Priest, only with a much more supernaturally-oriented image (plus the whole Satan thing, which Sweden's Ghost has taken to a new extreme). The band's identity is a complex and elaborate one, but their music is mostly a whole lot of fun, so long as cartoonish dudes wailing about the occult is your thing.
Side Two: Angel of Death or Horrified
Pentagram
"Sign of the Wolf" 3:10
[found on Pentagram (Relentless), 1985]
Chronologically speaking, Pentagram is one of the longest running metal bands ever. Formed in 1971, the band is just a few years shy of Black Sabbath, and, as far as I know, the longest running doom metal band in the United States. Curiously, they didn't actually release their debut self-titled album, later retitled Relentless, until 1985. But the delay was well worth it. Relentless is a doom metal essential, thick with buzzing, distorted riffs and occult imagery, as told via charismatic frontman Bobby Liebling. "Sign of the Wolf" is a small sampling of everything the band does right: hooks, heaviness, dark imagery and riffs galore. Pentagram is still waking the dead today, even though its members are well into their 60s, which is a pretty impressive feat given the kind of energy that heavy metal demands.
Celtic Frost
"Dawn of Megiddo" 5:47
[found on To Mega Therion, 1985]
Another band credited with leaving a massive and weirdly arty mark on black metal, Switzerland's Celtic Frost played thrash metal with an ear for the avant garde. Their 1985 album To Mega Therion, which boasts a super creepy cover image by H.R. Giger, runs the gamut from relatively straightforward explosions to ominous and experimental epics like "Dawn of Megiddo," a terrifying standout built upon booming timpani and dense horn interludes that surely accompany the elevator ride down to hell. This is some powerful and frightening music, which is precisely what makes it so impressive.
Possessed
"Death Metal" 3:14
[found on Seven Churches, 1985]
Possessed occupies a unique place in metal's history that's not too unlike Venom's. On their sole 1985 album, Seven Churches, Possessed featured a song titled "Death Metal," which more or less coined the term. But Possessed, in essence, were a thrash metal band, albeit one whose extreme and ugly form of the genre played a major role in shaping what became death metal. Plenty of bands took it to all kinds of extremes: Cryptopsy made it more brutal, Opeth made it more epic, and Cynic made it a lot more technical and experimental. Still, this was a promising beginning, and a lot of fun to shout along to, even if some of those shouting along have YouTube accounts under the name 'FaggotMutilator666.' Metal evolves, even if not all of its listeners do.
Slayer
"Criminally Insane" 2:23
[found on Reign in Blood, 1986]
Slayer released the definitive thrash metal masterpiece, Reign in Blood, in 1986, which also happens to be the same year that Metallica released Master of Puppets, an album that many consider their own masterpiece. And around this point, each of the Big Four thrash bands had cultivated their own unique identity. Less progressive than Metallica or Megadeth, and much more prone to controversy than Anthrax, Slayer wallpapered their albums with Satanic imagery, songs about Nazism, death, suicide and lots of blazing riffs with very little time with which to execute them. Reign in Blood is around 30 minutes long, so it moves quickly and one best be ready to take it on. Because songs like "Criminally Insane" are uncompromising and fierce, leaving a trail of destruction in just a little over two minutes.
Anthrax
"I Am the Law" 5:53
[found on Among the Living, 1987]
Of the "Big Four" thrash metal bands, Anthrax was the only one who hailed from New York rather than California, and as such, displayed a much more prominent hardcore influence in their sound. Gang vocals were a necessary ingredient, as were Stephen King and comic books. Their 1987 album Among the Living featured a title track with lyrics that referenced Stephen King's "The Stand." And another standout, "I Am the Law," took its inspiration from "Judge Dredd." And though they occasionally pushed politics to the front of their songs (most famously in their collaboration with Public Enemy on "Bring the Noise"), their escapist comic material, like this one, is some of their most fun.
Napalm Death
"Control"1:24
[found on Scum, 1987]
Napalm Death is credited with coining the term "grind" to describe their music, which actually is sort of a reference to Swans. That later morphed into "grindcore," and Scum is a very raw and lo-fi origin of grindcore as a whole. To the uninitiated, grindcore is metal played at extremely fast speeds, with guttural vocals and little disregard for hooks, though sometimes they find their way in as well. A great deal of Scum, which boasts very few songs that span longer than 90 seconds, sounds like a hardcore band whose members are racing each other to finish the song first. That's part of the fun, though one should do some stretches beforehand as not to get grind fatigue. Later, bands within the genre grew more sophisticated and technical, but Scum, which featured some awesome numbers like "Control," is an essential document of one of metal's most extreme offshoots.
Bathory
"Pace Till Death" 3:40
[found on Blood Fire Death, 1988]
Bathory, the project of Sweden's dark visionary Quorthon, is one of the first bands to carve out the blast-beat addled black metal sound that became both infamous and influential a few years down the line. Bathory also led the command in the related Viking metal genre, which concerned itself with folklore and, via more blast beats and melodic minor keys, sounded a lot like a charging horde of vikings, ready to pillage, plunder, get some pentagram tattoos and play a wicked solo. On "Pace Till Death," a highlight from Blood Fire Death, Quorthon takes his thrashy black metal approach to the battlefield, and what transpires is an invigorating rush of razor sharp riffs and stomping Scandinavian warriors.
Repulsion
"Black Breath" 2:18
[found on Horrified, 1989]
Literally hundreds, maybe thousands of bands have tried their hand at grindcore, some raw, some more streamlined, but it's hard to beat Repulsion, whose one and only album Horrified made them legends. Recorded in 1986, Horrified didn't actually see release until 1989, and its rough sound has a certain punk rock quality to it. Nonetheless, Repulsion's thrash and death metal-tinged take on grindcore is, simply, awesome. With songs packed full of gore and guts (though not Gorguts), Repulsion's raw grind style made hyper-speed pummeling sound just ever so sweeter. And on tracks like "Black Breath," they proved they knew their way around a thrash anthem as well. Another album would have been great, but they bowed out on a high note.
Morbid Angel
"Chapel of Ghouls" 4:57
[found on Altars of Madness, 1989]
Death metal existed before Morbid Angel, but it took that Floridian band to take the genre to a new, horrific extreme. With Pete Sandoval's rapid fire drum work, Trey Azagoth and Richard Brunelle's harsh riffage, and David Vincent's unholy growl, Morbid Angel gave death metal a brutal sound that more than lived up to its beastly name on Altars of Madness. And on "Chapel of Ghouls," the band combines their muscular, jackhammer pound with scary interludes that break up the six-string assault with atmospheric dread. They have since basically gone industrial nu-metal on their poorly received ninth album Illud Divinium Insanus, which is regrettable, but not without precedent. No matter, their debut and subsequent early '90s output stands as a testament to death metal's more destructive side.
Terrorizer
"Enslaved by Propaganda" 2:14
[found on World Downfall, 1989]
Los Angeles' Terrorizer released one album and split up, leaving a legacy of one brief but vicious and highly impressive record that successfully and creatively bridged the gap between grindcore and death metal. Building off of Napalm Death's template, the band incorporated more complex tempo shifts, crisper production and some occasional moments of honest-to-god groove, as heard on "Enslaved by Propaganda." The song is a real ripper, part death 'n' roll fist pumper and part grindcore pound fest. In the aftermath, the band's members went on to join other notable acts like Morbid Angel and Napalm Death, which is fitting, since this album is essentially the distance between those two.
Entombed
"Drowned" 4:02
[found on Left Hand Path, 1990]
Morbid Angel may have taken the effort to make death metal as ugly and parent-unfriendly as humanly possible, but Sweden's Entombed deserves a medal for streamlining that sound and adding a more sophisticated songwriting approach. Entombed's Left Hand Path soon became the template for European death metal, with its power drill guitar riffs and punk rock efficiency. This sound soon evolved into a more diverse and accessible take on low-end brutality, known as "death 'n' roll," a name that the band apparently doesn't care for all that much. Take a song like "Drowned, though, and it's hard not to be drawn in by its menacing opening riff and rock 'n' roll swagger. It's definitely death metal, but it's also all the proof you need that death metal can be approachable.
Megadeth
"Holy Wars… the Punishment Due" 6:33
[found on Rust In Peace, 1990]
An original member of Metallica, Dave Mustaine left the band, or more accurately got kicked out, before the release of 1983's Kill 'Em All. And throughout his career, he battled drug addiction, a sad fact that ultimately led to his decision to become a born-again Christian. Adopting religion, though a seemingly un-metal thing to do, despite Slayer's Tom Araya of all people claiming as well to be a Christian, might have saved his life. But the more conservative viewpoints he's adopted since then have been a bit of a turnoff. In contrast, during Megadeth's peak years between 1987 and 1992, the band churned out a series of albums that, for my money, beat Metallica as far as songwriting goes. "Holy Wars… the Punishment Due" is one such triumph, a six and a half minute single that remained unedited despite being beyond epic. And Rust In Piece has its share of similar rippers. Still, when you begin an album with a song like this, the listener's mind is bound to explode good and early.
Next: The 90 Minute Guide: Metal, Part Two
---
Related articles:
10 Artists Who Pass the 5-Albums Test
Album Review: Judas Priest – British Steel (30th Anniversary Edition)
10 Essential Thrash Metal Albums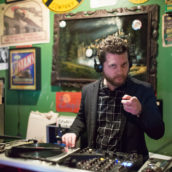 Jeff Terich
Jeff Terich is the founder and editor of Treble. He's been writing about music for 20 years and has been published at American Songwriter, Bandcamp Daily, Reverb, Spin, Stereogum, uDiscoverMusic, VinylMePlease and some others that he's forgetting right now. He's still not tired of it.