Live Review: The Arcade Fire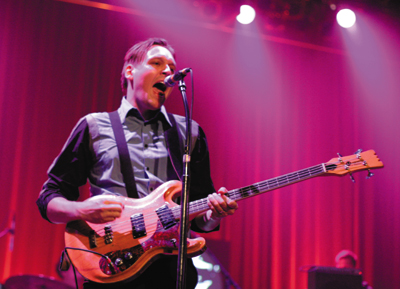 The Arcade Fire's live shows are frequently described with fanatical hyperbole, with phrases like `religious experience' and `once in a lifetime' thrown around often enough to raise suspicion. Given the group's tendency to sell out shows earlier than most people even know that tickets are on sale, coupled with exaggerated (one would think) fan accounts of performances, it's easy to become skeptical. And certainly, many have already. Wherever there's a fanboy recalling his indie rock baptism, there's someone else to say "I just don't see what the big deal is." I understand that point of view; I've taken it many times against bands whose hype outweighs their talent. But The Arcade Fire lives up to every single word of hype.
Montreal's greatest kicked off their spring US tour in San Diego, of all places, an appropriate stop before heading to Coachella that weekend. Their prior visit to San Diego found the band playing a sold out show at the Casbah, a venue which holds less than 200 people. In perspective, Spreckels is about seven or eight times as big, and sold out in an even shorter amount of time. Cass McCombs opened the evening with a pleasant but understated set, nowhere near the intensity that would later ensue. No offense to McCombs, but considering The National opened several dates on the band's tour, I was a bit disappointed. Maybe that would have been too much excitement, now that I think about it.
As anticipation swelled following McCombs' set, the lights grew dim, and a fuzzy video of an evangelical woman ranting and raving about something-or-other played on a canvas screen. Lord only knows what the lady was yelling about, but it seemed to fit with the Neon Bible backdrop, and it certainly made the crowd go crazy. Under the near deafening howls of the audience, the group emerged (I counted eight of `em), strapping on, plugging in and launching into "Black Mirror," the leadoff track to their latest stroke of genius, Neon Bible. The shouts and screams dissipated as the group began to play, but once again became audible as people joined the Win Butler, who seemed larger than life (or at least 6'2″) for his own chant of "un-deux-trois/ le mirror noir." And yeah, I did too, if you must know.
From there, the band continued on with "No Cars Go," an emotional and powerful highlight, with every member of the band singing and shouting in unison, right down to the pair of violinists on the right hand side of the stage. Only two songs in, my expectations were exceeded. And yet it only got better from there. Regine Chassagne danced her way to the center of the stage to sing an energetic and joyous rendition of "Haiti," which only upped the fun factor that much further. Chassagne was clearly one of the most animated personalities on stage, performing with enthusiasm that rivaled the crowd's, and, refreshingly, smiling throughout the entire set. Follow that with the soaring "Wake Up," and "My Body is a Cage," played on a rather large and ominous looking pipe organ, and the set already had turned into one of the greatest of my lifetime, even before the band broke into their `hits,' so to speak.
Typically a mellow kind of town, San Diego revealed their unbridled excitement with each and every song, going absolutely nuts, prompting Butler to joke "yeah, they say everyone in Southern California is so laid back." When Win Butler plucked the opening notes to "Neighborhood #1 (Tunnels)", one could feel a distinct change in the atmosphere. The air thickened, the temperature raised, and the audience, as they would soon discover, was ready to explode at any moment. The band's performance of Funeral's leadoff track was as close to perfect as one could expect, sounding near note perfect while, somehow, its sonic hugeness kept it from sounding identical to the version heard on the album. Next up was "Neighborhood #3 (The Power Out)", which made the intensity all the more palpable. One of the group's most rocking singles, it soon became a chaotic and insane flurry of broken guitar strings, bass drums beaten with primal aggression, and a whole bunch of noise. Then came "Rebellion (Lies)", and that's when all hell broke loose. A good 100 or more people came rushing toward the stage from out of their seats, hopping into the pit for a euphoric, epic rock `n' roll love in. It was most certainly a positive bonding between all parties involved, though the promoters and security clearly looked panicked, attempting to usher everyone back to their seats as quickly as possible. Nonetheless, as everyone joined in a chant of "lii-i-ies, lii-i-ies," one could feel the shared mirth and merriment of all participants. This too eventually became a visceral display of catharsis, with mic stands being tossed in the air with great distance and accuracy for that matter.
The band closed the evening with "Keep the Car Running," their current radio hit, before disappearing behind the curtains for a brief pause. They emerged once more for encore one, during which they rocked "The Well and the Lighthouse," a standout from their new album, then disappeared yet again. Once more, they arrived to give the crowd what they wanted, cooling it down with Neon Bible's title track, made more artful and interesting through use of torn pages from a book used as a visual, percussive and perhaps symbolic device.
As the band disappeared, I was left exhausted but overjoyed. Easily one of the most entertaining 90 minutes of my life, it was also one of the most memorable shows I can remember. I may not go so far as to say it was a religious experience, but it's a show I'll be talking about for a long, long time. That's for damn sure.