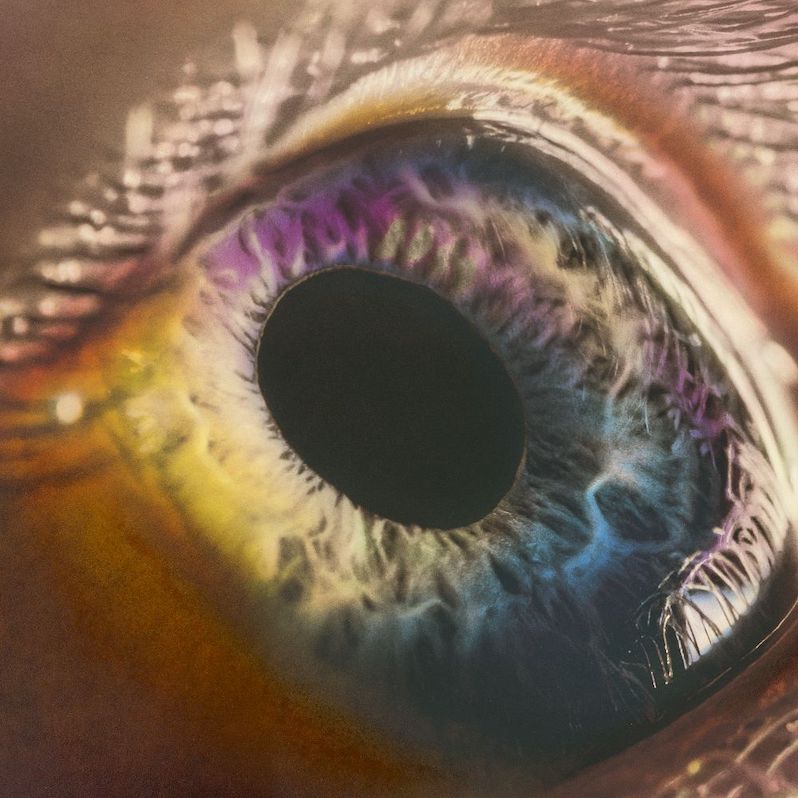 It's hard to reckon with sincerity sometimes, especially for a band like Arcade Fire. From their rambunctious beginnings to their peak as heirs-apparent to U2 as the Biggest Rock Band in the World, the Montreal group made their name delivering performances of massive unfettered feeling. The "Neighborhood" suite, "Wake Up," "Keep the Car Running" and "Intervention" carried a banner to the very barricades of indie, and marked a triumphant sea change for Rock Music in the early '00s. Arcade Fire's indie peer bands had once been expected to work with smaller, humbler creative palates, usually in a default of cool malaise. But Arcade Fire hollered and beat the drum, often literally all the way to the rafters, for creative independence of a different sort: something far larger, primal, more earnest and involving. It was hard to look away from the drastic, expansive mode changes that the band displayed, even if on just a musical level. New Orleans horns, Haitian rara, heartland rock, hurdy-gurdys, glockenspiels, Hungarian string orchestras, gut-shaking synthesizers, colorful ribbons and hand-lasers, and even the late David Bowie, a longtime champion of the band—all these things and more had a place in Arcade Fire's sweeping musical brew.
Other more-toxic American ideals eventually leached the group's pure heart— the lonely melodrama of suburban sprawl; the chilling isolation that resulted from new personal technologies; the detriment of corporate overreach. Arcade Fire's descent into irony resulted in 2017's Everything Now, an album that lost them some cachet for its gimmicky roll-out and approach. Constructing all elements of Everything Now's universe with a knowing wink, Arcade Fire had calcified into something resembling the stiff mainstream rock that their music actively resisted. It became confusing to reckon with the trite new stunts, and Arcade Fire became a darker band, leaving some of their most honest ways of feeling in the wings.
The group's new album, WE, presents a purposeful return to form. It feels simultaneously bigger and more earnest than Reflektor and Everything Now, bringing the band's signature move—its attempts to sincerely connect—back to the center ring. WE is amorphously a concept album, with Arcade Fire positing this idea of (re)connection as if it's their grandest to-date: What if we, as humans, got together, were nice to each other, and that made things okay? It's a potentially treacly concept that isn't exactly novel lyrical territory. But in the wake of the global pandemic, with the band so unflappably open-hearted about embracing the notion as new and urgent, it's also easy to initially slip back into the world of WE with some benefit of the doubt. We all need comforts in trying times, and it's reassuring to at least give them another go.
The album is certainly better than Everything Now, and in spite of its scale and inscrutable indexing system—it's not every band that can get away with both Roman numerals and parenthetical subtitles—Arcade Fire admirably manage mostly to whittle down WE's grand ideas into seven tracks (or 10 via streaming platforms). A handful of the songs feel as charged as Funeral's lightning in a bottle, and just as redemptive. "You know that we've been beat down and broken, but now we can testify/We can make it if you don't quit on me/I won't quit on you/Don't quit on me/We can make it, baby," Win Butler and Régine Chassagne exclaim on lead single "The Lightning I." The track finds catharsis in its succeeding part II too: Springsteen-in-turbo mode, and the electrifying thrill of old times is palpable. It's this kind of epic focus pull—bringing forces of nature and worldwide togetherness into extreme closeup, incarnate in the album cover's urgently hopeful gaze—that offer signs of Arcade Fire's renewed potential.
The band whip up some ecstatic energy on the album's pair of proper dance numbers too. "Age of Anxiety II (Rabbit Hole)," featured on Side I ("I") offers a wormhole-y disco escape from the darkness: it's reminiscent of "Reflektor" and "Afterlife," leveling up gradually to thrillingly massive peaks. And on the upside-down side of the very same Rabbit Hole, "Unconditional II (Race and Religion)" proposes a new kind of love supreme, reclaiming the lines that stand to divide us as a kind of new and bridging force. "Love unites/breaking as the light into the color of your eyes/I'll be your race and religion/You be my race and religion," Chassagne sings with an immortal glow beneath the mirrorball, aided by the epic double-tracked yawp of guest vocalist Peter Gabriel. Both tracks run at an identical disco tempo, offering a kind of yin-yang of the same big feeling.
Other, bulkier numbers don't land with the same power or focus. (They come from both the bright and dark sides of the album's I/WE binary.) Like America in the throes of late-stage capitalism, "End of the Empire I-IV" is a slog. Deliberately weighing down WE's middle, it's an overwrought 10-minute sequence that plays out like a dystopian Abbey Road medley. The melodramatic orchestration is a noble contribution from the band's longtime arranger Owen Pallett, heralding the sinking ship with grace and decorum. But by the time Part IV lugubriously arrives, the band (and America, if you didn't catch the drift) are in the throes of what becomes a comically elongated death. "I unsubscribe/I unsubscribe/this ain't no way of life/I don't believe the hype," Butler bemoans, relishing the vaunted placement of otherwise inane turns of phrase. A later echo features cheeky harmonies, and even a not-so-veiled sour reference to the fan exodus/pushback that the band endured after Everything Now, their fifth album: "We unsubscribe (unsubscribe)/Fuck Season 5 (unsubscribe)." The medley fizzles out at a glacial pace, and almost grossly so, like HAL 9000's demise while singing "Daisy Bell (Bicycle Built For Two)" in 2001: A Space Odyssey. It's a deserved ending for the ill-fated and self-centered Side I/"I." But despite all its Significance, "End of the Empire" is mostly just exhausting. We don't need this many blunt reminders to help us remember the mess we're all in.
Far more optimistic, but just as disappointingly clumsy, is "Unconditional I (Lookout Kid)." It's the inverse of WE's first half, written by both Butler and Chassagne as soulful watch-words for the couple's young son, Eddie. (Sweetly, Eddie is credited in the liner notes for "whispers" which appear in "End of the Empire.") Being privy to this missive from parent-to-child is lovely in concept, but the song opens up into a kind of odd and mushy feeling, like peeling a bad banana. (For better or worse, it's worth noting that the song bears some resemblance to Rusted Root's "Send Me On My Way.") "Unconditional I (Lookout Kid)" seems like it has the potential to edge toward the band's surprisingly compelling (and family-friendly) version of "Baby Mine," itself likely another kind of love letter to Eddie, featured in Tim Burton's tricked-out Dumbo remake. But the song and sentiment never end up reaching the same kind of deep, uplifting feeling.
During their recent Saturday Night Live performance, as well as various surprise globe-hopping live sets, Arcade Fire have used "Lookout Kid" as an occasion to unfurl an onstage squad of Air Dancer ® Inflatable Tube Men. Flailing around rapturously beneath the band's new unofficial insignia, an ominous Orwellian "I"/Eye, they're a kind of perfect embodiment for the lovey-dovey Feeling that wins out in WE's back half: an unceasing, jet-pumped, rainbow energy. The Tube Men are inviting us together to dance, talismans to ward off bad energies and possible skeptics—calcified longtime fans or, perhaps, freelance music critics at the End of the Empire—who may doubt the band's renewed sincerity. The Air Dancers ® are, like Arcade Fire themselves, undeniable, massive, joyful. It's hard not to love a band of colorful characters: flailing about on stage, prevailing against the dark forces that divide us, performing their hearts out. But inside those giant Tubes of unfettered joy, there's a whole lot of bloviating air swirling around too.
Until… it all deflates. When the dust settles on WE, it's on the closing title track that the band uncover a different, smaller kind of magic. It's a revelatory new mode for Arcade Fire, one perhaps they didn't know they had within them all these years. That mode is quiet, and wide open space. "I think because of the way we wrote the record to work on piano and guitar, we really wanted the music to have space," Butler recently told the Montreal Gazette. "If things sound good, you don't want to add as much." "WE" is the sole track that really sees this ambition through — untethered from crowded noise, and somewhere far away from the trappings of the past that end up feeling hackneyed on the rest of the record.
The song is both small and completely boundless. "I wanna get going/before the fires burn out/You can give away everything in this house/…Already know 'I'/I wanna know 'We'/Would you want to get off this ride with me?" Butler sings, finding the truest moment of connection on the whole album. You can hear the rockabye cadences of Big Thief's "Cattails" or Neil Young's "After the Gold Rush," the wide-open and edifying possibilities of Beck's Morning Phase—golden acoustic records, each their own kind of little epiphany. In other words, the song doesn't sound much like Arcade Fire as we've known them. But "WE" is the memorable closing track that will stay with you for years, small but still reverberating. With old modes of feeling irrevocably broken, or at least tired by now, it's "WE" that offers a kind of new way forward for Arcade Fire to keep on: humbly posted in awe, staring into the void at the edge of everything.
---
Label: Columbia
Year: 2022
---
Similar Albums:
Ben Easton
Ben Easton is a writer and musician based in Brooklyn, NY. He's a member/producer of the rock quartet The Academy Blues Project, with whom he has made six records, and plays Live Piano Karaoke in-residence at Sid Gold's Request Room, New York City's flagship modern piano bar. Beyond Treble, Easton is a staff writer at Cover Me Songs, the web publication devoted to cover music of all genres.