The Best EP Releases of 2007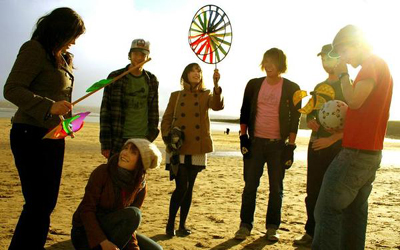 The problem with year end lists is that they require setting some kind of ground rules.
December 2006 releases may count as 2007, but any earlier may not, unless released in the United States in the first time, then it's eligible. However, if we included it on last year's list then it cannot be eligible for a second year, etc.
Bored yet? We figured as much. We won't delve any further into such minutiae, et one thing that always seems to be a bit of a head scratcher for writers and editor types alike is the inclusion of EPs. Do they count as albums? In the past we would always count their votes, though EPs typically fall through the cracks during the process. It's a shame really. Some of the best releases each year are those that elude over-indulgence. It's a common misconception that an EP features mostly outtake filler material, but some of those tracks turn out to be as good, if not better, than album cuts. We didn't want to make the same mistake this year. With so many good releases under a half-hour (and many under 20 minutes at that), we couldn't help ourselves. In no particular order, these are 11 EPs that made 2007 a little sweeter.
Jesu – Lifeline (Hydra Head)
I will continue to champion Jesu until either he or myself are cold and buried in the ground. Justin Broadrick's thundering guitars will make your chest concave and your ears ring with heavenly fire. Call it what you will, metal, shoegaze, in the end it doesn't matter. What you end up with is a glorious noise that only Broadrick's singular vision could conjure. He's been asked to join high profile bands in the past, only to turn them down and follow his own passion. That's great news for us, and especially great for 2007 as we saw two phenomenal Jesu releases. Lifeline is the second of the two, being an EP of only four songs, but those four pack a punch. On this, his fourth EP release, Broadrick leans more toward the shoegaze than the metal, and nowhere is that more potent than on "Storm Comin' On," a collaboration with Jarboe.
Deerhunter – Fluorescent Grey (Kranky)
Though no band has taken up as many inches on music blogs merely for hijinks and antics, Deerhunter's strange day-to-day activities will never upstage their actual musical output, of which there was plenty to celebrate this year. Cryptograms revealed both the hard rocking and ambient sides of the band, while their Fluorescent Grey EP, released just a few months later, showed considerable growth in the band. Densely produced, with guitars and effects blazing wildly, this four song release is the Atlanta group at their most accessible and hardest rocking, though the sedate "Dr. Glass" finds them taking a super creepy break between their blasts of distortion and post-punk progressions. It's the more user-friendly companion to the more polarized but no less rewarding Cryptograms, and together, as they're packaged on vinyl, they make an incredible double album. Maybe we should have changed the voting rules this year…
Grizzly Bear – Friend (Warp)
With ten tracks (I'm not counting the hidden four seconds of silence at the end), Friend doesn't really qualify as an EP, but that's what they're calling it. What it is happens to be one of the better releases this year, new material or no. In a way, it's all new material, either remade versions of Grizzly Bear favorites, covers or reimaginings. Of particular interest is a cover of the Phil Spector produced Crystals classic, "He Hit Me (And It Felt Like a Kiss)." Grizzly Bear truly elicit the danger within the lyrics that seemed glossed over in the original. The electric version of "Little Brother" makes it seem as if Hendrix were sitting in with the Beach Boys. "Knife" was one of the most ubiquitous singles of 2006, and as such, gets covered in completely different ways by Brazilian electro-band CSS and Bradford Cox's side project, Atlas Sound. These disparate takes prove that great songwriting bears itself out when varying approaches are taken (i.e. there's a reason why "Yesterday" has been covered more than any other song in the world). With guest appearances from Beirut and the Dirty Projectors to boot, Friend becomes one of the must have releases of the year, EP or no.
Los Campesinos! – Sticking Fingers Into Sockets (Arts & Crafts)
Nothing against Toronto, but methinks that the Arts & Crafts family's recent trend of branching out toward other continents has been nothing but a good thing for the label. Australian chanteuse and Treble's 2007 song of the year "1 2 3 4" co-writer New Buffalo offered a lovely full-length in Somewhere, Anywhere, and the UK's Los Campesinos! gave some muscle to twee-pop, taking the sort of happy-go-lucky pop of Architecture in Helsinki and beefing it up with bigger guitars. It's still fun and cute and warm and fuzzy, just like indie pop often has a tendency to be, but most importantly, it's really, really good. Sticking Fingers Into Sockets features six tracks of hyperactive bopping, bouncing, rubberband hooks and sweet melodies. "We Throw Parties, You Throw Knives" and "Don't Tell Me To Do the Math(s)" both display the best of the group's unending energy and impossibly hooky songwriting, but the real diamond here is the six-minute "You! Me! Dancing!" With some production aid from Broken Social Scene's Dave Newfeld, this song becomes an enormous, foot-stomping anthem, fuzzier and more kickass than any other song that prominently features a glockenspiel.
Bright Eyes – Four Winds (Saddle Creek)
Not only did Conor Oberst release one of the best albums of the year with Cassadaga, he also released one of the best EP's of the year with Four Winds. Of course, being prolific is what Bright Eyes has been all about in the last few years. Well, that and fighting Clear Channel. While early 2005 found Oberst displaying two sides of his nature in two divergent albums, 2007 has Oberst tucked snugly in his sweet spot. Country, folk, soul and bluegrass converge behind his signature tremolo voice as we all knew and loved it. There were few songs as starkly lovely as his duet with M. Ward, "Smoke Without Fire," fewer as gloriously '70s rockin' as "Stray Dog Freedom" and even fewer as infectious and erudite as "Cartoon Blues."
Black Kids – Wizard Of Ahhhs (self-released)
Backlash for the Black Kids hit early. Idolator recently burned their name in effigy this year as an example to bloggers championing indie pop bands too early. Too bad they misdirected their frustration. Certainly they're young, a bit green and all that, but with little more than a demo, Black Kids emerged as one of the most exciting new bands in '07. Wizard of Ahhhs is a little bit Cure, a little bit Belle & Sebastian, and maybe a tad New Order. It's a fun and catchy EP, each song packed with endless hooks, jangling guitar licks, big and bright synth harmonies and Reggie Youngblood's Robert Smith-like vocals. His appearance is a little more Phil Lynott than Bobby Smith, but maybe that just means he's ready to rock `n' roll for reals. No matter what, Black Kids are not "some bullshit," as a certain gossip blog was hasty to say, but some fantastic pop songwriters. So there.
Flight of the Conchords – The Distant Future (Sub Pop)
The idea of the `comedy band' is not a new one. Hell, I have the Smothers Brothers records to prove it. But, somehow, New Zealand's fourth most popular guitar-based digi-bongo acapella-rap-funk-comedy-folk duo have transformed the notion. Well, obviously. Previously, sole FotC members Bret McKenzie and Jemaine Clement were known for playing Figwit (acronym for `Frodo is great…who is that?') the elf in the Lord of the Rings movies and the Outback steakhouse pitchman respectively. Together, they are funny as hell, and can write songs of almost any genre. Some of their best moments in their HBO show include chats with three different incarnations of David Bowie (and a song about him at the end, criminally absent from the EP), and a rap complete with new names, `Hip-Hopopotamus and Rhymenoceros.' The Sub Pop EP, a precursor to a supposed full album next year, contains three studio songs, the funk inspired "Business Time," "If You're Into It" and the hilarious ballad, "I'm Not Crying." The live portion features two of their best compositions, "The Most Beautiful Girl in the Room" and "Robots," both from the first episode of the show. The thing is, with 28 songs that are all funny and quite good parodies at the same time, FotC could release a double album with ease. I'm hoping the album at least contains "Inner City Pressure," "Mutha Uckas" and "Frodo (Don't Wear the Ring)."
Wire – Read & Burn 03 (Pink Flag)
There have been reunions galore in the news in the past year, or really, the past five years or so, but since Wire reunited earlier this decade, they've since released a series of EPs and a full length, not to mention the occasional tour. Read & Burn 03 is the third in a series, one which has no discernable theme, other than consisting of new material from this legendary group. While the first two were noisy, industrial-tinged affairs, this latest effort finds the group stretching out, toning down, getting weirder and more melodic simultaneously. Sounding as vital as ever, Wire lays down a ten-minute epic leadoff track in "23 Years Too Late," a song that perfectly displays this strange juxtaposition of accessibility and experimentalism. As for what the title of the song refers to, it's hard to say, but it's a deadline that Wire hasn't missed. They sound invigorated and energized. That there's a full-length on the way to feature songs not already released on this EP makes for something big to watch for in 2008.
Iron & Wine – Boy With a Coin (Sub Pop)
I don't know how "Boy with a Coin" did not make our top 50 songs of the year list, nor about half of the songs from The Shepherd's Dog, but suffice it to say, I'm pretty pissed off about it. But then I listen to the song again, and I am soothed. That's the beauty of Sam Beam. Listening to his music over the years has relieved stress and generally put me in a better mood. Boy With a Coin features two songs not on the ensuing album release, the fan-pleasing "Carried Home" and the piano driven "Kingdom of the Animals," but it's the title track that will stun you. I still can't believe it didn't make the list. (Sigh), I better put the EP on to calm down.
Sea Wolf – Get To the River Before It Runs Too Low (Dangerbird)
Alex Church, songwriter and main man behind Sea Wolf, started off the first half of the year with a debut EP that left most of us here at Treble blown away. Trouble with that is, the EP was so good, by comparison, the ensuing full-length Leaves In the River seemed not quite as compelling, even though it was pretty good. Church may have aimed a bit too high on his first outing, but it's hardly much of a complaint. With only five songs to prove himself, Church does so splendidly, and then some. The catchy rocker "You're a Wolf," featured both here and on Leaves, ended up as one of our Best Songs of 2007, and as my brother predicted, the line "old gypsy woman spoke to me" is looping in my head as I write this. Still, nothing beats the folky new wave standout "Sea Monuments," a perfect mix of synthpop and organic rock that, while lamentable for not appearing on Sea Wolf's full-length, makes this EP that much more special.
Mystery Jets – Diamonds in the Dark (Dim Mak)
How many youngsters can claim, "I'm in a successful indie rock band with my dad?" I haven't researched it, but I only know of one, Eel Pie Island's Mystery Jets. Vocalist / Keyboardist Blaine Harrison joins his pa, guitarist Henry Harrison, to belt out post-punk / prog jams like only a father and son can. And yet I have no idea what that means. "Diamonds in the Dark" is one of the band's best singles, and it is accompanied by the superb agitated track, "Crosswords," itself a cross between the Clash and the Cure, somehow. The UK version includes the Syd Barrett influenced tribute, "Scarecrows in the Rain" while the US version replaces it with a more than interesting cover of Bloc Party's "Pioneers." In order to get the former, you merely have to pick up their latest US release, Zootime, but to get the latter, you should pick up this EP, which is well worth it if you ask me. And if you're reading this, you sorta did.