The Best Song Ever: Part Two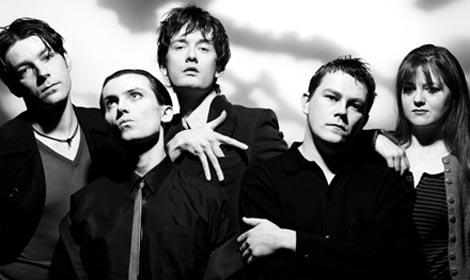 The first installment of our favorite songs went over so well, we're on a Government watch list, now, for encouraging piracy! HA! Just kidding, but we might want to be careful about what we say in the meantime. We did, however, inspire many a reader to revisit some of their old favorites, something we plan to do every week. Here are some more of our favorites. Feel free to listen along, yet again. And by all means, if you haven't heard any of these tracks, find them and listen to them at once! We promise you'll be thankful you did.
"The Way We Get By"
by Spoon
from Kill the Moonlight
You can't listen to this song and not want to dance, jump, do cartwheels, etc. With little more than handclaps, piano and bass, Spoon created the single of 2002. The song is so simple, it's almost hard to believe that somebody else didn't write it first. But that just proves the brilliance of it all. Britt Daniel, master of "less is more" musical feng shui, put together a catchy melody, a groovin' beat and a lyrical narrative about stoned bohemians who live their lives according to Iggy Pop tunes. There's a coming-of-age teen drama just waiting to have this song as its opening theme.
"We get high in backseats of cars/we break into mobile homes/we make love to Shake Appeal/never wake up on our own" — Jeff Terich
"Disco 2000"
by Pulp
from Different Class
Pulp was like the smart arty kid in the same class as those goof-off Gallagher brothers and the popular and good looking Blur. And when Britpop was all the rage, Pulp's Different Class was aptly named. Jarvis Cocker's intelligent lyrics and voice as smooth as Venetian marble set them apart from their countrymen. "Disco 2000" is one of those songs that is as playful as it is tightly crafted. Sort of an updated version of "Scenes from an Italian Restaurant", the song is about two childhood friends, an unrequited crush, and a possible meeting as the two become adults. The song is addressed to the crush in question, Deborah, as he tries to woo her with shared memories and a sense of pity. And, of course, in true Cocker fashion, the woman he's trying to reconnect with is married with children. You cheeky monkey! Besides "Common People", recently redone by no less than William Shatner, "Disco 2000" is one of the band's best songs. — Terrance Terich
"Get Older"
by Matthew Sweet
from 100% Fun
If Girlfriend and songs like "You Don't Love Me" and "Nothing Lasts" epitomized the loveless nature of my early adolescence, it's 100% Fun and "Get Older" that's fueled a certain optimism that's been growing since my tempestuous mid-teens. I'd always liked the song with its tip-toe-taps of piano, its simple ascending and descending solos and warm, crunchy guitars, but the songs just kept getting better as I, fittingly enough, get older. It's a song that sounds like carousels and big wheels, like old pictures of yourself as a kid smiling while doing something that would otherwise be idiotic or criminal. The flippant "Who cares if you don't know what you want?" that concludes the song just sounds so fitting, so proper to describe a life in a state of flux and change. It's surprising that this wasn't one of the album's singles, actually; not that "Sick of Myself" or "We're the Same" weren't good, but there's some short-but-sweet honesty in "Get Older" that's grown on me and continues to grow on me to this day. – Hubert Vigilla
"My Sweet Lord"
by George Harrison
From All Things Must Pass
The question isn't when did my life begin but when did my first memory take place? The answer is in the mid to late 1970's while I was in the womb, mis padres were living in New York City and on the radio was this now-classic song by George Harrison. I have always had a strange connection to this song. I remember rehearing this song again while in high school while in the car with my Madre and recognizing it right away. That's when she said, oh that's the song that was playing all the time on el radio right before you were born. It's kind of remarkable how hearing this song from the womb, to this day, it still resonates with me. The reason I love this song is because it's very spiritual without being overtly religious. And it also has that killer acoustic guitar riff that made me want to pick one up and learn to play the guitar. Isn't that what great music is supposed to do, stay with you through time and inspire you to want to play music? I think so. — Adrian Ernesto Cepeda
"Lightsabre Cocksucking Blues"
by McLusky
from McLusky Do Dallas
McLusky broke up much earlier than any of us wanted them to, but that doesn't mean that they didn't leave their mark while they were around. Point in case: "Lightsabre Cocksucking Blues," the leadoff track from their second album. From the first couple seconds of cymbal tapping, it's quite apparent you're going to be pummeled, and the Welsh band does just that. In less than two minutes, they unleash a fury that hits you like a ton of bricks and then some. After screamed lyrics of "achin' from fuckin' too much" and Andy Falkous' plea that "the gun's in my hand and I know it looks bad, but believe me I'm innocent," the song ends abruptly, leaving you to think to yourself, "what the hell just happened?" — JT
"Sprout and the Bean"
by Joanna Newsom
from The Milk-Eyed Mender
It's hard to listen to Joanna Newsom without picturing her playing in a sandbox on a sunny day with Björk. Not because they are so similar exactly, more because the childlike sprite-ness in Newsom's voice seems to answer some of the questions asked in Björk's youthful distant tones. I see the two on a set of swings as Björk rises forward she'd say, "Today will be really hard if we're not careful." Newsome's reply: "No, you're not looking right, see that grasshopper…we'll be fine." The second track on the album, "Sprout and the Bean" is a fine example of Joanna's innocent and simply elegant song writing. As with the rest of her album, Joanna's accompaniment lies predominantly with her harp. The strings in this song seem to gently wake you from an afternoon's nap, which is followed aptly by the opening lyrics, "I slept all day…" This song is the best because: From the very first plucked harp string you are hypnotized into a world unfolding right before your steps, a world reminiscent of a very old cartoon, with flowers blooming all the time and smiling, sing-a-long forest animals. All this while she's asking, "Should we go outside?" It is truly hard to frown when this song is on. It's a wonderful glow when a song knocks on your door, invites you to come out and play and then frolics with you in the meadows of your childhood. — Alex Austin
"Green Shirt"
by Elvis Costello & the Attractions
from Armed Forces
I just can't get over the simple brilliance of this track. Consisting of mainly keyboards, drums, a steady bassline and a metronomic tone, it is like the rest of the songs on Armed Forces in that it has a revolutionary slant to it, but is different in that it threatens over and over again to explode into a rocking number only to subside back into its serene beginnings. Whether you listen to the solo guitar version which is a bonus track on This Year's Model, which happens to contain an extra verse, or my preference, the aforementioned album track, both have one of the best choruses in rock, You tease and you flirt and you shine all the buttons on your green shirt. You can please yourself but somebody's gonna get it. And Elvis also teaches us some vocabulary while he's at it with the word `quisling', which means traitor. Whether the song is about a talking head on TV News, a two-faced political leader, or a cheating lover, it doesn't really matter, it's just a damn good tune.
"Range Life"
by Pavement
from Crooked Rain, Crooked Rain
"Range Life" is arguably one of the best songs Pavement ever wrote. Even my own brother, who claims he could never get into the Stockton band, would most likely enjoy this tune, a smart-assed, but smart country-pop song with catchy, jangly guitar leads and one of the least-sloppy deliveries the band ever successfully executed. However, Malkmus is at his shit-talking peak here, as he disses two of alt-rocks biggest acts of the time: "Out on tour with the Smashing Pumpkins/nature kids/I, they don't have no function/I don't understand what they mean/and I could really give a fuck/Stone Temple Pilots/They're elegant bachelors/they're foxy to me are they foxy to you/I will agree/it does absolutely nothing/nothing more to me." And over time, certain albums by Smashing Pumpkins and STP have aged poorly, while Pavement's catalog still sounds great. Ironic, no? — JT
"Every Little Thing She Does is Magic"
by The Police
from Ghost in the Machine
I'm almost hard pressed to pick a favorite song by the Police. I remember first hearing them on the first incarnation of cable TV, at least in California, called ON TV. It was here that I espied a concert where they supported, of all bands, AC/DC. It wasn't until much later, when I began to think girls where OK, if not the best thing created in the world EVER, that a song of theirs hit me like a thunderbolt. "Every Little Thing She Does is Magic" is brilliant from start to finish. But my absolute favorite part is the bridge in which Sting sings I resolve to call her up a thousand times a day / And ask her if she'll marry me in some old fashioned way. That line so appealed to me in junior high it was unbelievable. Think about it. Why would an adult call someone to propose? These are pure adolescent thoughts that resonate within teens with crushes everywhere. And yet he uses the word resolve. Sting, you true English teacher! Absolutely brilliant. And then when he trails the song off by reprising the line It's a big enough umbrella / but it's always me that ends up getting wet I just want the song to continue in that differently toned fashion. Sting would later end up doing the same thing in one of his solo songs, "Seven Days." — TT