The Big Pink : A Brief History of Love
The Big Pink couldn't have put themselves in a more difficult position. The London-based duo of Robbie Furze and Milo Cordell kicked off the year by releasing "Velvet," their second 7-inch, and simply one of the most perfectly crafted singles to have been pressed to wax in 2009. Hypnotic and danceable, it sounded absolutely vibrant and exciting, opening up with some mechanical beats before flourishing into something truly gorgeous. With dense production rivaling TV on the Radio's most stunning singles, and a woozy haze culled straight from their 4AD forefathers, The Big Pink introduced themselves with as much flash and as much aural wizardry as possible. So much so, that they put themselves in the difficult position of having to create an album that lived up to that transcendent moment.
Before getting there, however, Furze and Cordell complicated matters further by upping the ante on their next single "Dominos." At this point, the duo not only had a pristine, gorgeous fuzz-pop single to dazzle critics, but a surefire hit to boot. With an infectious chorus of "these girls fall just like do-mi-noooes," The Big Pink were primed to fill stadiums and usurp the commercial spot that MGMT had previously occupied, and with much better material. At this point, following that up seemed an even greater challenge, if not damn near impossible.
By the sounds of first album A Brief History of Love, however, it would appear that The Big Pink likes a good challenge. Not just a "singles band," as some may be wont to label them, The Big Pink have assembled 11 tracks of delightfully trippy, fuzzy pop, frequently recalling early '90s shoegazer greats like My Bloody Valentine or Chapterhouse. As transparent as the group's influences may be, The Big Pink catalyze these remnants of their record collections into ecstatic and wholly original creations. Standout "At War With the Sun" is one such example, a high-energy, sunshine-blitzed jangler with riffs that recall The Stone Roses only to explode into a fuzz-drenched, hook-loaded chorus that layers on more and more gorgeous layers of ambience and electronics.
"Velvet" and "Dominos" both appear on the album, of course, though they're in good company. Leadoff track "Crystal Visions" slowly, err, crystallizes from its ethereal elements into a gorgeous, muscular rock epic. "Too Young To Love," the group's under-publicized first single, is another lofty peak, a sputtering, static-drenched raga built around the meditative refrain, "never again." "Frisk" is borderline nü-rave with its bleeping synthesizers, but when the buzzsaw guitars slice through, the song is purely rock. The title track opts for tenderness and beauty, albeit with plenty of fuzzy bells and whistles, while on the flipside, "Tonight" is a big, dumb rock song that's all to easy to love.
Closing out the album with "Count Backwards from Ten," Furze and Cordell trade their overclocked effects pedals and synth buzz for a great acoustic/electric ballad fit for raised lighters and drunken swaying. It's a perfect way to close the album, an anthem that contradicts whatever glo-fi/nü-gaze compartment that anyone may feel compelled to slot the band into. No sir, in spite of their abundance of electronic bells and whistles, The Big Pink is a rock band at heart, and A Brief History of Love is one hell of a rock album. The real challenge will be following this one.
Similar Albums:
TV on the Radio – Dear Science
My Bloody Valentine – Isn't Anything
Maps – We Can Create
Video: "Velvet"
Download at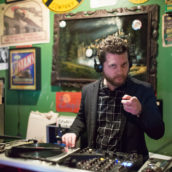 Jeff Terich
Jeff Terich is the founder and editor of Treble. He's been writing about music for 20 years and has been published at American Songwriter, Bandcamp Daily, Reverb, Spin, Stereogum, uDiscoverMusic, VinylMePlease and some others that he's forgetting right now. He's still not tired of it.