The Clientele : Bonfires On the Heath
Show me a band more romantic than The Clientele. Not one more expert in amorous pursuit, mind you, but an artist whose entire career has consisted of bittersweet reflections of nostalgia and subtle emotional triggers. From Suburban Light to the present, each of the U.K. band's recordings have doubled as albums of snapshots, capturing perfectly in song what words alone sometimes can't express. Some songs evoke awakening from a pile of fallen leaves, others inebriated cab rides home on rainy evening. Even their album titles—Suburban Light, The Violet Hour, Bonfires of the Heath—express something beautifully abstract.
The Clientele have cultivated their sound to grow and flourish over the last ten years, slowly and carefully expanding and maturing into something that much richer and more gorgeous than it was when they began. As such Bonfires on the Heath is an album that's unmistakably The Clientele's. Some have already suggested that the album, the band's fifth, isn't all that different than their past output, and that if you like their other albums, you'll like this one. But I find that to be a slightly inaccurate statement. If you like The Clientele's other albums, by rights you should love this one.
From a stylistic standpoint, this is very much a Clientele album. It's autumnal and somber, frequently fun but largely soft-spoken. Alasdair MacLean still sings with a cool and sophisticated rasp, and washes his guitar in a clean but heady froth of reverb. They sound playful on "I Wonder Who We Are," subtly psychedelic on "Harvest Time," funky on "Share the Night" and even romantic in the affectionate sense on "Jennifer and Julia." But while, in a general sense, the elements may seem familiar, their attention to detail and craftsmanship are as strong and as breathtaking as ever. The melodies themselves are gorgeous, but the arrangements take them to another level, thanks in large part to newest member Mel Draisey, whose instrumental talents splash the songs with brighter hues.
Everything that's wonderful about The Clientele is well encapsulated within opening track "I Wonder Who We Are," from the lush and intricate introduction of keys and horns, to the breezy lounge-guitar verses, to MacLean's irresistible refrain of "ba-ba-da/ba-ba-ba-da" Stellar an introduction as it is, it's in good company. "Share the Night" is one of the sexiest songs in the band's catalogue, as MacLean croons "I kiss your sides/ I touch your skin/ you breathe me all the way back in" over a scratchy funk that climaxes in a powerful trumpet hook. The title track practically projects a seaside sunset, with its weeping slide guitar, though MacLean's lyrics are more of discomfort and disorientation than anything else, reflected in lines like "Late October sunlight on the wood/ Nothing here moves quite the way it should." And "Harvest Time," smoky and laid back, is simply magnificent, a woozy slow-burner that combines Sitar-like drones, shimmering guitar tones and chilly piano keys beneath MacLean's observations: "everything here has a place and a time, we're only passing through."
When The Clientele opts for a low-key approach, they still manage to find ways to sneak in a brilliant surprise, like the warm, glowing organ of "Never Anyone But You." Mel Draisey's violin on the gorgeous "Jennifer & Julia" can bring one's eyes ever closer to tearing up. The arpeggiated riffs in "Graven Wood" find the band descending further into psych rock, and "I Know I'll See Your Face" scarcely prepares its listeners for the harsh breakdown that occurs one minute into the song.
In an interview leading up to the release of Bonfires, Alasdair MacLean suggested the possibility of it being the band's final release. That would certainly be a shame, but also fitting, as the band entered into listeners' consciousness with subtlety, drifting in like specters and, potentially, leaving in a similar manner. I'd just as soon ask for another half dozen Clientele albums, but if they were to break up tomorrow, at least they would close this chapter on their most gorgeous and accomplished work to date.
Similar Albums:
Yo La Tengo – And Then Nothing Turned Itself Inside Out
Jens Lekman – Oh, You're So Silent Jens
Richard Hawley – Coles Corner
MP3: "Harvest Time"
Download at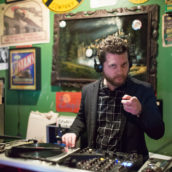 Jeff Terich
Jeff Terich is the founder and editor of Treble. He's been writing about music for 20 years and has been published at American Songwriter, Bandcamp Daily, Reverb, Spin, Stereogum, uDiscoverMusic, VinylMePlease and some others that he's forgetting right now. He's still not tired of it.