The Dandy Warhols : The Capitol Years: 1995-2007
Courtney Taylor-Talyor infamously and arrogantly claimed in the documentary Dig! that he "sneezes and hits come out." Oh, sure, it's an exaggerated, even stupid claim. But he's also not entirely wrong. In 2010, the Dandy Warhols aren't as high profile an act as they were in the late '90s or early '00s, but looking back on their history as a band, something that immediately stands out is the strength and the volume of their singles. In 2000, in particular, they seemed to be one of the last interesting bands on mainstream radio, save for Radiohead and Queens of the Stone Age, as their arguably biggest hit, "Bohemian Like You," maintained heavy rotation alongside tepid post-grunge and embarrassing nü-metal. It was humorous without being self-parody, catchy without being overbearing, and above all, a lot of fun to listen to.
The ubiquitous "Bohemian," later an ironic soundtrack to a car commercial, is one of 15 Dandys selections on The Capitol Years: 1995-2007, a new compilation of (sneezed-out?) hits released during the band's time on Capitol Records. Not everything on the collection is necessarily a hit, and some of them aren't even singles. Tracks like the psych-folk of "Good Morning" and the seven-minute "Holding Me Up" seem odd as introductory inclusions, though they're not necessarily unwelcome. But by and large, The Capitol Years is evidence that, despite a recent decline in quality, the Portland psych-pop quartet once consistently released effortless, hooky and perfectly crafted rock songs.
Sequenced in chronological order, the compilation kicks off with 1997 single "Boys Better," one of four awesomely druggy rockers plucked from the band's major label debut The Dandy Warhols Come Down. The Tony Lash mix of "Every Day Is A Holiday" adds a bit more punch to that which appears on the album, while their other smash single, "Not If You Were the Last Junkie On Earth," seems far less kitschy or dated without the garish David LaChapelle-directed video. Continuing the unstoppable eight-song block making up the first half of the album are the singles from the band's best album, Thirteen Tales From Urban Bohemia. It's more than a little curious that "Godless" is actually one of them, though. While it's easily one of the band's best songs, it does seem a bit long and nuanced to have ever been a big radio single. By contrast, however, the Spaghetti-Western glam-rock of "Get Off" is about as catchy as they come.
Talented as Taylor-Taylor & Co. may have been at penning massively catchy singles, The Dandy Warhols had a strange habit of recording their albums twice. Before Capitol agreed to release The Dandy Warhols Come Down, the band handed them a far less commercial and darker psych-rock album now known as the "Black Album." And several years later, the group's initial mix of Welcome To the Monkey House was rejected, but later self-released as The Dandy Warhols Are Sound. As much as everyone loves a David vs. Goliath story, Capitol was perfectly reasonable to pass on the original mix, though curiously two of the Are Sound mixes, "Scientist" and "Plan A," appear on this collection. They're two of the better variants, particularly the latter, which sounds more like the tripped out Warhols than its new wave counterpart. Yet keeping the Monkey House versions of "The Last High" and Veronica Mars theme "We Used to Be Friends" was a wise decision. The Capitol-approved versions are far more immediate, and for that matter just sound a lot better.
The final quarter of the compilation is dedicated to material from Odditorium or Warlords of Mars, though one or two selections, say "Smoke It" and "All the Money or the Simple Life Honey," would have been plenty. What's most confusing, though, is the span of dates in the compilation's title. It might represent the terms of the band's contract, but the music seems to strictly comprise material released between 1997 and 2005. Nitpicking, sure, but 1995 single "The Dandy Warhols' TV Theme Song" would have made a nice addition, even if it wasn't released on Capitol. And if this isn't strictly a singles compilation, why not add some of their stronger album tracks, such as "Be-In" or "Nietzsche"? As a career summary, The Capitol Years is imperfect, but still pretty solid, and at least two-thirds essential. While recently the band has descended further into goofballery, this set is a fine reminder of The Dandy Warhols' vibrancy and vitality at their peak.
Similar Albums:
Brian Jonestown Massacre – Tepid Peppermint Wonderland
Love and Rockets – Sorted: The Best of Love and Rockets
Primal Scream – Evil Hits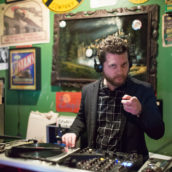 Jeff Terich
Jeff Terich is the founder and editor of Treble. He's been writing about music for 20 years and has been published at American Songwriter, Bandcamp Daily, Reverb, Spin, Stereogum, uDiscoverMusic, VinylMePlease and some others that he's forgetting right now. He's still not tired of it.