The Faint : Wet From Birth
At first, The Faint seemed no different than any other Saddle Creek band. On their debut, Media, they played MOR indie rock with a fair amount of emo-isms and lo-fi recording. They were kind of a precursor to Bright Eyes, as lead Eye Conor Oberst was actually part of the band at the time, though he was only a teenager. Blank Wave Arcade followed, revealing an expanded and completely different sounding band. Arcade was fun, danceable, sex-obsessed new wave. The album was teeming with sweaty, carnal depravity, though it did seem a bit mechanical and, then, somewhat of a novelty. But 2001's Danse Macabre changed all of that, playing up the synthesizers even more, yet creating a more artful, seemingly organic and alive masterpiece. It was faux-goth dance wave of the best variety, trading in the hormonal longing for even larger themes of artistic freedom, fear of mediocrity and being trapped in a dead-end job, supporting corporate means. Were Prince no longer making music, The Faint would have been a worthy heir.
In the three years since Macabre, a lot has happened. Saddle Creek has become a near-household name, the band has seen its share of play on commercial radio, toured with No Doubt and even released an album of remixes. It would be fair to say that there were a lot of expectations going into this album, but had anyone paid close attention to the band's history, they would see that there was no reason for concern. Their new album, Wet From Birth just might be their best yet.
I know that sounds ridiculous. Any band with a well-established and near-perfect album, like Danse Macabre, inevitably breeds loyalty among fans toward that one particular album. But Wet From Birth shows some immense growth within the band. It's an album of contradictions. The guitars are pushed to the forefront, and yet it seems like more of a synth album. It's a very punk sounding record, but somehow the band has gotten more danceable. Some of the songs seem more minimal, but the album sounds even bigger.
One noticeable change is the introduction of violins into some of the songs, like opener "Desperate Guys" and the goth-pop of "Southern Belles in London Sing," which offer another contradiction: similarities to both darkwave and disco. The salacious sensationalism of Blank Wave Arcade returns on the former, a dancey tune with the catchy refrain, "I know you know I like you." The latter, however, sees a more straightforward side of the band, playing four chord pop music, albeit more in the style of The Cure than, say, Green Day. "I Disappear" and "Paranoiattack" are heavier dance tunes, with a more pronounced punk edge. And "Drop Kick the Punks," unsurprisingly, is abrasive post-punk in the vein of a heavier Wire or Magazine.
Some of the more synthesized tracks offer the best material. "How Could I Forget" has some interesting synth breaks between verses that create tension and suspense within the song. And "Erection" bears an eerie resemblance to Depeche Mode's "Personal Jesus." But as far as I know, that could have been intentional. It's not the first time the band has revealed similarities to Depeche Mode.
Whatever the case, be it more guitar or more synth, every song on Wet From Birth will find its way into your head, leaving you no choice but to hum along and air drum at work or in the grocery. If it were any other band, that might get a tad annoying, but since it's The Faint we're talking about here, you'll be glad to never be without hearing Wet From Birth, whether it's in your stereo, or just in your own head.
Similar albums:
Depeche Mode – Violator
Placebo – Black Market Music
The Cure – Japanese Whispers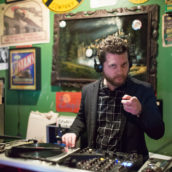 Jeff Terich
Jeff Terich is the founder and editor of Treble. He's been writing about music for 20 years and has been published at American Songwriter, Bandcamp Daily, Reverb, Spin, Stereogum, uDiscoverMusic, VinylMePlease and some others that he's forgetting right now. He's still not tired of it.