The Fifth Annual Trebblie Awards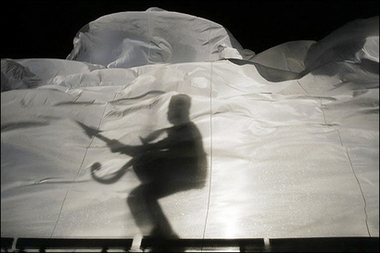 Looks like nobody's showing up to the Golden Globes this year. And if the strike continues, God only knows what's going to happen with the Academy Awards. Well, there's no need to return the tux early, because just down the street in a comfy living room, we're holding our annual Trebblie awards, the most prestigious ceremony held in recognition of absolutely trivial musical honors.
It's hard to believe we've made it to our fifth set of Trebblies, in fact, it's kind of amazing, which is even more reason to celebrate. Our gift baskets may not be the nicest, but we guarantee that everyone will have a good time. Break out the champale, and let's get this show started!
The Best Album We Didn't Review Trebblie
Nominees:
Studio – Yearbook 1
Strategy – Future Rock
King Khan and the Shrines – What Is?!
Chromatics – Nite Drive
The Tough Alliance – A New Chance
The Field – From Here We Go Sublime
Gui Boratto – Chromophobia
Winner: Chromatics
This is one of a few Trebblies that returns year after year, and also proves to be one of the most frustrating. Yet it's one of the most fun, as well. Going back over the year's notable releases inevitably means discovering some awesome records that slipped under the radar the first time around. We plan to correct most of these in our Perversity series, but for the time being, let's survey what we missed. The Field and Gui Boratto gave us some bright and lovely electro, while Studio and The Tough Alliance revisited Balearic sounds through their Swedish dance pop. Strategy's mélange of dub, rock and disco provided something new and interesting, while King Khan and the Shrines just plain rocked. We could have easily given the award to everyone, and Studio was just about ready to be handed the statuette, but this year, we award it to the Chromatics. Sounding hardly anything like their abrasive punk of years past, Nite Drive is a sleek and sexy disco-pop record that let's their punk roots show through, while dusting them with Italodisco sheen. Plus, their cover of Kate Bush's "Running Up that Hill" rivals the original in greatness. – Jeff Terich
Best Use of a Musical Instrument as a Genital Substitute:
Solitary Nominee and Winner: Prince
There was almost no one as busy trying to resurrect his career this year than Prince. He started out the year by playing every weekend for four months at his own club in Las Vegas. He performed 21 shows in London and three in his hometown of Minneapolis. It's hard to say that giving away your new album is a promotion, as, what could it be a promotion for? But that's what Prince did, give away copies of Planet Earth in the Daily Mail. But the true topper was Prince's Super Bowl Halftime Show. His cover versions of "All Along the Watchtower," "Proud Mary" and the Foo Fighters' "Best of You" were enough to make it the best halftime show ever made, but Prince took it one step beyond. He reached back and pulled out three of the best songs from Purple Rain including "Let's Go Crazy," "Baby, I'm a Star" and the title track during, yes, a rainstorm. But, a halftime show without controversy surrounding naughty parts just isn't a halftime show, and so, the big topic of conversation was Prince using his guitar as a symbol of his manliness. Of course, if that was representative of his manliness, he'd have a hard time standing up straight. – Terrance Terich
The "Throw Your Damn Hands Up" Trebblie for the Most Quotable Hip-Hop Lyric
Nominees:
Jay-Z "Black Bar Mitzvahs/Mazel Tov/ It's a Celebration, Bitches!/L'chaim" from "Roc Boys"
Kanye West "You got D's muthafucka/D's!/ Rosie Perez" and "I'm like the fly Malcolm X/ buy any jeans necessary" from "Good Morning"
Lupe Fiasco "something, something, something/ stack that cheese!" from "Hip-Hop Saved My Life"
Pharoahe Monch "Keep snoring, keep sleeping, I'll keep touring/ come back, lay in the cut like Neosporin" from "What It Is"
Winner: Jay-Z
Hip-hop was a lot healthier this year than anyone cares to give it credit for, but even if not every album is flawless, there were countless moments of pure lyrical genius. The cleverness on display on Kanye West's Graduation more than made up for the surprisingly boring collaboration with Jon Brion and Mos Def in "Drunk & Hot Girls." Lupe slipped in a little late, but allowed enough time to catch our attention with a brilliant line in the middle of a songwriting narrative. Pharoahe's entire album is chock full of gems, but Jay-Z wins this one, primarily because it elicits the most smiles. L'chaim! – Jeff Terich
The "Early Bird Gets the Worm" Trebblie for album I wish I hadn't waited so long to pick up
Nominees:
The National – Boxer
Jens Lekman – Night Falls Over Kortedala
Band of Horses – Cease to Begin
Winner: The National
As sad as it is to say, I didn't get in on the greatness that is Boxer until the end of October. It was released on May 22nd, so the math easily indicates that I went half a year without what could be the best album I've heard in the past decade. Jens Lekman's Night Falls Over Kortedala was another case of me not heeding the hype and so in the fall, I was cold over losing a month of listening pleasure. Likewise, I got in on Cease to Begin a month late but given the generally bad press that it received many wouldn't consider that a big deal. Boxer has all the makings of the album you love to hate simply because of all the publicity it's gotten and because it would appear that everyone and their mother is drinking The National kool-aid, except you can't hate it because even you and all your pretense realize the undoubted greatness that it achieves. So while I don't necessarily listen to it every single day, knowing I have Boxer on the ready is a sense of comfort that allows me to sleep at night. In a way it feels like I was six months late to a surprise party held in my honor and by the time I arrived all the decorations were still in place but all the guests were gone and I had no one there to share the moment with. – Tyler Weir
Most Annoying Musical Trend of 2007
Nominees:
Digital Self-distribution
Conservative follow-up albums
Film tie-ins
Nü-rave
Winner: Conservative follow-up albums
While the most talked about advance in musical distribution came with the release of Radiohead's In Rainbows, as they took it upon themselves to allow fans to name their price for a download of their new album, this could only be construed as a good thing. Nü-rave is pretty annoying, I'll admit as much, and as much as I loved American Gangster, it was Jay-Z that sold it, not Frank Lucas (oh, and I already had those Joy Division albums). Really, the trend that emerged that seemed the most disheartening was that of longtime favorite indie pop bands either phoning it in (Shins, Band of Horses) or mellowing out a little too much (Wilco). Say what you will about the new Rilo Kiley disc, at least they took a chance. – Jeff Terich
The "Songs in a Mall" Trebblie for artist most likely to be playing while you buy clothes
Nominees:
Klaxons – Myths of the Near Future
Yelle – Pop-Up
Band of Horses – Cease to Begin
Winner: Klaxons
I like to shop but in most cases get tired of hearing the music that I really love being played in the stores. This winter alone it seemed like I heard Junior Senior's "Can I Get Get Get" at least five times while in the mall. That song could technically be the winner but since the song itself is from 2005, it's been outlawed. Yelle hasn't really caught fire in the U.S. yet but that seems to be a simple matter of time. Band of Horses has sold out in so many ways that they're bound to be heard on the pre-programmed corporate bullshit channels. The win goes to Klaxons because their image, apparently as "the embodiment of cool" has them blabbering from the ceilings of all the retail type places. Note to programmers: Using obscure (non-singles, they have six) Klaxons songs doesn't make you avant-garde. – Tyler Weir
The "Hippopotomonstrosesquipedaliaphobia" Trebblie for the album released in 2007 with the longest title
Nominees:
I Am Robot and Proud – The Catch & Spring Summer Autumn Winter
Prefuse 73 – Preparations & Interregnums (Deluxe Version)
Stars – In Our Bedroom After The War
Susumu Hirasawa – Paprika (Music From the Motion Picture)
The World/Inferno Friend Society – Addicted to Bad Ideas: Peter Lorre's Twentieth Century
Winner: The World/Inferno Friend Society
Who would have thought that the band who has brought us such albums as The True Story of the Bridgewater Astral League and The East Coast Super Sound Punk of Today!, and in addition, is responsible for introducting the word "World/Inferno" into the colloquial language of the New York Metropolitan area, would have delivered such a work. At 54 characters, including spaces, it literally takes your breath away. To judge this year's award, I have used the longest version of the titles submitted, and have taken into account such features word length, number of spaces, and exotic symbols. In the end though, all those flashy techniques seemed like window dressing in comparison to what really matters in a long title: the number of characters. There was a lot of flourish in this year's competition, starting with In Our Bedroom After The War. The number of prepositions in the title is daunting, but this was later one-upped by I Am Robot's The Catch & Spring Summer Autumn Winter, fitting in an ampersand for style. Hirasawa took a different approach with Paprika (Music From the Motion Picture), opting to not use the simple abbrevation of "OST" for soundtrack, and even managing to put in a pair of parentheses. Learning from both these competitors, Prefuse released his Preparations & Interregnums (Deluxe Version), using the parenthetical qualifier, the ampersand, and then taking one step further, venturing into the avant-garde with his use of the word "Interregnum," which is usually taken to mean something like a pause, but in the context Prefuse's own experimentations, this meaning is lost, and replaced with something cloudy, vague. Despite the mastery constantly exhibited by the previous contenders, World/Inferno came out in its own sharp way, stripping itself of all pretentiousness seen in this year's competition such as ampersands, parentheticals, and difficult words, simply telling the listeners what's in store for them. Simple words are supported by only one preposition in World/Inferno's latest masterpiece, letting the meaning of each word speak directly, talking its audience in plain language where each character plays importance in the work as a whole, which is really the way it should be. If more bands would focus on the very base of their work, the simple characters, we'd have more great works like Addicted to Bad Ideas: Peter Lorre's Twentieth Century. Bravo. ~ Paul Bozzo.
The McCoy and Hatfield Memorial Trebblie for the Best Feud of the Year:
Nominees:
Amy Winehouse vs. Lily Allen
Prince vs. his fans
Kanye West vs. 50 Cent
Winner: Kanye vs. 50 Cent
This one has to go to Kanye and Fitty. Why? Because the best feuds always come to nothing. With Amy and Lily, it was the usual British cattiness, a la Albarn, Gallaghers, Robbie Williams, etc. Prince was up to his trademark zaniness by lashing out at his `friends' who used his image on their `friend' sites. Unfortunately, Prince gets what Prince wants, no matter how loony it might sound. But the true rock feud is what Shakespeare described as a "tale told by an idiot, full of sound and fury signifying nothing." When 50 Cent threatened to retire if Kanye's Graduation outsold his Curtis, there was a kerfuffle, but everyone knew, deep down, that it was all a bunch of hooey. Kanye did outsell Mr. Cent and the threat was retracted just before the albums hit shelves. Man, how disappointing. – Terrance Terich
The "Dayman: Fighter of the Nightman" Trebblie for best electro album
Nominees:
Matthew Dear- Asa Breed
Justice- Cross
LCD Soundsystem- Sound of Silver
Winner: Justice
Thank you, Thank you. Okay, so it's a slight homage to the best show on television. Electric Dream Machine didn't drop an album this year and to my knowledge none of the bands that released albums this year were influenced solely by "Holland Oates," so that left us with slim pickings. Justice gets the win by default, because, of the nominees, they're the only duo. If you don't like it, you'll get jammed up, bitches. – Tyler Weir
The "Kids Are Alright" Trebblie For Rocking Before Legal Drinking Age
Winner: Dog Day
I'll admit it, I'm a believer in Social Darwinism. I believe that there will be a time in which a 15-year-old will become a 16-year-old and realize that Coheed and Cambria does nothing for them. It will be at that moment that they will be cast off into the tar-thick depths of musical ambiguity, one of the millions of ambiguities that teens encounter. Those who are fittest might happen upon Dog Day's album with its delicate, catchy hooks and melancholy, but approachable lyricism that will have them walking upright in no time. Everyone else gets to listen to Seether and throw feces at each other. I'm sure it gets fun at some point. – Chris Morgan
Best Performance by a Firearm in a Song
Nominees:
Pharoahe Monch "When the Gun Draws"
M.I.A. "Paper Planes"
Winner: M.I.A.
Monch may deserve some originality by making a bullet a protagonist in a song, but M.I.A. earned herself one of the top spots in our songs of the year list for her blend of a Clash sample, gunshots and irresistible hooks. Girl's got skills. – Jeff Terich
Worst performance of Bob Dylan by a Jedi in a sixties biopic.
The only nominee and therefore winner is Hayden Christensen playing "singer…ahem…Bob Dylan" in Factory Girl.
Hey, Hay (that's what I like to call him now), just because you light up a cigarette in every other scene and talk with a nasally accent does not make you The Bard of Rock. Hay does one of the worst Dylan impersonations ever on film. He was just so unbelievable. Not even Yoda nor Ben Kenobi could have helped him out for this dreadful role. – Adrian Cepeda
The "Hey, Don't I Know You from Somewhere?" Trebblie for artists who explored new sounds in 2007
Nominees:
Bright Eyes – Cassadaga
Apostle of Hustle – National Anthem of Nowhere
Tegan and Sara – The Con
Winner: Apostle of Hustle
Conor Oberst found his niche in the alt-country sound that encompasses Bright Eyes' Cassadaga. It establishes what could be Bright Eyes' perennial sound and shows the maturity of the artist. The lyrics sustain Oberst's usual wit but also delve into deeper, more conceptual, topics. Andrew Whiteman, on the other hand, broke from the Broken Social Scene/Kevin Drew shadow in a big way with Apostle of Hustle's second album National Anthem of Nowhere. It's a clinic of guitar prowess, lyrical awesomeness, and the usual Whiteman aloofness. Anthem's seamless mixture of Latin sounds and catchy pop choruses leaves few reasons for AoH to recall the sounds of Folkloric Feel. Tegan and Sara's The Con was labeled over and over as a mature and dark album which is a nice way of saying that everybody loved the electro/ teeny-voiced So Jealous. More than the others, Apostle of Hustle made a bold step forward and rightfully was met with success. – Tyler Weir
The worst follow-up album this year:
Nominees:
Kaiser Chiefs
Arctic Monkeys
Band of Horses
Lonely H
High School Musical 2
Winner: High School Musical 2
I actually liked the first two in this list. The next two were okay, but not necessarily worthy of the word `worst.' HSM2 wins for the mere fact that this `sequel' didn't answer any of the burning mysterious cliffhanger questions from the first High School Musical. I need closure, man! And Zac Efron won't return my calls. Bastard. – Terrance Terich
The Nigel Tufnel Honorary Trebblie For Albums that Go To 11
Nominees:
A Place to Bury Strangers – A Place to Bury Strangers
No Age – Weirdo Rippers
Baroness – The Red Album
Parts & Labor – Mapmaker
Pissed Jeans – Hope For Men
Winner: All
Sometimes we cop-out like this and distribute the accolades evenly, but it's hard to pick a clear favorite among the year's loudest albums when so many of them dish out the feedback in such plentiful doses. Baroness took metal to a new, sprawling, yet accessible plateau, while No Age and A Place to Bury Strangers got their shoegazer jones crossed with an equal flair for punk rock destruction. Then there's Parts & Labor, who just plain shred the eardrums, and Pissed Jeans, who will probably scare your neighbors. I think the real winners are all of us who heard these albums and survived, quite frankly. – Jeff Terich
The Sean Nelson "Pomposity is when you always think you're right, arrogance is when you know" Trebblie for best lyric of 2007
Nominees:
Feist- "Take it slow/Take it easy on me"- from "My Moon My Man"
John Vanderslice- "When you left me at the table to go to the ATM/I've never been lonelier" -from "Numbered Lithograph"
The National- "You swear you just saw a feathery women/Carry a blindfolded man through the trees" – from "Mistaken for Strangers"
Winner: The National
Feist's lyric is potent enough to incite spontaneous combustion and Vanderslice's lyrics work because he's genuine and you want to believe in his heart-on-sleeve sayings. Both are worthy nominees if Boxer wasn't released this year. The National have packed their album full of so many incredible lyrics that some writers may seek to put down their pens altogether. The imagery is fantastic and the nonchalant delivery of most of the songs just adds fuel to the fire so that when you're caught up in the up-tempo moments they slip in out of nowhere with the knockout punch. Boxer is so well written that to pick just one lyric out of the bunch is criminal. – Tyler Weir
The William Hung Memorial Trebblie for Least Likely Success Story
Bat for Lashes
Flight of the Conchords
No Age
Puppini Sisters
Winner: Puppini Sisters
Please. This is a no brainer. Who wouldn't like a hot Pakistani girl who sounds like Kate Bush? Comedy has always been closely tied to rock and roll, as well as folk, funk, glam, and every other genre that goes along with FotC. The same goes for No Age. Skater kids who dig art and noise rock? A winning combination in anyone's book. But who would have guessed that a 30's / 40's throwback harmony vocal group covering the Bangles, Classics IV, Beyonce, Kate Bush, Blondie and the Smiths would have had any kind of following? – Terrance Terich
The "We didn't review his album/Most Underappreciated/Fantastic in Concert/Nicest guy in Music" career achievement Trebblie singular and shameless shout to an artist who deserves more credit
Nominees:
John Vanderslice
Winner: John Vanderslice
Okay, so I've got a thing for the guy. He's released six albums. All are fantastic and differing from one another. Do yourself a favor and listen to one of them, or at least catch him live. – Tyler Weir
The "Hiding Out in Cambodia" Trebblie for Best Use of the "Rock `n' Roll part 2" beat
Nominee:
Battles "Atlas"
Boggs "Arm in Arm"
!!! "Yadnus"
Winner: Battles
Sure, Gary Glitter is a disturbing pedophile, but his now infamous hockey anthem has one of the best rock `n' roll intro beats of all time, and everyone knows it, and apparently uses it. Brooklyn's Boggs used it to great effect on a glam-flavored tune of their own, and !!! boogied down with their bad beats on "Yadnus." Still, Battles took the beat and ran, making it into a cybernetic amalgam of glam rock and robot prog, if there is such a thing. Well, there is now anyway. – Jeff Terich
The "What she say" Trebblie for a subtle and glorious lyric
Nominees:
Kevin Drew- "Your mouth/Is the Goal"- from "Gang Bang Suicide"
The National- "Can I get a minute of not being nervous/And not thinking of my dick"- from "Slow Show"
Apostle of Hustle- "Naked is as naked does"- from "The Naked and Alone"
Winner: Kevin Drew
Let me first preface these by saying that I wish I wrote all three. The National's lyric sneaks in almost unknowing to the listener, while Apostle of Hustle's lyric serves as the chorus to its respective song. Still, Drew is the master of background perversity and lyrical ridiculousity, that's why when you hear him crooning that "your mouth is the goal" at the end of the song, you remember that what you just sang, could in some small way, be about a gangbang after all. Kevin Drew's at his best in these moments of random outbursts and we as listeners still haven't tired of his comedy. – Tyler Weir
The Gabe Kotter Trebblie for Most Welcome Return
Nominees:
Buffalo Tom
Crowded House
Les Savy Fav
The Police
Led Zeppelin
Spice Girls
Winner: Les Savy Fav
This was a tough one. They were all in the running, well, except for the Spice Girls. But honestly, the Police and Zep were too little too late. Crowded House and Buffalo Tom are favorites of mine, but I am maybe only one of a very few. Les Savy Fav went on hiatus way too early, depriving us of one of the most exciting and innovative bands of the last few years. When I heard that the Fav were coming back, it was the best news I had received all year. – Terrance Terich
The C. Montgomery Burns honorary "Wallowing in My Own Crapulence" award for overindulgence in oneself:
Rufus Wainwright
He was well on his way with Want One and Want Two complete with the faux Waterhouse painted covers, but Rufus took it to another level with the even more self-indulgent Release the Stars. That, however, wasn't enough. Rufus then paid tribute to Judy Garland by recreating her two night stand at Carnegie Hall, recording it, and releasing it as the completely confusing double-entendre of Rufus Does Judy at Carnegie Hall. What's next for Mr. Me-Me-Me? Why, an opera, of course! – Terrance Terich
The "Taking It To the Next Level" Trebblie
Nominees:
Matthew Dear
The National
LCD Soundsystem
Caribou
Of Montreal
Jens Lekman
Akron/Family
Winner: LCD Soundsystem
What was once just another one of our tossed-off trivial awards has since become a badge of honor. The "Taking It To the Next Level" Trebblie is akin to Best Picture or Record of the Year, but far, far more important. Hey, stop laughing already. Really, this is a true acknowledgement of an artist taking their work to a new realm of creativity, and this year, it was hard to narrow down the nominees, let alone pick a winner. The National added a bit of grace and elegance to their powerful rock, as Caribou's Dan Snaith perfected his pop chops. Matthew Dear did likewise, writing catchy tunes in addition to banging beats, while Of Montreal's Kevin Barnes got just plain freaky. Akron/Family outdid themselves in ambition and songwriting, as did Jens Lekman, but truth be told, nobody deserves this award more than LCD Soundsystem. While their self-titled debut was awesome enough as it was, with Sound of Silver that intensified and expanded. Simultaneously more sleek and more human, Silver found a greater depth to their disco palette and landed our #4 album of the year spot (I'm curious to see if that would change to an even higher spot if we were to take a new poll today), so it's no overstatement to say that LCD Soundsystem has taken it to the next level. – Jeff Terich