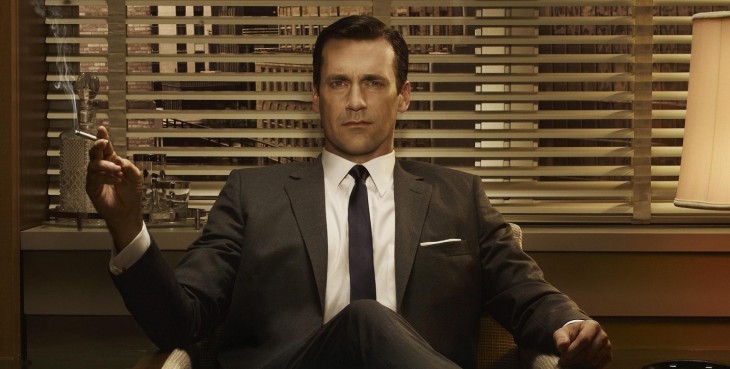 Shut the door. Have a seat.
It's been a while since we've done one of these. Treble has covered the music of Veronica Mars and Buffy the Vampire Slayer, but it's almost easier for a TV show to get the music right when it's set in the modern era. Look back a few decades, and the challenge grows slightly greater. It takes a particularly strong focus and a good ear (not to mention taste) to enhance the themes of a television show via songs from a given period. That said, Mad Men, a show set in the 1960s, was blessed with one of the most fertile decades for innovations in music.
Almost brutally unforgiving in its depictions of sexism, racism and ignorance to societal and scientific ills that we much more widely recognize today, Mad Men is a show that uses its period as forum for both social commentary and as a convenient excuse for stylization. And make no mistake — Mad Men is pretty much the most stylish show on television. Part of that, of course, is the music, the vast majority of which is carefully selected to reflect the specific point in time that the scenes take place. There are some anomalies — both The Cardigans and The Decemberists were used in early episodes, effectively if somewhat inexplicably. But the best moments are always those that best reflect the times, be it Peggy Olson walking out of the office to the Kinks or Megan Draper introducing a touch of yé-yé to the show.
With Season 6 about to begin, the time seemed right to look back on the past five seasons and their 10 best musical moments. Narrowing it down was a little bit tricky, but these songs show, in very different ways, the instances in which Mad Men got it absolutely right.
Miles Davis – "Concierto de Aranjuez (Adagio)"
from Sketches of Spain (1960; Columbia)
["The Hobo Code" – Season 1, Episode 8] Buy at iTunes
Don Draper is a demanding person. That's actually kind of putting it mildly, given the impossible standards to which he holds everyone, whom will almost never meet his approval. He's often irritated, frequently disappointed, and generally just a drink away from flying off the handle. Yet, in a crowd, he keeps his anger in check via passive-aggressive contempt, as when a date with his mistress ended up derailed when her bohemian friends wanted to get high and listen to Miles Davis. The scene turns into a tense confrontation between liberated artists and Draper, a symbol of the capitalist system that they stand against so staunchly. But Davis' Spanish-inspired concierto creates a more sumptuous scene against which the conflict arises, elegant and classic, rather than ham-handed or obvious.
Bob Dylan – "Don't Think Twice, It's Alright"
from The Freewheeling Bob Dylan (1963; Columbia)
["The Wheel" – Season 1, Episode 13] Buy at iTunes
A running conflict through the course of Mad Men is the struggle that Don Draper faces between the bad habits and poor decisions that drag him down, and the desire to strive for self-improvement. He's started over a number of times in his life, and always seems to want to do better, and to be better, but he's constantly fighting against his own nature, which is often selfish, cold and unforgiving. We do ultimately start to see him change, little by little, but in the heartbreaking close of season one, the consequences hit both the character and the viewer like a punch to the stomach. After giving his greatest pitch of the season (and possibly series), for the Kodak slide carousel, a nostalgic and sentimental Don returns home, hoping to meet his family just in time for a vacation surprise. But instead, he finds a dark, empty house, with only his remorse to keep him company. The scene closes with "Don't Think Twice, It's All Right," a slightly anachronistic yet still perfect cap to a powerful scene: "When your rooster crows at the break of dawn/ Look out your window and I'll be gone/ You're the reason I'm travelin' on/ But don't think twice, it's all right."
Percy Faith and His Orchestra – "Theme from a Summer Place"
["The New Girl" – Season 2, Episode 5] Buy at iTunes
By the second season, Don Draper has moved on to yet another mistress, this time Bobbie Barrett, the wife and manager of comedian/loudmouth Jimmy Barrett, who begins the season with a mouthful of Utz potato chips and some comically unflattering words for the owners of the company. His business savvy wife, however, is, much like Don, both professionally and sexually aggressive, which leads to an even more tumultuous affair than usual, which says a lot, given Draper's inability to avoid confrontation or shooting himself in the foot. In one key scene, the two are driving on a summer night, and things get a little steamy, with Percy Faith's pastoral "Theme From a Summer Place" (a song I can't not associate with The Simpsons) creating a dreamy idyllic foil for the pair's disastrous coupling. In mere moments, they're in a car wreck — a little on the nose, perhaps, though the song adds both irony and ominous levity to the chaos onscreen.
The Tornados – "Telstar"
from Telstar: The Sound of the Tornados (1962; London)
["The Inheritance" – Season 2, Episode 10] Buy at iTunes
Joe Meek's "Telstar," made famous by the Tornadoes and later covered by surf-rock pioneers The Ventures, is a sci-fi-pop classic of the 1960s. Its Theremin-heavy melody is emblematic of a step forward into a modern world, of a true space age, even if, 50 years later, it doesn't sound all that futuristic anymore. But it's nonetheless unique. And its placement in the closing scene of "The Inheritance" couldn't be more apt; Don and Betty are in the middle of a separation, their gulf temporarily closing but soon to widen exponentially. And when the opportunity to fly to California arises, in which Paul Kinsey and Pete Campbell are headed to see some astronauts, Draper elbows Kinsey out of the way and gets himself a seat on the plane. Unsure of who he is and where he belongs, Don sets out to disappear, and the adventure he's about to be on grows much, much stranger than a mere business trip, however. When "Telstar" plays out as Don gazes out the airplane window, it's indicative of the uncharted territory he's about to explore.
Roy Orbison – "Shahdaroba"
from In Dreams (1963; Monument)
["Shut the Door. Have a Seat" – Season 3, Episode 13] Buy at iTunes
Mad Men has always been a strong finisher. Essentially every season finale thus far ranks among its best episodes, and essentially all of them contain at least one immaculately chosen musical selection. Though seasons one and five are pretty stiff competition, the strongest might have been the use of Roy Orbison's "Shahdaroba" in "Shut the Door. Have a Seat." It's an eerie and mysterious tune, qualities that have always been crucial to Roy Orbison's style and presence. For while he emerged as a performer in the early years of rock 'n' roll, his take has always been a little more mysterious and exotic. To wit: "Shahdaroba," a ballad whose string arrangement bears a striking resemblance to John Barry's "James Bond Theme," with a touch of exotic saxophone tracing around it all. It's not just musical color though; for while "Shahdaroba" is definitely a cool-sounding track that would have provided an atmospheric treat regardless, its themes of death and rebirth ("When a dream dies/And the heart cries…", "Shahdaroba/ Means the future/ Is much better than the past") reflect the dual endings and new beginnings in the episode — Don's divorce from Betty and newfound freedom, and the establishment of Sterling Cooper Draper Pryce after the partners walk out on Putnam, Powell & Lowe.
Simon & Garfunkel – "Bleecker Street"'
from Wednesday Morning, 3AM (1964; Columbia)
["The Suitcase" – Season 4, Episode 7] Buy at iTunes
I'll just get this out of the way right now — "The Suitcase" is the best episode in the entire run of Mad Men's five seasons to date. It's emotionally complex, heart-wrenching and redeeming in a way that's sometimes almost too intense to watch, but feels real, and human. What begins as an adversarial interaction between Don and Peggy ends with the two of them at a much deeper understanding, their scars forever bared to one another. "Bleecker Street" beautifully closes the episode, its finger-picked guitar melody and harmonized vocals between Simon & Garfunkel gently heightening the melancholy, yet touching mood as Peggy asks Don if he wants his door left open or closed, and he responds, "Open."
The Rolling Stones – "(I Can't Get No) Satisfaction"
from Out of Our Heads (1965; London)
["The Summer Man" – Season 4, Episode 8] Buy at iTunes
It was probably inevitable that, at some point, the Rolling Stones' "Satisfaction" would play a part in Mad Men, simply for the fact that it meets two important criteria: 1. It's one of the most iconic songs of the '60s; and 2. It's about advertising. Well, maybe not completely about advertising, but enough that it fits the theme perfectly — almost too perfectly. "Satisfaction" is also perennially badass, so when it scores a slow-motion scene in which Don Draper steps outside, puts on his sunglasses and lights a cigarette, it's easy to forget, for a moment, that he's essentially hovering above rock bottom, having just gotten divorced, lost the one person in his life that he loved, and acknowledges his own alcohol problem.
The Beach Boys – "I Just Wasn't Made For These Times"
from Pet Sounds (1966; Capitol)
["Far Away Places" – Season 5, Episode 6] Buy at iTunes
A psychedelic trip in 1966 could have been soundtracked by any number of newly LSD-laced rock songs, but the eye-opening journey into consciousness between Roger Sterling and his soon-to-be-ex-wife Jane was backed not by swirling effects, but by the introspective orchestral pop of Brian Wilson. Sterling is initially skeptical about taking psychotropic drugs, but once he lets go of his old-fashioned ideas and gives in, what ensues is one of the greatest three minutes the series ever aired. There are some cool visual effects, like when Roger's cigarette accordions down to the filter in a split-second, but true to the detachment and angst of Wilson's Pet Sounds standout, Sterling begins to look inward and recognize who he really is. …It wears off after a few episodes, but for a time, he's seemingly a renewed, enlightened Roger, which, even if temporary, is a change that doesn't come along that often.
The Beatles – "Tomorrow Never Knows"
from Revolver (1966; Apple)
["Lady Lazarus" – Season 5, Episode 8] Buy at iTunes
It's a pretty rare feat to hear a Beatles song in either film or TV, primarily because doing so will cost a fortune for the studio. That's pretty much exactly what happened in the case of "Lady Lazarus," which features an instantly famous montage of Don listening to "Tomorrow Never Knows," which reportedly cost Lion's Gate $250,000. That's a pretty hefty bill. Although typically the reason that Beatles songs don't get licensed very often has more to do with how picky the surviving Beatles and their estates are. In this case, however, Matthew Weiner won licensing approval, and here, the song presents a pretty remarkable fusion of music with thematic weight. Draper is struggling to understand youth culture, so his wife Megan brings home a copy of Revolver, and boldly tells him to begin with "Tomorrow Never Knows." Originally titled "The Void," the song is a callback to a scene in which Draper looks down an empty elevator shaft, and silently ponders its implications. More importantly, "Tomorrow Never Knows" is a psychedelic rock odyssey that's built on loops, which reflect the loops that the characters themselves are caught in. Don is in danger of repeating the mistakes of his first marriage. Pete Campbell is always struggling to gain the respect of others, and always managing to shoot himself in the foot in the process. And almost every other character on the show is doomed to make the same mistakes over and over again. Horrified, Draper shuts off the hi-fi before the song is over.
Nancy Sinatra – "You Only Live Twice"
From You Only Live Twice (1967; United Artists)
["The Phantom" – Season 5, Episode 13] Buy at iTunes
There's a scene in "The Phantom" in which Don runs into Peggy Olson at a movie theater showing Bond spoof "Casino Royale," so it's only fitting that the episode ends with an era-appropriate Bond theme, and for that matter the best of the bunch, "You Only Live Twice." The symbolism here isn't subtle — Draper, himself, has lived two lives in a manner of speaking, first as Dick Whitman, and subsequently as Don. But there are lots of second chances that happen here, from Sterling Cooper Draper Pryce starting fresh with new office space, to Joan's new position of power, and Megan's burgeoning acting career. And yet the episode ends ambiguously, with a young woman asking a lone Don at a bar, "Are you alone?" There's an almost ominous, if winking tone about it, but the path to getting there, via Nancy Sinatra's exotic, lush anthem, makes the mystery seem just a little more intriguing.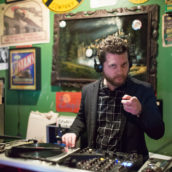 Jeff Terich
Jeff Terich is the founder and editor of Treble. He's been writing about music for 20 years and has been published at American Songwriter, Bandcamp Daily, Reverb, Spin, Stereogum, uDiscoverMusic, VinylMePlease and some others that he's forgetting right now. He's still not tired of it.