The Music of Veronica Mars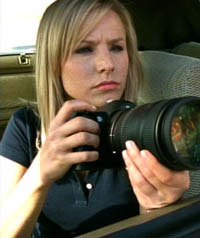 Last year, I wrote an extended missive on Gilmore Girls, a show that came to define my Tuesday evenings, and how it used music in much better and more effective ways than many of its prime time peers, such as Scrubs, Grey's Anatomy and The O.C.. Yet shortly after posting my diatribe, I became enamored with the show's Tuesday night partner, Veronica Mars. What was initially curiosity soon became fascination and ultimately obsession. During the show's two-month hiatus this spring, my girlfriend and I managed to make it through the entire DVD sets of seasons one and two. And by that point, a new "Best show on TV" was crowned, in my mind anyway.
Unfortunately, as was the case with a previous "Best Show on TV," Arrested Development, VM was given the ax at the end of its third season. Damn. Given that Gilmore Girls, as well, ended its seven years of life recently, that leaves very little on TV that I even care to put the energy into watching. Veronica Mars was different than any other show on television. It had a wit about it that recalled Buffy The Vampire Slayer, and even featured several of its cast members at one point or another. Yet VM toned down the soap opera-ish subplots and dealt in noir rather than the supernatural.
Veronica Mars had a lot going for it—a large cast of characters, each one with their own blurred lines of `good' and `bad.' To reach moral ends, ethical lines were frequently crossed in the city of Neptune, and each episode merely revealed more depth to the characters and the ongoing storylines as a whole. Some say the show's quality declined in its third season; I beg to differ. The setting was different and a few of the characters had since been removed, but the darkly clever qualities that made the show so wonderful to begin with still remained.
This wouldn't be a `Best Song Ever' column if it didn't have something to do with music, however, and that's one area that Veronica Mars definitely trumped most other shows. Creator Rob Thomas was a musician himself and clearly has an ear for great songs. Each episode was littered with great selections, and not all `indie band of the week' selections like that of The O.C. There were plenty in that realm, sure, but even they were consistently awesome. There was a good selection of music from earlier decades as well, providing a well-rounded and usually plot-related soundtrack overall. So, with that in mind, here are some of my favorite selections from the three seasons of Veronica Mars.
"We Used to Be Friends"
by The Dandy Warhols
from Welcome to the Monkey House
The Dandy Warhols have a role in every episode of Veronica Mars, as "We Used to Be Friends" is the show's theme song. It doesn't apply nearly as well to the third season, considering the high school 09-er division isn't as prevalent, which is most likely why a remixed version of the song was used in its place. Regardless, it sums up the show's back story well, of how Veronica used to be popular until her dad accused the most powerful man in town of murder. The way each episode's teaser led into the song was a continual treat, and even if you don't like the song (I still dig it quite a bit) it's hard to argue that one could find a more appropriate song to roll during the credits.
"La Femme D'Argent"
by Air
from Moon Safari
The leadoff track to Air's Moon Safari was played twice on the show, once in the pilot and once during a scene in which Logan and Weevil are painting a wall. A spaced-out, laid back exotic funk jam, it only makes sense as an introduction to Neptune and the title character, whose name also happens to contain that of a planet. Couple that with the hazy lens filter often used in the first season, and you've got an intriguing entry point.
"Pick Up the Phone"
by The Notwist
from Neon Golden
Veronica Mars really was the only show on TV cool enough to feature music by The Notwist. "Pick Up the Phone," a dense and emotional wonder on its own, was made all the more intense and powerful when used as a backdrop for Veronica's own startling revelation. Cleverly enough, the song cues as Mars starts tearing through her room to find a bug left behind by Jake Kane's head of security, Clarence Weidman. Though the scene itself is an adrenaline surging and suspenseful moment, The Notwist's distorted wash of electronics and guitar takes it to another level.
"I Turn My Camera On"
by Spoon
from Gimme Fiction
Spoon's music has been used several times on Veronica Mars, from "Don't Let It Get You Down" in the first season to Britt Daniel's own karaoke performance of Elvis Costello's "Veronica" at Java the Hut. One particularly memorable pastiche featured Veronica trailing the gold-digging Kendall Casablancas and taking surveillance photos, hence the whole camera thing. The funky strut of the song momentarily turns Veronica from overzealous teenager to super badass. Such is the power of Spoon. Now how are they going to find a way to fit this into fan-fiction?
"Jailbreak"
by Thin Lizzy
from Jailbreak
Yes, VM pulled from the archives as well, never too cool to bust out an old school classic. From 10cc to Blue Oyster Cult, the hits of yesteryear were often in full effect, yet Thin Lizzy's "Jailbreak" provided the backdrop for Veronica's encounter with the Fitzpatricks in a bar connected to an unassuming house. There's nothing like a little bit of the Lizz to add a bit of blue-collar grit when you need it.
"Four Leaf Clover"
by The Old 97s
from Too Far To Care
My absolute favorite musical moment in Veronica Mars' history takes place in the episode "Donut Run," in which Duncan escapes to Mexico. "Four Leaf Clover," the closing track to The Old 97s' Too Far to Care, soundtracks the chase, as Sheriff Lamb crosses the border over dry and dusty roads to once and for all catch his man. Sonically, the barn burning country-punk anthem makes for a great match to the Mexican landscape, yet also builds up the furious chase, only to reach a climax as Lamb's trunk pops open unexpectedly.
"National Anthem of Nowhere"
by Apostle of Hustle
from National Anthem of Nowhere
On a recent episode, after Mac breaks up with Bronson to be with Max, she soon realizes that Max may not be the man she wants to be with. Content to drop out of school and abandon his future, Max reaches an awkward sort of limbo, going nowhere himself, hence, "National Anthem of Nowhere." It's a thematically appropriate choice, musically narrating the impending, though not immediate break-up, while the song's melody has a sort of inherent sadness to it as well. We at Treble collectively love the Apostle of Hustle, and that one of their tracks landed in an episode of Veronica Mars makes each of them so much more wonderful.
"It's A Curse"
by Wolf Parade
from Apologies to the Queen Mary
It doesn't require much to explain why Wolf Parade's presence is welcome, though "It's a Curse," like any and all musical selections on Veronica Mars, wasn't merely hip incidental music, it actually tied in to the scene well. The opening riff rings out as Veronica enters the Hearst College dining hall, only to be met with the leering eyes and rude comments of hundreds of students who witnessed her having the sex on a viral video. She comments that it's like being back in high school, and we tie everything back to the first season quite nicely.
"It Never Rains in Southern California"
by Albert Hammond
from It Never Rains in Southern California
The show's final scene finds Veronica walking away from a polling place after voting for her father in the special election to replace the recently deceased Sheriff Lamb. Of course, at this point, Keith's chances of winning are pretty bleak, considering an evidence tampering scandal. And so Veronica exits the poll to a rainy street, as Albert Hammond's 1973 pop nugget ushers her off screen. The ironic bittersweetness of it all made it that much more affecting of an ending, and that it was filmed a few blocks from my house made me smile, in spite of the disappointment of seeing the best show currently on TV come to an end.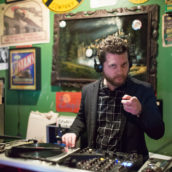 Jeff Terich
Jeff Terich is the founder and editor of Treble. He's been writing about music for 20 years and has been published at American Songwriter, Bandcamp Daily, Reverb, Spin, Stereogum, uDiscoverMusic, VinylMePlease and some others that he's forgetting right now. He's still not tired of it.