The New Pornographers : Together
Some of the best albums in history are all over the place. Take The White Album as one example. You're familiar with it. Never had a group of songwriters and collaborators put together an album so disparate. Yet, it's the differences and varied directions that make it magical. The White Album is such a far cry from the band's earliest classic singles that, out of context, it might leave early fans scratching their heads at its schizophrenic behavior. In other words, it may have felt like a 16-year-old drunk ADD kid steering a Vespa down a rain soaked freeway, all over the place. It seems that the Vancouver 'supergroup,' the New Pornographers, have taken a page from the Beatles' playbook. And so, it's somewhat ironic, at the same time fitting, that their latest record is called Together. Each track on the album is markedly different from the last and the next, but these tracks somehow collide into one of the most cohesive albums they've ever released.
According to de facto leader A.C. Newman, he entered into the creative process without any preconceptions this time around, and it has made all the difference in the world. Instead, Newman decided to just "let 'em fly on this one." In that spirit, the title for the album could have easily been, Happy Accident. Devotees, don't be alarmed. The New Pornographers are still rooted in anthemic power pop, and it still evokes feelings of giddy exuberance. It's just that this time around the strengths they find 'together' are in their differences. The entire gang is indeed all together again, including Neko Case and Dan Bejar, who some might have feared wouldn't have the time for another NP record. On the contrary, their contributions are as solid and meaningful as ever before, adding to what would have already been an incredibly strong album steered by Newman.
The opening strings of "Moves" pack as much power as a Jimmy Page riff leading into a playful keyboard cadence that undercuts them magnificently. The interplay between vocalists, including a guest appearance by Will Sheff, displays at once a sense of immediacy and a sugary pop sweetness. Once we get to the choruses and the refrains of "these things get louder," we know we're in the introductory stages of a triumphant record. "Crash Years," a Neko Case-led, whistle laden piece of confection picks up where Newman's The Slow Wonder left off, with undeniable hooks. "Your Hands (Together)," the first song sampled by Matador to herald the album's release, is probably unlike any other NP song you've heard. It is rooted in chugging classic rock riffs and will certainly rock your socks off. "Up in the Dark" is nearly its equal in its thudding and infectious brilliance. "What's love? What turns up in the dark," coo Newman and Case. Someone's been listening to the local hits of the 70's station.
Bejar's contributions this time around fall more in line with the Newman flavored pop formula as opposed to his own left field epic rococo compositions. "Silver Jenny Dollar" with its la-la's, "If You Can't See My Mirrors" with its Smiths-meets-Echo flashback jangle, and "Daughters of Sorrow" with its touchstones of the further past of '60s rock are all amongst the best that he's ever written. The chameleon-like nature of Bejar in NP is growing ever stronger, and nowhere have I seen the two meld together so well than on "Hey Snow White," the cheeky idea of the New Pornographers covering a Destroyer track. Annie Clark, a.k.a. St. Vincent, adds her own guitar flavor to the swaying panorama of "My Shepherd," making it seem like she's been with the band for years. My personal favorite track, "Valkyrie in the Roller Disco," which is coincidentally the best song title represented, shows up late in the album. Newman's Sufjanesque banjo gives way to piano as his voice intertwines with Case's to divine both Fleetwood Mac and Foreigner without a sense of irony.
The Dap-Kings' horn section is all over this record, and adds a Chicago-like dimension to the whole affair, but Zach Condon's trumpet on "A Bite Out of My Bed" seems to stand out. Of course, his is less Chicago and more Herb Alpert or Chet Baker, if he weren't so sad. After all the jumble of clashing, yet cohesive styles throughout Together, the album closes with a powerhouse that is on a par with "The Bleeding Heart Show," that being "We End Up Together." It's one of those songs, like "Bleeding Heart," that is less about how it sounds than about how it makes you feel. That can be said of many of the songs on Together, but this track in particular is glorious, finding common ground between ELO, Supertramp and postmodern pop. If that sounds odd, it's really not. Use your own touchstones and references, but this song is impossible to deny once it reaches its "ma-ma-ma's" at the close. Genius.
In the past, there have always been New Pornographers albums that housed songs that would alternately have me dancing in my seat or pressing the skip button (for some reason, I just can't get into "The Bones of an Idol."). But, I've remained steadfastly a fan. I've also found myself preferring the solo works of Newman, Case and Bejar to the work as a collective (namely The Slow Wonder, Blacklisted, and Rubies respectively, just to name some of the highlights). But, with Together, the band has done what the title intimates and created quite possibly the most consistent (though disparate) and enjoyable albums of their career.
(By the way, if you have a few minutes, take a look at the press kit put together by Adam Goldberg on the making of the album. Hilarious.)
Similar Albums:
Big Star- Third / Sister Lovers
The Beatles- The White Album
Bee Gees- Odessa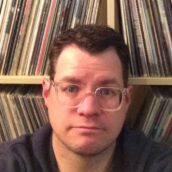 Terrance Terich
Terrance Terich firmly believes that 1985 is the best year for music. He lives near Seattle with his books, movies, and music.