The Rolling Stones : Aftermath
It was decided in a Spin magazine list that Aftermath was The Rolling Stones' hippest album. Though hipness is an arbitrary classification that provides little to no insight into an album's actual worth, Aftermath also happens to be one of the band's best recordings, and one of the most peculiar as well.
Aftermath was, for The Stones, what Hard Day's Night was for The Beatles — the band's first album of all original compositions, marked by some unusual stylistic changes. The first track on the album and best known single, "Paint It Black," is a dark, psychedelic ride that features a sitar lead played by Brian Jones. It marks the band's first attempt to distance themselves from the R&B and blues that influenced their early records. And, as a result, it stands as one of the group's best and most interesting songs.
Another track that shows the band's evolution is "Under My Thumb," which, despite its popularity now, never was released as a single. The song reveals some jazz influence, as the band recruited a marimba player to add some textures to the song, deviating from the otherwise simple rock band structure. The lyrics, however, have been called some of Jagger's most misogynistic, though "Stupid Girl" is equally macho in its juvenility. Though Mick Jagger has claimed that the latter was a result of his bitterness with bad relationships at the time, the former, some say, has been grossly misunderstood, reflecting upon the satisfaction of having a loyal partner, though it seems doubtful, considering the band's promiscuous nature.
"Lady Jane," on the other hand, is a more folky composition and a more tender love song, featuring a remarkably gentlemanly verse on the part of Jagger. Later on, the band veers back into bluesy territory, such as the slide-led "Don'cha Bother Me" and the piano-heavy "Flight 505," whose opening riff references The Stones' 1965 hit, "(I Can't Get No) Satisfaction."
My personal favorite track on Aftermath, however, is "I Am Waiting," a song that never garnered much attention for the band until it was featured in Wes Anderson's 1996 film, Rushmore, though it wasn't actually on the soundtrack. "I Am Waiting" is one of the band's most overtly British-sounding songs, having more in common with Nick Drake or Donovan than Chuck Berry. The track's lyrics are simple and oblique, as Jagger sings "I am waiting for someone to come out of somewhere." Starting off acoustic and subdued, "I Am Waiting" keeps a repetitive pattern, building tension that explodes into a rockin', unmistakably Stones chorus. But blink and you'll miss it, as the verse returns almost immediately, reverting back to repetitive folky musings.
Few Rolling Stones songs are as exciting and well-written as "I Am Waiting." And few artists' songs are as exciting and well written as a Rolling Stones song, so that's saying a lot. Aftermath, as it turns out, was the first album I ever bought on vinyl, after I purchased a refurbished record player at Best Buy my senior year of high school. Unfortunately, my two-dollar copy of Aftermath had a few war wounds, one of which landed directly on "I Am Waiting." Thank God for downloadable music, or I would have had to buy it all over again (though two dollars isn't much of an investment).
Aftermath is one hip album, for sure. And though watching the Stones now, in their sixties, doesn't exactly conjure up the same feelings as it would have in the sixties, we can still look back at a tremendous body of work that boasts many of the best songs ever written. And at least eight of them are on Aftermath.
Similar albums/Albums Influenced:
The Beatles – Revolver
Faces – A Nod is as Good As A Wink…To a Blind Horse
Them – The Angry Young Them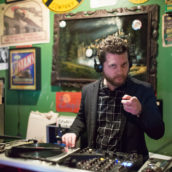 Jeff Terich
Jeff Terich is the founder and editor of Treble. He's been writing about music for 20 years and has been published at American Songwriter, Bandcamp Daily, Reverb, Spin, Stereogum, uDiscoverMusic, VinylMePlease and some others that he's forgetting right now. He's still not tired of it.