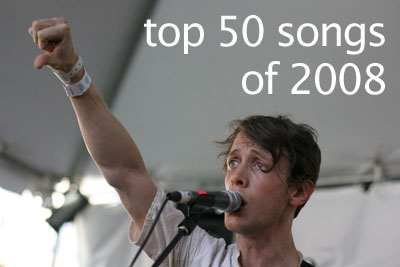 Santogold "L.E.S. Artistes"
Santi White's tribute to the Lower East Side (the real meaning of the acronym, and not some suggestion of sexual identity, or is it?) is less hip-hop than most people will claim, and more '80s glam-pop. Santogold follows dutifully in the solid footsteps of such twitchy and affected crooners as Terri Nunn, Dale Bozzio, Matha Davis, Siouxsie Sioux and Karen O. as if to firmly cement herself in the annals of New Wave instead of the world-influenced dancehall swagger of first single "Creator." "L.E.S. Artistes" is one of the singles that's impossible not to like. Call it this year's "Maps" or even this decade's "Destination Unknown," either way it's a toe-tapping, head-bobbing digital fantasy. – Terrance Terich
British Sea Power "No Lucifer"
Folding bikes (easy), wrestler's chants (easy, easy) and fear of satan—by reverting to childhood memories and classic `good vs. evil' themes, British Sea Power managed to write the best song of their career. It's soaring, a bit over the top (like U2 perhaps, hmmm?), and cathartic in the most grin worthy of ways. Hamilton's lead vocals, characteristically breathy, seem to surpass his brother Yan's for the first time, for sheer heroism. Maybe it's just a simple rock song, but there's something superhuman about "No Lucifer." It's inspirational and powerful, strange and a little bit silly, but one way or another, it'll have you romanticizing about chasing down the Prince of Darkness on a Raleigh 20 with a bedsheet tied around your shoulders. – Jeff Terich
The Dodos "Fools"
"Fools" is as much complete chaos as it is a perfectly wound demonstration in both structure and performance. The ferocious strumming and hyperactive drumming seem prime for explosion, as if at any moment the Dodos ought to lose complete control into less-desirable noise rock territory. As you grasp the edge of your seat in anticipation of meltdown, however, the spastic, almost tribal freak-folk stays consistent, weaving in enough melody to keep the song grounded, pure, and focused. Nothing about this song appears soft, yet further listens unveil some gentle strums and sweet vocals. Even the more "experimental" offshoots within the song seem perfectly calculated, nary a slip or stumble to get in the way. It all comes together in the end, and you realize you've just gone through an incredibly reckless ride that truly represents the Dodos' unique and unmatched musical virtue. – Anna Gazdowicz
Shearwater "Rooks"
I can think of no song to emerge in 2008 that's as chilling and as eerily beautiful as Shearwater's "Rooks," the first single from their equally breathtaking Rook. Peculiar choice for a single though it may be, with its spare minor key hook and imagery of bird carcasses amassed in piles, its progression is powerful, brought to a stunning and explosive climax with the addition of a lone trumpet. This is a dark song, however, and while lyrics like "we'll sleep until the world of man is paralyzed" may seem to suggest that frontman Jonathan Meiburg may be referring to the apocalypse, he's said in interviews that he isn't. Rather "Rooks" is like the Death Card—ominous, unsettling, and certainly enigmatic, but signaling transformation and rebirth. As 2008 proved that just about every pattern and every institution thought safe by Western society has since failed and needs to start anew, there's now a soundtrack for the reconstruction. – Jeff Terich
M83 "Kim & Jessie"
I remember the '80s. Vicariously. Thanks be to Anthony Gonzales for giving me the opportunity to experience them firsthand in his beautiful homage to all that forgotten glamour in Saturdays=Youth. I could kiss the Frenchman for the way "Kim And Jessie" made my skin tingle the first time I heard it. Yes, it's that good. Single of the year good. Better than `Pretty In Pink,' better than `The Breakfast Club,' better than `Sixteen Candles' all rolled into one. Thriving on the nostalgic immediacy of new wave synth blasts, a dearth of unending tom wallops, and M83's tried/tested electronic sorcery, "Kim And Jessie" finds Gonzales recycling a decades worth of potent potentiality and realizing that the sum of all influences sometimes upstages everything from whence it came. Do the secret protagonist lovers live happily ever after? I can never be sure because I'm overwhelmed each time by crystalline guitars and those tumbling toms. And somehow, the smile left on my face means it doesn't really matter anyway. – Mars Simpson
Portishead "The Rip"
"Wild white horses they will take me away."
The aggressiveness of Third is completely, vitally stimulating but it can wear a soul thin after a while. That is by all means a laudatory statement, a stamp of approval, an admission of astonishment. The violent quality that runs through the album, sometimes overt, at others pulsing just below the surface, makes "The Rip" into an island of respite. Haunted as it may be, in the context of the album as a whole, it pours out like so much beneficent light onto men and women that have begun to grow accustomed to a world defined by darkness. From the opening, Beth Gibbons beckons to us from the beyond and when the metronomic beat and stroboscopically whirling synthesizer kick in, there is no choice but to be taken away to wherever it is that she is calling from. – Tyler Parks
Deerhunter "Nothing Ever Happened"
Bradford Cox introduced "Nothing Ever Happened" at a Portland performance I attended in late November as the band's "Wipers jam." As one of the few bands making music today who resurrect while simultaneously reinventing the creative sparks of those who came before them, Deerhunter seem only to get better with each release. Live, "Nothing Ever Happened" runs rampant with the bludgeoning force of three guitars (the Microcastle version, no less refined for the clean production, has two). Drummer Moses Archuleta manufactures the charged rhythm with machine-like precision. A lyrical malaise—lamenting the boredom of a life not realized—gives itself to the freewheeling guitar virtuosity of Cox and Lockett Pundt. Neu!'s plodding kraut-rock is revived. Allusions are made to Greg Sage(of Wipers)'s underrated shredding. Though they've suggested it before (Cryptograms' seven-plus minute epic, "Octet"), "Nothing Ever Happened" casts Deerhunter in stark new light, revealing a band capable of taking their hazy pop in ever-new directions. – Mars Simpson
Fleet Foxes "White Winter Hymnal"
I don't know whether this song is about children innocently jaunting in the snow or the Edward Gorey-style fate of a hapless kid named Michael. But I like it, and I like Fleet Foxes. The vocal arrangements are gorgeous and with the instruments it all conveys a sense of a pastoral winter. I can feel the snow crunch under my feet with every sleigh bell shake. I can see my breath with every voice like a ghost in the woods. Hot cider by the fire. There are snow drifts. There are children. And, back again because I can't avoid the central image of the song, there is snow turned red as strawberries in the summertime. There are only 52 words in the entire song and they are sung three times. That image—all of them, really, but mainly the final one of strawberries in summertime—is so well-rendered, as if written with the precision of Amy Hempel. While I can't quite get what Robin Pecknold and company are getting at in "White Winter Hymnal," I am struck, like when reading Hempel, by its beauty. Listening to it I feel a shiver of awe, just like winter. – Hubert Vigilla
Bon Iver "Skinny Love"
It begins in such a subtle way – the soft strums, the lightly bluesy vocals, the unassuming tone. Then the falsetto unfolds, the increasing melody follows, and the whole song bursts into a whole new level of beauty that's absolutely sublime. I dismissed Bon Iver upon first listen, feeling like the music was too delicate. Upon closer inspection, however, I couldn't stop listening, and the adoration just came tumbling out from there. The music, especially "Skinny Love," is anything but too soft, especially when you consider the crushing emotional impact that inevitably comes with. The lyrical prowess, combined with that delicate melody, is simply intoxicating, heartbreakingly lovely, and will melt even the coldest of hearts. It's a song you truly feel, in melody, in soul…what we're all capable of feeling when it's just us, our memories, and the music. In this video from La Blogotheque, a girl in the intimate audience encourages Justin Vernon to start "Skinny Love" by saying "Go ahead – break our hearts, Justin." There's simply no way around it. – Anna Gazdowicz
M83 "Graveyard Girl"
Haptic music seems to be among the toasts of the global town at the moment, so it seems only appropriate that one of its most consistent producers of modern times be crowned with flowers, laurels, or whatever other mythologically resonant materials are at hand. Saturdays=Youth is Anthony Gonzales' reclamation of the atmosphere of adolescence, a trip down the reverb corridor to the twilight arena where childhood dreams begin to fade into the eclipse of adulthood. Along with "Kim and Jessie," "Graveyard Girl" makes up the heart and soul of the project. Taking a more focused approach to song structure, Gonzales was able to compose a simple, touching pop song and by processing it through his trademark sound imbue it with all the magic and mystery of youth.
The graveyard is almost tangible; trees with twisting trunks spiraling upward and casting long shadows across tombstones, a girl meandering between them, a little out of focus. But then, all of Gonzales' best work feels a little out of focus. His is the music of altered states. That is what gives it the power to transport us spatially and temporally into other bodies and other experiences, which are never the less very much our own. The fade out feels a little like being enveloped in the arms of eternity, just for a moment, passing. It is quite possible that no one has ever sung quite so sweetly of someone worshipping satan. – Tyler Parks
Top 50 Albums of 2008 coming next week!