The Wu-Tang Clan : Enter the Wu-Tang (36 Chambers)
The Wu-Tang Clan isn't just a hip-hop group, it's a brand, a symbol of quality. Wu-Tang is an enterprise, having spawned clothing line Wu Wear, video game Wu-Tang: Shaolin Style, and a vast network of "Killa Bees," including label executives and producers. Then there's the acting careers of Method Man and RZA, not to mention RZA's work in crafting music for the likes of Jim Jarmusch in Ghost Dog and cartoon Afro Samurai. And let's not forget the infamous Chappelle's Show sketch in which the Clan officially became Asian: Konichiwa bitches.
But first and foremost, it's the Wu-Tang's music that sets them apart as one of the most innovative and influential hip-hop groups of all time. Divided, the Clan's individual emcees prove to be formidable behind the mic, as solo records such as Raekwon's Only Built for Cuban Linx, Ghostface Killah's Supreme Clientele and GZA's Liquid Swords have each taken hip-hop into much broader realms of lyricism and atmosphere. Combined, however, the Wu-Tang Clan is an unstoppable force. After Enter the Wu-Tang (36 Chambers) signaled the Clan's debut in 1993, hip-hop music would never be the same.
RZA, GZA, Method Man, Ghostface Killah, Raekwon, U-God, Inspectah Deck, Masta Killa and Ol' Dirty Bastard were simultaneously the fiercest, most bizarre and most talented hip-hop troupe to have emerged in the '90s, turning the conventions of rap music upside-down. While they remained true to a hardcore East Coast aesthetic, portraying gritty urban narratives, the all-too-real became spliced with the surreal, with kung fu imagery playing an immense role in 36 Chambers' themes and mythology. RZA's production, as well, took a dramatic left-turn from the hip-hop norm, largely avoiding the bass heavy sound of g-funk and opting, instead, for eerie, cinematic samples and the occasional touch of classic soul.
As the sound of a martial arts film star asks "do you think your Wu-Tang sword can defeat me?", in comes the vicious taunt, "Bring the motherfuckin' ruckus!" And thus begins the downward spiral into the nine-piece outfit's dark and gritty verbal beating. Yet soon enough, the Wu-Tang jumps headfirst into the funky and fun "Shame on a Nigga," with awesome horn breaks and some truly absurd lyricism courtesy of Method Man: "you're my competah/ you mean competitor?/ whatever." Next in line, "Clan in Da Front" plays a bit of a tease, with an ominous bassline underscoring the call of "Wu-Tang Killa Bees/ we're gonna swarm." And yet, the song doesn't truly begin until about 1:25, when GZA takes the mic and suggests "let's get on this mission like Indiana Jones."
While bits of harsh, violent dialogue crop up between "7th Chamber" and "Can It Be All So Simple," it's the latter that proves to be the most unreal, with Raekwon's narrative proving to be in harsh contrast to the laid back samples. The excellent "Da Mystery of Chessboxin'" ups both the pace and the braggadocio ("we're like cocaine straight from Bolivia") and ODB's matter-of-fact statement that "rappenin' is what's happenin'." Likely the most famous track here, and even one of our top singles of the decade, "C.R.E.A.M." is the laid back hit, an impeccable ode to paper chasing, which, for better or worse, spread the catchphrase "dolla dolla bills, y'all."
Even with verbal diversions, Wu-Tang Clan's Enter the Wu-Tang is as solid a hip-hop album gets. Twelve tracks, minimal bullshit, and Shaolin style. Taken with the first wave of solo albums from individual members, it made for a pretty amazing 2-3 year span. Though 8 Diagrams may have been proof enough that the Clan can still break out the Tiger Style when necessary (and that every few years or so it is possible to get them all in the same room), no rap album is, was or will ever be as lethal as 36 Chambers.
Similar Albums:
Mobb Deep – The Infamous
Genius/GZA – Liquid Swords
Gravediggaz – 6 Feet Under
Download at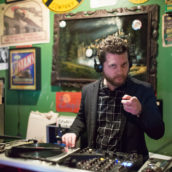 Jeff Terich
Jeff Terich is the founder and editor of Treble. He's been writing about music for 20 years and has been published at American Songwriter, Bandcamp Daily, Reverb, Spin, Stereogum, uDiscoverMusic, VinylMePlease and some others that he's forgetting right now. He's still not tired of it.