Thee Oh Sees : Floating Coffin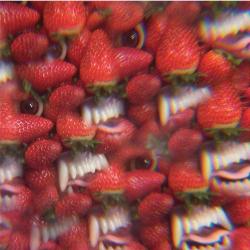 When discussing San Francisco-based garage rock powerhouse Thee Oh Sees, and perhaps more specifically band leader John Dwyer, inevitably, one of the first things to come up is just how prolific they are. It seems that not a minute goes by in Dwyer's life without his involvement some sort of creative effort. A simple glance at Dwyer's discography essentially confirms this notion, with Floating Coffin being the group's 13th release in just under a decade, not to mention the litany of EPs, 7-inch singles and guest appearances by Dwyer. The intense voracity in which Thee Oh Sees record, release, and tour behind albums would burn out lesser bands, but not Dwyer & Co. To the contrary, Floating Coffin sees the group deliver a monster of an album, big enough to satiate even the largest of appetites.
From the onset, it's clear that Floating Coffin is a beast of a new variety. Still present are the jangly garage rock guitar riffs, feedback drenched vocals and keyboard embellishments, but what instantly sets first track "I Come From The Mountain" apart from a good majority of Dwyer's past works is its intensity. Urgency abounds and shades of early punk saturate the song, pushing the Thee Oh Sees' sound to newly intense heights. The album's title track continues the frenzied pace, with a walking bass line that propels the song to near breaking points until its abrupt ending, likely to leave the listener begging for more. The group segues into the haunting "No Spell" which sees them (slightly) take their foot off the gas pedal in favor of a more psychedelic rock approach, but the reprieve doesn't last for long when sprawling "Strawberries 1 + 2" kicks in and pummels the listener with both speed and killer guitar riffs.
Floating Coffin also sees the group in command of some decidedly heavier material. "Toe Cutter – Thumb Buster" lives up to its painful title with a guitar riff that's would sound right at home on an old Kyuss record, and the sludgy "Night Crawler" layers on distortion so thick, it threatens to collapse any speaker it encounters. It isn't until the last song on the record when the band finally tones down the intensity. The relatively lighthearted sound of "Minotaur," complete with infectious percussion, beautiful background vocals and the unexpected inclusion of a string section, make it the perfect song to close out the record.
With Floating Coffin, Thee Oh Sees deliver an album that feels like their most exciting and, quite frankly, most accessible record to date. Peppered throughout it are elements of an even wider palette of sounds than ever before — from stoner metal to indie rock to psychedelic garage rock, it's all here. It's easy to get the impression that Floating Coffin was recorded with the intent of including as many listeners as possible in their rocking festivities. If that was indeed their intention, it's hard not to view Floating Coffin as a resounding success.
Similar Albums:


Queens of the Stone Age – Era Vulgaris


The Dukes of Stratosphear – 25 O'Clock


Wavves – Afraid of Heights