Thundercat's Drunk is a boisterous celebration of pluralities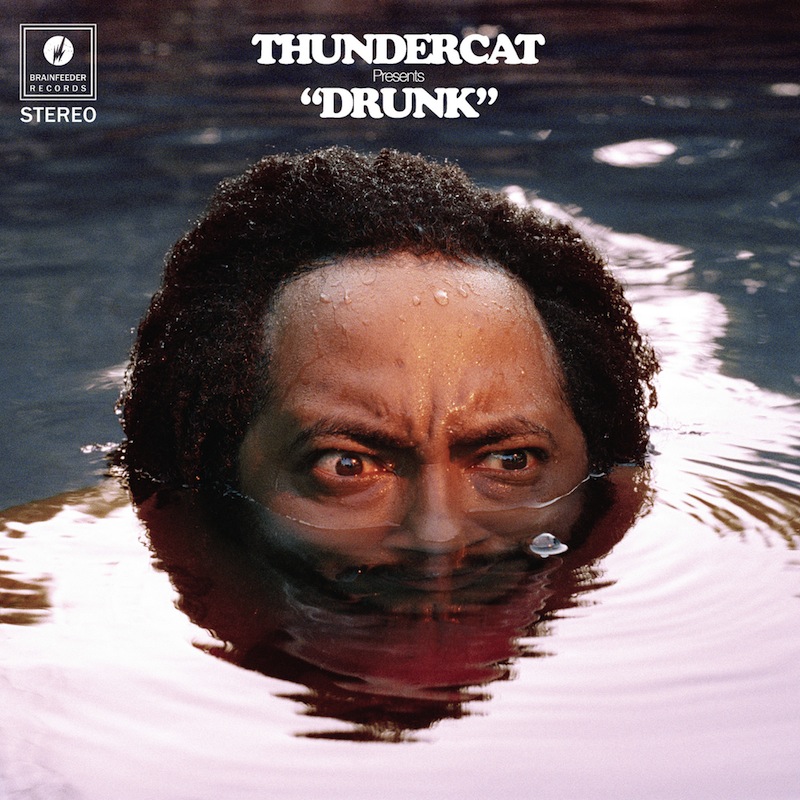 With blazing fretwork, moving about that classic, super-sweet Ibanez bass guitar, a YouTube Manga fan could go Star Wars vivid with animation. Stephen "Thundercat" Bruner, bassist extraordinaire and multiple Grammy winner has ventured so deep into the cultural zeitgeist since 2011 that he made his acting debut in the Star Wars spin-off series The Book Of Boba Fett earlier this year. Back at his first job though, slaying demons with his bass, he's pondering the human condition in song to a sold-out crowd at The Warfield in San Francisco.
On this December 1, 2021, nite, a younglings crowd—rave garb and ram horn Halloween get-ups abound—could seriously give a Baby Yoda about some 45-year-old episodic space melodrama. With protracted versions of his two-minute album songs, Bruner spacewalks using prog and fusion as his base. Those jazz voyages encompass thrash metal pummel and skate-punk attitude circa Bad Brains. Thumpin' Bootsy Collins meets Larry Graham undertow serves as a bedrock, with just a touch of Mahavishnu Orchestra/Return to Forever kimono sensitivity. Add in the squelchy bleep fervor of Dennis Hamm on keys and Justin Brown on drums, and Thundercat has built his two-hour Jackson Pollock expression for an ADD hyperactiveness.
But no matter the direction of abstract splash, Thundercat never loses the crowd. "Nothing is yours, nothing is mine / We are decaying overtime / […] / Let's go together interstellar love." So goes Bruner in pristine falsetto. "Interstellar Love" the second track on his Grammy-winning Best Progressive R&B album from 2020, It Is What It Is, transforms the existential come on into a Billy Cobham progressive rock firestorm.
The trio performs with hive mind ESP, a gift earned through road-tested curveballs night in and out. Residing on the Brainfeeder imprint; All types of electronic music are game. Expect drum and bass expanse next to 4/4 euphoric gush. These push-pull fluctuations are the radical time signatures these crypto youngsters are here for.
Drunk, released in 2017, his most well-received solo project to date, is an honest reach that features somber and quick-witted tracks surveying the loneliness and wistful times of a successful performer yearning for what lies just beyond the hangover.
Without a doubt on this night, the cannabis, far stronger in a hydro age, was still gusting—good lord, SF—but these fans, starved for live music after on-and-off lockdowns, were now bopping-some running place-along to that '70s genre known as fusion. Which their grands prolly smoked "grass" to. These kids are now waving their investment-bearing phones in approbation to Thundercat and his blues. He's their potty humor musical prodigy, and multiple Grammy winner, doling out the pyrotechnic emotions from the stage, while they just levitate on that soul-reflecting, eyes closed-grin.
As much as old Thundie enjoys 'funnin' in a George Clinton-meets-Eric Andre kind of way, that awesomeness he brings in concert? These fusion exercises are spiritual. Tributes to Chick Corea and McCoy Tyner are as common as shoutouts to Mac Miller and Austin Peralta. Friends, contemporaries, and legends he's lost in the past decade.
Once you've get past the blue-eyed Dad-jazz energy of Michael McDonald and Kenny Loggins' duet "Show You The Way," or the "Captain Stupido" mockery of leading a soulless existence—joking about pounding your meat because you lost your wallet at the club (damn, Thundie)—we're straight into the double-time nimbleness of "Uh Uh."
At the close of 2017, a year in which nothing made sense, no musical concord arose, save this; serious jazz-fusion moments, retro-futuristic pop, space boogie thud, and yacht rock AOR? It was a solitary island in terms of style that still bum-rushed a plethora of Best Albums of the Year lists. Something so off the charts and over the cliff manufactured a sound and presentation identifiable from the cut and paste muppets. This was a vantage point, a style, from which Bruner could operate all his musical forms. Coming up in bands where he would back up Erykah Badu or Suicidal Tendencies—while citing Slipknot as a fave—to say his pedigree is adept and then some? I'd offer FACTS, as the kids say.
A multi-generational uber-nerd with high-octane jazz elegance and proto-punk ferocity, under the Thundercat avatar (he has a clothing line that just came out) both identities drift in and out of focus like a software dweeb lost in Hendrix loungewear. One moment Brian Wilson/Beach Boys lush soundscapes flood "Bus In These Streets," critiquing a generation's compulsion for oversharing. The next moment George Duke's presence blesses "Blackkk," "A Fan's Mail(Tron Song Suite II)" and "Day & Night," keeping a candle firmly lit in the jazz-fusion window.
Loud, transparent, and mindful, Drunk—left to anyone else could have been a hot mess on delivery—put ska, punk, and soul into a cement mixer. Where it all got churned up and turnt up into a boisterous celebration of pluralities.
---
Support our Site—Subscribe to Our Patreon: Become one of our monthly patrons and help support an independent media resource while gaining access to exclusive content, shirts, playlists, mixtapes and more.
John-Paul Shiver
John-Paul Shiver has been contributing to Treble since 2018. His work as an experienced music journalist and pop culture commentator has appeared in The Wire, 48 Hills, Resident Advisor, SF Weekly, Bandcamp Daily, PulpLab, AFROPUNK and Drowned In Sound.