A History of Jazz Fusion in 30 Essential Albums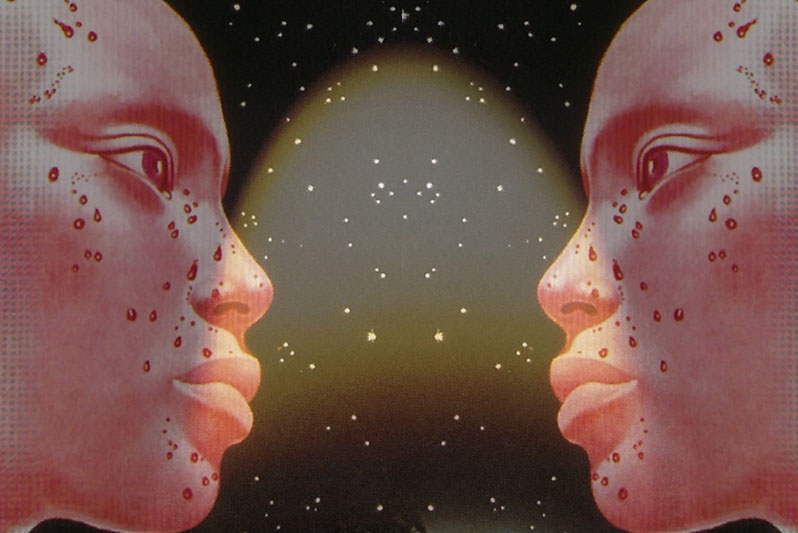 The domain of crate diggers, virtuosos and DJs, jazz fusion is burdened by a reputation that contradicts itself. To some, it's the sound of a supremely cool, effortlessly funky period in the '70s when you could have a Gold record stuffed with 15-minute clavinet solos. For others, it's the sound of excess, the jazz equivalent of progressive rock. Both are correct, though the latter might not be entirely fair, but when you consider that actual progressive rock artists like Soft Machine and Frank Zappa were playing jazz fusion, well, the distinction grows a bit blurrier.
Jazz fusion is tricky to define by any simple terms, but guitarist Larry Coryell, often credited with pioneering the sound, once said, "We loved Miles but we also loved the Rolling Stones." In its earliest stages, artists like Coryell and his group The Free Spirits paired jazz elements with the electric sound of rock 'n' roll—hence, a fusion of sounds. And it spiraled outward from there; jazz found itself injected into funk, R&B, MPB, ambient, all manner of unlikely sounds, and it continues to thrive today, thanks in large part to DJ and electronic music culture. It was two labels founded by DJ/producers—Flying Lotus' Brainfeeder and Gilles Peterson's Brownswood—that helped bring fusion and even jazz proper back to contemporary audiences. And as we continually find new corners to explore in this newly fertile terrain—on the 50th anniversary of Bitches Brew, no less—we've put together a timeline of 30 essential albums that show how jazz fusion went from an experimental concept to the sound of the future.
Ordinarily, for this sort of feature we'd strictly adhere to a one-album-per-artist rule, but saw the need to make an exception, and that artist who breaks the rule appears four times here: Miles Davis. Not only did he release one of the earliest jazz fusion masterpieces and conceptual blueprints, as well as a follow-up that stands as one of jazz's best selling albums of all time, but a few more entries in the 1970s that showed how far he was willing to take it. We're willing to break our own rules every now and then when it means being able to tell the whole story (or as close to it as we can).
Though, to tell the truth, there really is a lot more to this story. We just weren't able to fit all of it. Let's get this chronologically historical chronicle of 30 of the most groundbreaking and simply best jazz fusion albums of all time started.
(Buy these albums at Turntable Lab)
1967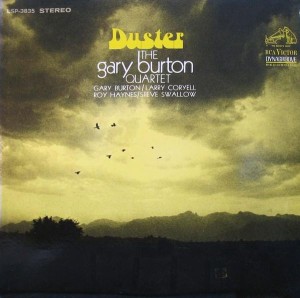 Gary Burton Quartet – Duster
Generally considered to be one of the earliest fusion albums, this 1967 LP finds legendary vibraphonist Gary Burton at the intersection of jazz and progressive rock, thanks in no small part to Larry Coryell's acidic, blues-inflected guitar. Duster is among the finest of Burton's often neglected 1960s albums for RCA, before he explored more introspective territory on ECM throughout the '70s. Here, he and Coryell are joined by bassist Steve Swallow and Roy Haynes on drums. Mike Gibbs's propulsive compositions dominate, interpreted with technical mastery. Meanwhile, others by Swallow ("General Mojo's Well Laid Plan" and "Portsmouth Harbour") allow for some breathing space, even if Burton's four-mallet flourishes on the vibes command the most attention. The sophisticated harmonies on Carla Bley's composition "Sing Me Softly of the Blues" balance out the virtuosic showboating that overwhelms more avant-garde tracks, like "One, Two, 1-2-3-4". Bley would later collaborate with the quartet on the wonderful A Genuine Tong Funeral. Overall, this highly skilled quartet are exemplary listening for that period where the areas of collision between jazz and other genres were being pursued, if not fully embraced. – Sam Pryce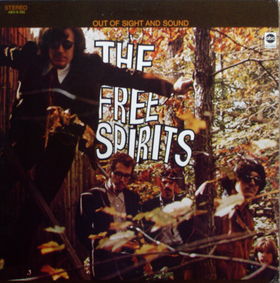 The Free Spirits – Out of Sight and Sound
The way the Free Spirits are depicted on the cover of their sole album Out of Sight and Sound would probably lead the average listener to assume they're a '60s psych band. Which they are—kind of. The album is otherworldly and features plenty of Sitar, carrying echoes of George Harrison's most spiritual moments on The Beatles' Revolver and Sgt. Pepper's, but the arrangements and progressions here are far outside of the more familiar rock sounds of the '60s. The uproarious leadoff track "Don't Look Now (But Your Head Is Turned Around)" is awash in plenty of oblique, druggy lyricism, but what makes it a true wonder is the sound of it—once it takes off, it absolutely goes, spiraling guitar riffs and saxophone squeals competing for the listener's attention. The Free Spirits' guitarist Larry Coryell is often credited with being the architect of jazz fusion, and though this album is more rock than jazz, it's in the heady collision of sounds where you can hear a whole new sound come into being.  – Jeff Terich
1969
Miles Davis – In a Silent Way
Given the context of jazz in the 1960s, listening to In a Silent Way for the first time must have felt like a trip into outer space. In some ways, that's exactly what it is. Miles Davis, coming off of a particularly inspired half-decade of recordings and performances with his quintet, sought new territory with these two revelatory sides of electric inspiration. Recorded in a 1968 session and then reconstructed, reconfigured, chopped, cut and pasted, In a Silent Way breaks the format of a live-in-studio jazz session and instead sets an early template for sample manipulation. Not that anyone notices that part—this is, tape splices aside—an album all about the performances and the stunning atmosphere that surrounds them. Though this is Davis' affair in direction, the trumpeter isn't necessarily the most prominent figure here. It speaks volumes that not one, not two, but three keyboardists are featured—Chick Corea, Herbie Hancock and Joe Zawinul—and the warm glow of those keys set the warmly alien vibe on which everyone else gets their chance to run wild. The 18 minutes of "Shhh/Peaceful" are the proverbial lightbulb turning on; if you can do this, then just imagine what lies beyond. – Jeff Terich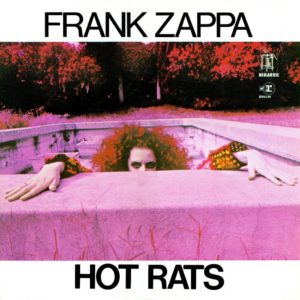 Frank Zappa – Hot Rats
Hot Rats is a curious album both in the canons of jazz-fusion and Frank Zappa. It isn't broadly considered the peak of either; fusion would both be wiler and more satisfactorily rock-oriented elsewhere where Zappa would become both more avant-garde and more approachable on other records, more jazzy and less. But these comparative metrics ignore one very important thing: Hot Rats is the album with "Peaches En Regalia" on it. Crossover tracks cannot be undervalued, despite what record nerds and genre purists might tell you, and for many, many rock listeners, "Peaches" was their very first fusion tune. And truthfully, what a tune it is: while the rest of the album may sag under some strange experiments that don't always work (such as early Captain Beefheart-starring vehicle "Willie the Pimp" or the somewhat aimless "The Gumbo Variations"), "Peaches" is a taut and flawless piece of fusion composition, perfectly melding contemporary jazz harmonics and chops to an eminently catchy prog/pop set of melodies. We talk sometimes about perfect songs, but "Peaches En Regalia" is perfect beyond perfection, three minutes of heaven any serious artist would sacrifice their life for, which in turn went on to open the doors to the deeper wider world of fusion for innumerable listeners and musicians. – Langdon Hickman
1970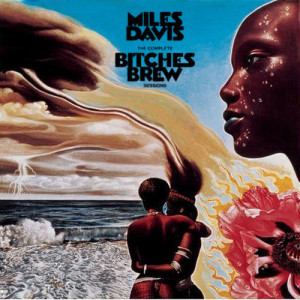 Miles Davis – Bitches Brew
I felt a strong temptation to begin here by saying that Bitches Brew can be connected to every album here by just one degree. That's actually not true, it just feels true. There is no album more iconic, no sound more monolithic to jazz fusion than that of Bitches Brew. Credited to "Directions in Music by Miles Davis," the sprawling, psychedelic double album is a journey outside of the comfortable, conservative realms of jazz in the 1950s and '60s into a weird, druggy, electric otherworld where Miles and a team of 14 collaborators (most of which appear on other albums in this feature) run their voodoo down. Davis, by this stage of his career, had mostly been interested in rock and funk music, and there's a lot more of both throughout the album, whether in the dissonant psych spiral of "Pharaoh's Dance" or the upbeat groove of "Spanish Key," each extending well past the length of two, even three standard jazz compositions to cover as much vinyl real estate allowable, extended, recut, edited and pieced back together into cutting-room collages of what, left alone, still would have been some of the greatest sessions jazz has ever known. Upon release it became one of the best selling jazz albums of all time, which is both peculiar and entirely unsurprising. Kudos to an audience being that receptive to this kind of sorcery. But then again, Miles Davis was always thinking a few light years ahead. – Jeff Terich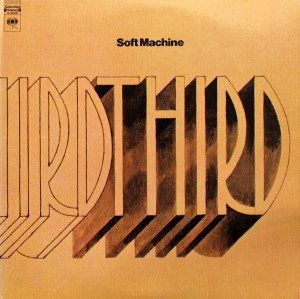 Soft Machine – Third
Soft Machine, the "Canterbury Scene" pioneers whose repertoire stretched from psychedelic rock to prog, arrived at their peak by embracing jazz—without necessarily abandoning being a rock band. Their third album, literally titled Third, breaks open the band's compositional techniques away from the dadaist, Zappa-esque song cycle of Volume Two in favor of a freer, electrifying jazz-rock symphony. Each track is essentially a single side of the 2xLP album, beginning with the fiery "Facelift," a live-recorded track that's illustrative of the group's more sophisticated and intricate arrangements, not to mention a heightened intensity between saxophonist Elton Dean and organist Mike Ratledge. It's "21st Century Schizoid Man" meets Bitches Brew, and it sounds like the world is breaking in two. The other three tracks are higher in fidelity, more hypnotic in their musical subtleties—the organ-and-sax groove of "Slightly All the Time" fuses seamlessly with Freddie Hubbard's early '70s electric moments, the cosmic atmosphere of "Out-Bloody-Rageous" is on a similar wavelength as Tangerine Dream's epic proto-ambient, and "Moon in June," the sole track to prominently feature Robert Wyatt's vocals, serves as a reminder that Soft Machine is, at this point, still a rock band. Sort of. They may have thanked Jimi Hendrix on their previous records, but on Third they were speaking Miles' language. – Jeff Terich
1971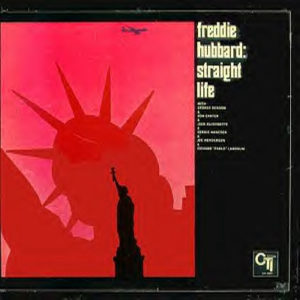 Freddie Hubbard – Straight Life
Straight Life is one of Freddie Hubbard's finest moments, eclipsed only by the previous year's Red Clay, an album that could most accurately be described as electric hard bop rather than fusion proper, though the elements are certainly there. But Straight Life leans at a sharper angle away from Hubbard's Blue Note past, with fusion and soul-jazz groove dominating on phenomenal epics like the 17-minute, side-long title track, and the somewhat shorter but considerably weirder "Mr. Clean," a psychedelic jazz wonder that feels more connected to the cosmic vibes of Miles and Herbie's albums of the era. And there's a very good reason for that: Herbie Hancock is a central figure on Straight Life, though some extra credit goes to George Benson for providing his share of guitar wizardry.  – Jeff Terich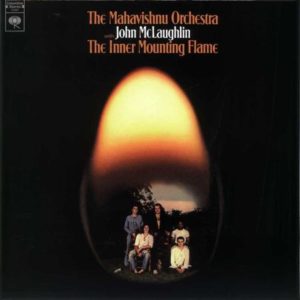 Mahavishnu Orchestra – The Inner Mounting Flame
There's a certain level of audacity in a quintet calling itself an Orchestra, but the musical reach of Mahavishnu—named for the Hindu deity—extended well beyond the standard rock or jazz combo. Led by John McLaughlin, a guitarist who had made some high-profile appearances on records with Miles Davis, Wayne Shorter and Tony Williams, Mahavishnu Orchestra frequently leaned heavier on rock's end of the fusion equation, with a heavy influence from Hindustani classical music, often coming across more like a progressive rock band than a jazz combo. And that's a fairly accurate representation of what's happening here—fuzzed-out riffs on "The Noonward Race," high-energy rhythmic dexterity on "Vital Transformation," and even a Genesis-like ballad on "A Lotus on Irish Streams." The band cooks, but it's in the grand gestures of tracks like "Meeting of the Spirits"—a track that predicts the symphonic post-rock of Godspeed You! Black Emperor by a few decades—where the group more than earns their designation as an "Orchestra." – Jeff Terich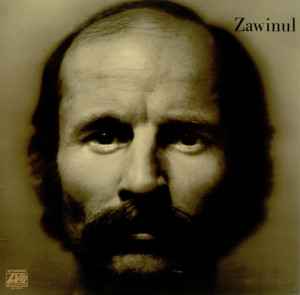 Joe Zawinul – Zawinul
Zawinul was, in short a genius. From working with Miles on In A Silent Way and Bitches' Brew to being a founding member of Weather Report (as well as his own The Zawinul Syndicate), he logged a number of records that are now considered classics within the genre. It's a shame, then, that his solo work gets overlooked. The abstract forms of Miles' fusion work and the pop/rock-oriented compositions of mid- to late-period Weather Report fall away in his solo work, revealing a Third Stream sentiment. Zawinul in many ways acts as a bridge between Third Stream as a fusion of classical composition and jazz harmony and ECM/Modern Creative jazz which would later explore the same terrain but from a fusion perspective. It's hard to imagine players like Keith Jarrett and Pat Metheny not being intimately familiar with this record, given how it predates their own solo work and how clearly it prefigures that motives and shapes in avant-garde contemporary jazz they would explore. That this record came after the intense mutualist relationship Zawinul had forged with Herbie Hancock under Miles yet before his legendary run with Weather Report yet is just as genius is a testament to the underlying genius of Zawinul. – Langdon Hickman
1972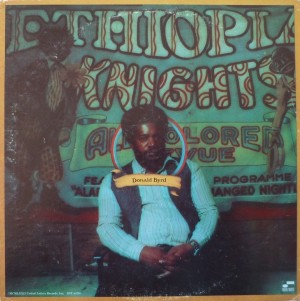 Donald Byrd – Ethiopian Knights
Even in his hard-bop days, Detroit-born trumpeter Donald Byrd embraced the idea of "fusion" by applying outside, atypical influences to jazz. His albums A New Perspective and I'm Tryin' to Get Home found him collaborating with a chorus of vocalists in ways few other jazz bandleaders had before, but in the '70s he embraced fusion proper, delivering Blue Note Records' then best-selling album of all time in 1973 with Black Byrd and later getting even spacier with records like Stepping Into Tomorrow. Ethiopian Knights is Byrd's funkiest, however. Byrd recorded the album in Los Angeles, not Addis Ababa, and bearing no real connection to Ethio-jazz (which made its international debut that same year), and a closer look at Byrd's background on the album art suggests the title is taken from a blackface minstrel show (perhaps mimicking Ethiopian Serenaders), its ironically placed imagery a subtle political statement on an album whose motivations are primarily physical. The album is built on pure groove, employing the language of jazz in the service of pure funk. It's a little less space-age than Head Hunters, instead hewing closer to the early '70s offerings of James Brown and Funkadelic, which makes this an album that's not so much fusion at its most conceptual or cerebral, but one whose vibe is on point. – Jeff Terich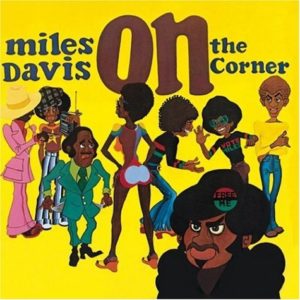 Miles Davis – On the Corner
"Critics are shite." That pretty much could be the mantra Miles Davis ran through his brain after the less than warm reception his last two recorded studio albums before the '80s—On The Corner from 1972 and Get Up With It from 1974—received. A car accident in 1972 left both his legs broken, an exhaustive list of health maladies—including a serious substance abuse problem that would have killed anyone else-sent him into retirement/depression in 1975. What those critics failed to realize is their metrics were outdated. Davis, who up until his death in 1991 never looked in the rearview, who preferred to watch MTV in the '80s, had changed music again. This time, the song construction wasnʻt bar to bar. More addition and subtraction of sound with no destined endpoint was the goal. Pushing the rhythm took preference over melodic construction. This future music, which predated house, techno, breakbeat, and even '80s boogie, edited by tape spliced together by Teo Macero, was a forward-looking, hallucinatory, repetitive beast that incorporated world music accents. Davis, who planked down layers of organ drone, let a crew of young R&B players—Michael Henderson, James Mtume and Norman Conners at the forefront—infuse their new-jack minimalism on Davisʻ compositions.
As shown on "Black Satin" Davis took the bump of James Brown and Sly Stone, incorporated some techniques and music theories of German composer Karlheinz Stockhausen, who pioneered the use of electronic instruments in classical music, and then rounded up John McLaughlin, Herbie Hancock, Chick Corea, Lonnie Liston Smith, Jack DeJohnette, Billy Hart, Dave Liebman, Bennie Maupin, Al Foster, Michael Henderson, Don Alias, and others to jam.  No more choreographed round-robin solos. That Kind of Blue shit was dead… In 72, each player was instructed to listen and add-on as they see fit. Teo would and did cut out segments when needed. – John-Paul Shiver – John-Paul Shiver
1973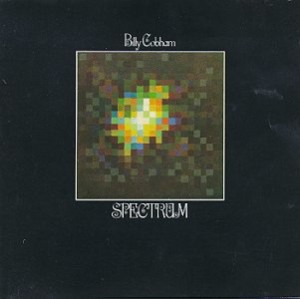 Billy Cobham – Spectrum
If you listen to trip-hop, you've heard some of Spectrum, the debut album by prolific fusion drummer Billy Cobham. The deep groove in "Stratus" forms the main sample of Massive Attack's legendary "Safe From Harm," and it's just as deeply funky as you'd imagine. That's true of much of Spectrum, but while its best known section leans more toward stoned, luxuriant vibes, much of the album is actually much more of a rock album, and a pretty incendiary one at that. Cobham had previously played with Mahavishnu Orchestra and Miles Davis, the latter on his most heavily rock influenced album A Tribute to Jack Johnson, so it's pretty natural that what comes out here is thrilling, dizzying and psychedelic. A lot of that is courtesy of guitarist Tommy Bolin, later of Deep Purple, whose leads are essentially harnessed lightning. But the album divides neatly into two halves, with side one of Spectrum being its blazing rock side and two its deeper grooves, going out on some sumptuous vibes with "Snoopy's Search/Red Baron." There's a reason it's called Spectrum—there's not an aspect of jazz fusion that Cobham and company don't touch here. – Jeff Terich
Herbie Hancock – Head Hunters
In 1973 it was hard to pin Herbie Hancock down. After establishing the soul-jazz genre with Takin' Off in 1962, veering through extended jazz suites in the mid-60s and releasing a trio of unbound experimental albums to kick off the '70s, probably the last thing anyone expected of the pianist was the biggest-selling jazz album of all time. But for a while, that's what Head Hunters was, though you wouldn't be faulted for calling it a straight-up R&B record.
After trustfully immersing himself for the first time into the funk of James Brown and Sly Stone, Hancock sought to lighten his psychic load a bit with Head Hunters. He recruited bassist Paul Jackson and drummer Harvey Mason, two young players for whom the project launched sturdy careers, and veteran saxophonist Bennie Maupin. Hancock's level of investment is unquestionable: Though his electric piano solos here were already in his wheelhouse, his use of clavinet for fusillades of guitar-like rhythms on "Sly" and a remake of "Watermelon Man" is at full-boil.
Much of Head Hunters' success rests on Jackson's and Mason's interplay; they lay down hard funk on "Chameleon" and maintain the breakneck pace of the bulk of "Sly" while keeping their between-beat jazz flourishes intact. "Vein Melter" is the biggest trip-out, a restrained dialogue between Maupin and Hancock anchored by Mason's uncomfortable martial beat and diffused by Hancock's innovative synth-string orchestra. In a feat he'd repeat a decade later with electro-funk on Future Shock, Hancock brought his progressive sensibilities to funk on Head Hunters and, maybe unintentionally, wound up elevating an entire subset of pop music. – Paul Pearson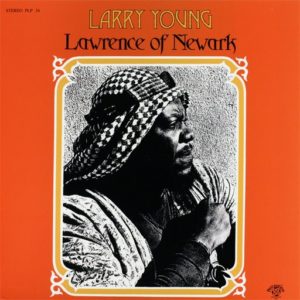 Larry Young – Lawrence of Newark
One of the most compelling albums of the fusion era was, for a time, lost to obscurity in the immediate aftermath of Perception Records' collapse pretty much following the album's release. A cruel irony, given that this was the organist's first non-Blue Note release. But what it lacked in commercial success, it made up for by expanding the boundaries of Young's Hammond-driven soul jazz. Substantially weirder than his celebrated Unity, Lawrence of Newark uses soul and funk as a grounding for some psychedelic, cosmic explorations. At times Newark is more Sun Ra than Miles Davis, like on the extended explorations of "Khalid of Space" and "Hello Your Quietness (Islands)", but delves into more abrasive territory on the brief "Alive." Internet archaeologists did eventually rediscover this classic slice of jazz psychedelia, and it's a good thing. While fate might have prevented this from having as wide a reach, its heaviness, intensity and sheer ambition renders it a fusion masterpiece worth reevaluating. – Jeff Terich
1974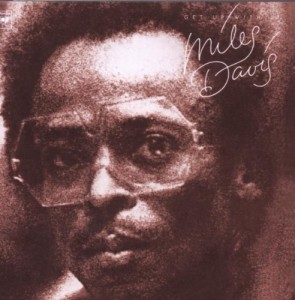 Miles Davis – Get Up With It
Miles Davis' last days of wayward creativity in the 1970s, before the young lions cashed in as producers and artists in their own right in the next decade, incorporated the next generation's punk-rock approach. The old-heads were out of touch. Miles had moved past jazz, and Get Up With It—harboring two half-hour long compositions and as many directions as tracks—was his last radical statement of confirmation. "Rated X" sees Miles flirting with John Carpenter-type dread by way of CAN. Laying out the Vincent Price organ vibes, he might have started to lose his embouchure or just opting for keyboard confusion. This chugging frenzy, a boullibasie of frequency, got pushed to the fringes by congas and tabla. A World Music gravitas got built into the arrangement. These funk-rock sheets over breakbeat, similar to the new wave of jazz artists, specifically the UK musicians who rely on Soundsystem culture to inform their tempo, remain futuristic. – John-Paul Shiver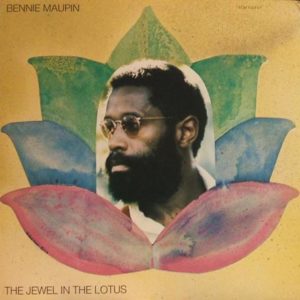 Bennie Maupin – The Jewel in the Lotus
Multireedist Bennie Maupin appears on several records in this feature, namely the two most widely heard of the bunch: Bitches Brew and Head Hunters. Which makes his 1974 album The Jewel In the Lotus all the more curious of a release. The man's specialty is intense, funk-laden jazz fusion that never exits the pocket. So for him to make the move over to ECM—a label known for its more atmospheric, avant garde approach to jazz—was a significant shift. Lotus is a much more serene and ambient record, one that still carries the shimmering layers of jazz fusion's most iconic records, but with an almost meditative spaciousness that puts it in its own breathtakingly beautiful category. This is almost nothing like those two towering records on which Maupin left his mark; it's quieter, more insular—peaceful, even. It's the kind of serenity that feels both vital and soothing more than 45 years later. – Jeff Terich
1975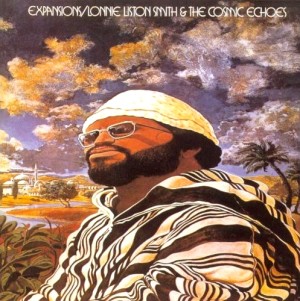 Lonnie Liston Smith – Expansions
"Expansions." Is there a more succinct way to summarize the entire mission behind jazz fusion? To push jazz into new places, to explore new territory, to embark on a mission of discovery. Expansions does all that and then some. Lonnie Liston Smith's credits are all over 1970s essentials, from Miles Davis to Marvin Gaye, and he even coined the phrase "Astral Traveling" in titling a now legendary composition with Pharoah Sanders. Expansions, though, is a record that takes advantage of every potential detour. Its leadoff title track is essentially a commercial funk disco number, not unlike what Herbie Hancock would take on throughout the second half of the decade, but it's ultimately the only track of its kind (though "Peace" is a more traditional jazz vocal ballad). "Desert Nights" is mesmerizing avant garde groove, "Summer Days" is joyful Latin jazz and "Voodoo Woman" a deep, deep funk. On paper it might seem like a sampler pack of fusion's greatest vibes, but as groove-based mixtapes go, this one's hard to beat. – Jeff Terich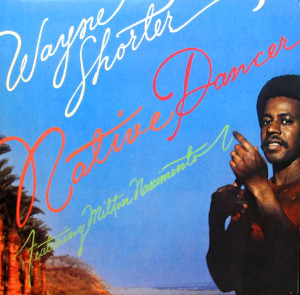 Wayne Shorter & Milton Nascimento – Native Dancer
Urged by his then-wife Ana Maria, this album saw Shorter go Brazilian by collaborating with composer and vocalist Milton Nascimento. Though not a bestseller on its release in 1975, it has since become a revered record for its seamless blend of jazz with samba and funk influences. Opener "Ponta de Areia" (later covered by Earth, Wind & Fire) conjures up tropical vistas at sundown, as Nascimento's falsetto sits comfortably alongside Shorter's soprano sax. Herbie Hancock—whose composition "Joanna's Theme" brings Native Dancer to a beguiling close—is doing what he does best on the keys, never competing for our attention but definitely present. You won't find much of the exhibitionist riffing that has become synonymous with jazz fusion here. Nor will you find quite the same level of sophistication of Shorter's Blue Note albums of the 1960s. What you will find, however, are smooth, subtle, sultry grooves, played with the ease of an ocean breeze—and there ain't nothing wrong with that. Funnily enough, Esperanza Spalding cited this album as an influence, and you can certainly hear its legacy at the funkier end of her 2016 neo-fusion landmark Emily's D+Evolution. – Sam Pryce

1976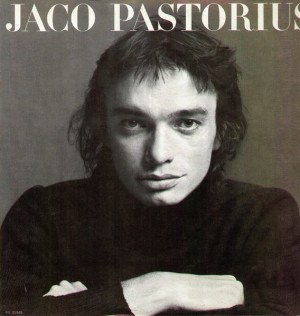 Jaco Pastorius – Jaco Pastorius
Jaco is the greatest electric bassist who ever lived. This is less opinion and more stone-cold fact; the man was simply the Hendrix of his instrument, igniting an unholy fire under it that no player before or since has matched. There are many records which capture glimmers of this fire and some that even have higher highs, but broadly speaking his self-titled second album is considered where the eruption proper happened. Most might point to "Portrait of Tracy," perhaps the greatest solo bass piece of all time, doing for virtuosity on the instrument what "Eruption" would do for guitar only two years later. But other cuts like his interpretation of bebop standard "Donna Lee" or the impossibly deep tremendous groove on "(Used To Be A) Cha-Cha" featuring both Herbie Hancock and Lenny White showcase a bassist whose chops extended far beyond mere shred to a master of every clave and slippery, groovy funk and jazz rhythm under the sun. If you're interested in more, check his collabs with Pat Metheny and the album Heavy Weather by Weather Report. But as for a starting point, there is none better than here. – Langdon Hickman
1977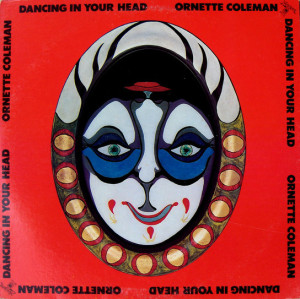 Ornette Coleman – Dancing In Your Head
There are other releases that jazz experts will rank higher in your average Ornette Coleman top 10—the traditionalist The Shape of Jazz to Come, the blistering Free Jazz, and so on. This 1977 album finds him successfully leaning into the grooves of fusion. On its face there's not much to chew on here, two variations on "Theme from a Symphony" (played with different forms and names on at least two previous LPs) and a collaboration recorded four years prior with the Master Musicians of Jajouka (the 2000 reissue includes a second take). But "Theme" finds Coleman running a sax marathon, lifting up an endlessly cycling motif in front of his new dual-guitar Prime Time ensemble. The drone of "Midnight Sunrise," meanwhile, wraps up the album's suggestion/illusion of our idealized image of bustling Morocco. – Adam Blyweiss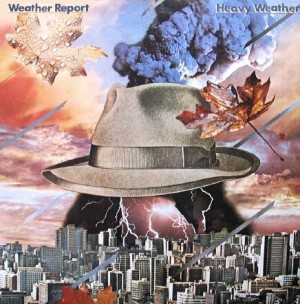 Weather Report – Heavy Weather
Weather Report's eighth album was a commercial hit thanks to "Birdland," a catchy change of pace for FM radio and a nice unification with older jazz styles. Austrian leader and keyboardist Joe Zawinul and saxophonist Wayne Shorter were the only original members left. After their introduction on 1976's Black Market, Florida bassist Jaco Pastorius, Peruvian drummer Alex Acuña and Puerto Rican percussionist Manolo Badrena were promoted to full-time players on Heavy Weather, although the arrangement lasted for only one album. That's unfortunate because no jazz fusion release before or since had a more cohesive band.
Heavy Weather subverts the show-off elements of jazz fusion in two important ways: The players trust songwriting over ax-wankery, and repetition is largely discouraged. "Birdland"'s best parts are its restrained restatements of Zawinul's interior melody over Acuña's woodblock pulse; when Shorter breaks out over a descending meltdown near the end, it's an earned release. Three-quarters through the lush ballad "A Remark You Made" you realize you haven't heard the same chord progression twice as Shorter and Pastorius trade lyrical statements. Whether Pastorius is frantically flicking the pulse as in "Teen Town" or keeping melodic support in "A Remark You Made," his bass is a blend of great heat-of-the-moment decisions and brushy overtones. Shorter prefers restraint, even when he's basically inventing '80s power-ballad sax in "A Remark You Made." The leader has his occasional moments of flash, especially "Havona," but Zawinul mostly uses his electronic get-up to fill in the atmosphere. His noir-like pads under Pastorius in "Teen Town" are almost as memorable as the bass solo.
Heavy Weather is a work that presents jazz fusion as a legitimate medium for composers and thoughtful players. Relievedly, its only moment of cheesiness is the fedora on the cover. – Paul Pearson
1979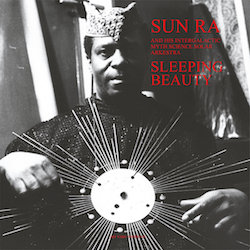 Sun Ra – Sleeping Beauty
Sun Ra's career was long enough that he touched seemingly every style of jazz that emerged between the 1940s and '90s, from his early recordings of swing and exotica to later forays into free-jazz and, eventually, even disco ("UFO" is a real banger). So, naturally, the cosmic spiritual jazz architect would likewise find his own space to explore in the electrified realm of jazz fusion. Though Lanquidity is the record from his late '70s era that carves out the deepest grooves, Sleeping Beauty is an understated masterpiece, bookended by two gentle and mellifluous lullabies, with a supremely funky gospel-fusion masterwork at the center. The track in question, "Door of the Cosmos," is among Sun Ra's most psychedelic and fascinating pieces, opening with handclaps and chants before it enters an instrumental melodic spiral that allows the Arkestra to light some fires amid an album of otherwise soothing and sedate pieces. But those calmer pieces themselves are awe-inspiring in themselves. Sleeping Beauty is an examination of two opposing takes on fusion, presented in fluid harmony. Jeff Terich
1984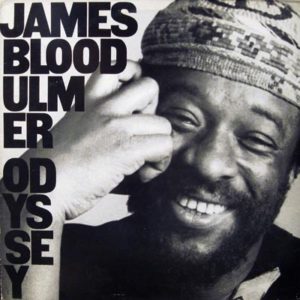 James Blood Ulmer – Odyssey
Guitarist James Blood Ulmer takes fusion to its most extreme degree, essentially finding a way to fuse avant garde jazz with everything. Whereas much of fusion's earliest breakthroughs were a hybrid of jazz and funk, or jazz and rock, Ulmer's universe included electric blues, rock 'n' roll, even post-punk—his 1980 single "Are You Glad to Be In America?" was recorded with members of Rip Rig + Panic, the UK band that included members of The Pop Group and Neneh Cherry. Odyssey is perhaps his best known work, as well as one of his most accessible, pairing the upbeat melodicism of Django Reinhardt-style jazz with Jimi Hendrix-style blues rock, accompanied by violinist Charles Burnham and drummer Warren Benbow, whose impact is considerably heavier than a traditional jazz drummer (listen to "Election" and just marvel at how hard he smacks the snare). The complete picture is almost like post-rock more than jazz; had I heard this today without proper context, I might mistake it for Dirty Three. It's inspiring, wondrous music, yet still grounded in blues and groove. – Jeff Terich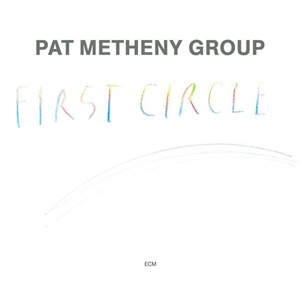 Pat Metheny Group – First Circle
Go straight to second track "Yolanda, You Learn" on Grammy award-winning First Circle, and the Pat Metheny Group's classic sound is immediate. With guitar, drums, synth, non-verbal vocals, trumpet, and even some sitar, it stands out as the peak of their powers. The constantly moving parts and winding variants of melody and instrumentals allows "Yolanda, You Learn" to be free yet stand as an example of one whole, complete composition. There is so much emotion and joy in the performance, that alone is enough to return to the album. Though the group has come a long way since their first release in 1978 and indeed this album as well, First Circle excites and delights the ear. Even with other groups experimenting with jazz fusion (David Sanborn or Chick Corea) or more avant-garde jazz
(think Sun Ra or Sonny Rollins), the Pat Metheny Group combines innovation with melody and finds the beautiful balance between art and entertainment.- Konstantin Rega
1991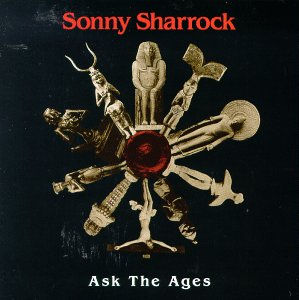 Sonny Sharrock – Ask the Ages
Sonny Sharrock has had one of the more interesting careers of any artist on this list, having delivered the powerful spiritual primal scream of Black Woman in the 1960s before detouring into collaborations with Bill Laswell's no wave funk group Material and, in one of his final career moves before his death in 1994, performing the theme music for Space Ghost: Coast to Coast. And that helps provide some context as to why his experimental jazz detours divert so wildly from the deeper funk or cosmic prog excursions of the '70s. Sharrock, to put it simply, was punk as fuck, and his distorted, noisier take on jazz could ignite its share of debates about where it fits in, exactly. Structurally, Ask the Ages—which also features the mesmerizing and expressive performance of legendary saxophonist Pharoah Sanders—feels aligned with the post-bop and spiritual jazz of 1960s Impulse! Records. Sonically, it's an entirely different story, with the wild riffs on "Promises Kept" and the cinematic weep of "Who Does She Hope To Be?" revealing an atmospheric range well outside of the vintage jazz norm. Ask the Ages was by no means the standard bearer for jazz and fusion in the 1990s, but it showed that there were still plenty of good ideas yet to be explored. – Jeff Terich
1998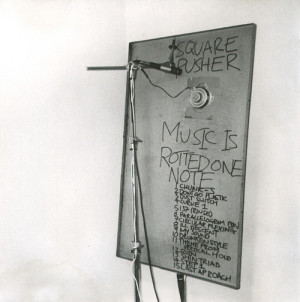 Squarepusher – Music is Rotted One Note

UK producer Tom Jenkinson initially made a name for himself in the mid-'90s as a creator of intense, hyperspeed, sensory-overload IDM better known as "drill 'n' bass," much of which featured his own manipulated bass playing. Yet not long after establishing his signature sound with Hard Normal Daddy, Squarepusher opted to record an entire album of jazz fusion proper, incorporating some of the glitchy electronic elements of his earlier tracks while fully adopting the improvisational, richly layered arrangements that one might expect to hear on a Miles Davis album in the 1970s. Yet much like Squarepusher the sample architect, the one you hear on Rotted is an artist who never stops moving, whether showcasing a discordant groove on "Don't Go Plastic," delivering the funk goods on "Chunk-S," soaring into dark ambient space on "Circular Flexing" and even exploring more conventionally pretty melodies on "My Sound." Jenkinson wasn't alone in drawing renewed interest to experimental jazz fusion in the '90s—Tortoise's Jeff Parker took on a similarly technologically enhanced take on fusion with Isotope 217, though what Jenkinson created here was one of the most vibrant and thrilling reclamations of a vintage sound in some time. And the thing that holds it all together, naturally, are weird, funky and fluid basslines. – Jeff Terich
2014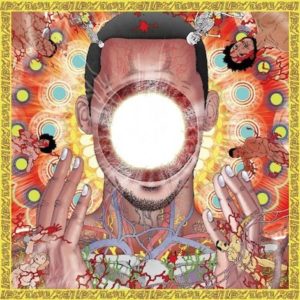 Flying Lotus – You're Dead!
Some of the most dank rap and hip-hop-flavored electronica feeds off of samples from around the jazz realm, so it makes perfect modern sense that an album exists trying to thoroughly replicate the source material. Joined by bass gymnast Thundercat and a who's who of the preternaturally funky—Herbie Hancock, Jeff Lynne, Snoop Dogg—Flying Lotus extends far beyond the backpack for a sonic exploration of death and the spirit world. Even though its 19 tracks barely average 2 minutes each, FlyLo arranges and programs sturdy music that approximates the catch-all 1960s and 1970s (pure fusion in "Moment of Hesitation," Clintonesque funk in "Dead Man's Tetris") and the styles it would inform starting in the 1980s (jungle in "Theme," neo-soul in "Siren Song").- Adam Blyweiss
2016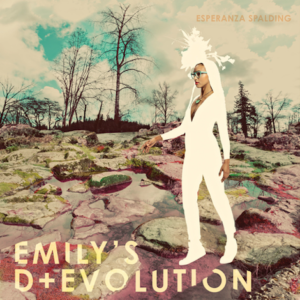 Esperanza Spalding – Emily's D+Evolution
One of the hardest to categorize albums here but one of the most fun, Emily's D+Evolution revealed the full extent of bassist and songwriter Esperanza Spalding's range as a performer and composer. Her instrumental prowess was never in question; hear albums like Chamber Music Society and Radio Music Society for all the evidence you need. Emily's D+Evolution took her contemporary jazz sound and infused it with the funkadelia of Parliament and the psychedelic groove of peak Prince. "Good Lava" finds her making a proper anthem out of Cobham-style jazz rock, "Judas" channels mid-'70s Joni Mitchell within its dazzling fretboard exercises, and "Earth to Heaven" provides a back-and-forth between heavier riffs and a spacious soulfulness. On a surface level, this is a "pop" album, but dig a little deeper, get your hands dirty, feel around the intricate arrangements of "Rest in Pleasure," "Noble Nobles" and "Elevate or Operate." There's a hell of a lot more going on here than verses, choruses and hooks.   – Jeff Terich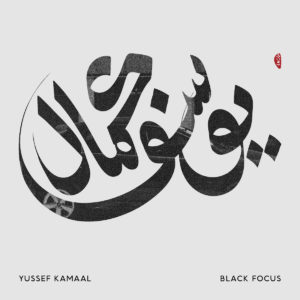 Yussef Kamaal – Black Focus
I'll be honest—I probably wouldn't have believed that fusion would make a comeback in the 2010s, or that young people would find inspiration in something that had lost a lot of its cachet in the 1980s, much in the way that progressive rock did (they're very similar in a lot of ways—see exhibits: Soft Machine and Frank Zappa, above). But there's a brighter, freer groove in the scenes that sprung up in both Los Angeles and London. In the case of the latter, one need only hear the effortless cool and spacious atmosphere of Yussef Dayes and Kamaal Williams', to date, one and only collaborative album. (Their partnership did end somewhat abruptly so it's likely to stay that way for the time being.) Black Focus is funk at its breeziest (title track), electronic music at its most fluid ("Strings of Light") and overall a perfect balance of rubbery body music and highbrow composition. It feels fresh and youthful, which is the best possible thing that could have happened to fusion. – Jeff Terich
2019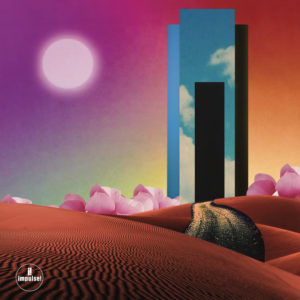 The Comet Is Coming – Trust in the Lifeforce of the Deep Mystery
Fusion, as it came to be recognized in the 1970s, in some ways gave rise to more commercial, more polished, and in some cases much-too-smooth permutations in the '80s. But the classic grooves were reclaimed by younger generations in the '90s (see Squarepusher above, or any number of trip-hop samples) and then reshaped and reinvented another generation or so later. Much of that came out of scenes like Chicago or Los Angeles or, in the case of The Comet Is Coming, London. But the jazz-electro trio use the idea of fusion—the merging of more traditional jazz sounds and approaches with outside styles and genres—to arrive upon new territory rather than a faithful recreation of a vintage take on fusion. Trust in the Lifeforce makes that clear once the fat bass synthesizer begins to throb in second track "Birth of Creation." Synthesizers are as prominent a piece of the group's atmosphere as Shabaka Hutchings' saxophone—listen to single "Summon the Fire" and think about which part stands out to you first—and the heady, layered approach lays down a path toward the future of jazz. – Jeff Terich
---
Support our Site—Subscribe to Our Patreon: Become one of our monthly patrons and help support an independent media resource while gaining access to exclusive content, shirts, playlists, mixtapes and more.