Top 10 Punk Albums of 2014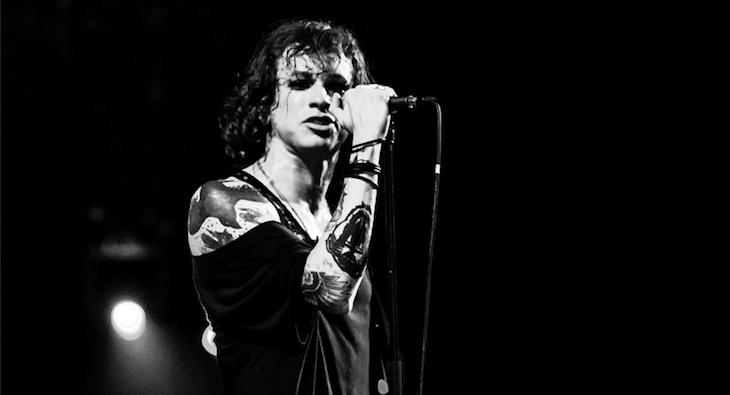 I was a teenage punk, whatever that means these days. And chances are– if you're reading this article– that's a term you've also identified with in some way, at some point of your life. The tricky thing about the word "punk" is that, the longer it exists, the more elusive it becomes. Unlike a genre such as metal, there aren't obvious rules and cues that designate a band as 'in' or 'out' of the punk rock spectrum. It's a feeling. It's an approach, an aesthetic that almost has more to do with how an artist writes and plays their songs than it does with what, in particular, they have to say. Sure, there is an obvious decade or two of music that we can firmly call "punk rock," but it gets a little sticky from there on out.
So in search of the best punk albums of 2014, I developed an unquenchable thirst for that feeling. It was a blow-away year for the genre, meaning that I listened to dozens of albums, ranging from Pitchfork favorites to local acts recommended to me by fellow aging punks. The ten records I landed on don't bare much in common besides their use of guitars, bass, drums and vocal. Some are loud, some are quiet; some are rather straightforward while others are deceptively complicated. But at the center of each is an honest-to-god passion, that unstoppable drive that can be found in all the great punk records, from Nevermind the Bullocks… to Red Medicine to The Woods and beyond. So enjoy this list, and be sure to give a spin to each of the Top 10 Punk Albums of 2014.
(And while you're at it, check out this Spotify playlist for some highlights from these records.)
---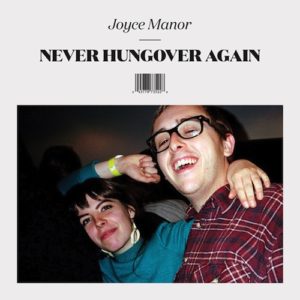 10. Joyce Manor – Never Hungover Again
(Epitaph)
I have to admit that when I first encountered this thing that some dub the "emo revival," I was pretty underwhelmed. It's not that I think any genre of music can be overdone, per se — as long as it's done well — but bands like You Blew It! embody a musical and lyrical mindset that I left behind, for better or worse, not long after I earned my first driver's license. But California pop-punks Joyce Manor tackle suburban distress and youthful angst with an energy and tact so irresistible, you just have to dive in head first. On the surface, Never Hungover Again feels a lot like the quartet's previous two LPs: Twenty-ish minutes of short, swift, pogo-friendly rockers. But if you pay attention to the Smiths-inspired guitar work and singer Barry Johnson's heavier focus on lyrical development this time around, you'll notice some of the best rock songs released this year, regardless of  sub-genre. If you don't catch yourself joining in on a track as emotive as opener "Christmas Card," then I'm a little worried about the state of your amygdalae.
---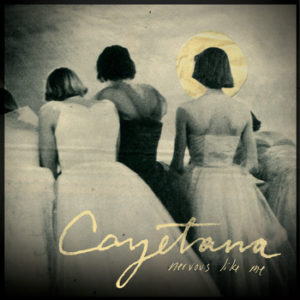 9. Cayetana – Nervous Like Me
(Tiny Engines)
You're likely to notice that this list contains not one, not two, but three acts from Philadelphia. And if anyone knows what's in the water in that town, I'd love to know. Something about the City of Brotherly Love has been cranking out handfuls of Heartland-rock infused punk this year, and I'm loving it. Take Cayetana for instance. The trio twists Americana and alt-country influences into a socially-conscious punk aesthetic, landing somewhere between Sleater-Kinney and Uncle Tupelo. But what really sets this band apart is how they boast a hard-skinned edge while still wearing their hearts firmly on their sleeves. In this relatively short record they tackle concepts of sexuality, community and belonging, but without losing any grip on their fun, driving sound. It's a hell of a debut full length from a bright young band that I can't wait to hear from again soon.
---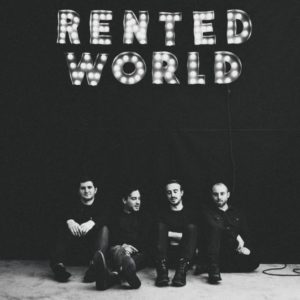 8. Menzingers – Rented World
(Epitaph)
On their fourth full length, Menzingers craft a sort of pop punk that's hard to put a finger on because it's at times extremely mature yet often quite juvenile. Consider "I Don't Want to Be an Asshole Anymore," a bluntly-titled opener that fills a void halfway between the child-like youthfulness of Blink-182 and the much more cynical stride of the Replacements. But as Rented World pummels forward, it's clear that Menzingers belong in the latter camp, creating a worldview that's firmly rooted in both supreme disappointment and a very sincere sense of hope. At its heart, it's an album about young punks growing up and facing a new, less adventurous phase of life with the same skepticism and defiance that got them there in the first place.
---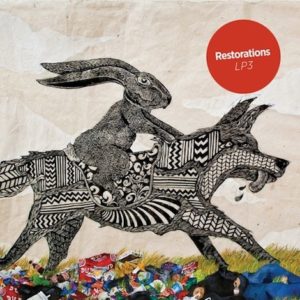 7. Restorations – LP3
(SideOneDummy)
While Restorations owe some obvious debt to the likes of Fugazi, Hüsker Dü and The Hold Steady, the controlled chaos they unleash doesn't ever come off as derivative or contrived. And maybe that's because this band is so earnest, so forthright, that any passer-by could tell that this matured strand of punk comes straight from the heart. That doesn't mean LP3 is watered down or particularly one-note; there's quite a bit of doubt, curiosity and speculation scattered across this record. But as Jon Loudon croons over shimmering guitar play and an explosively energetic rhythm section, every song feels a feels slightly triumphant, as if there are fireworks being lit somewhere nearby. LP3 is not only one of the most invigorating punk records of 2014, it's one of the year's finest rock records — period.
---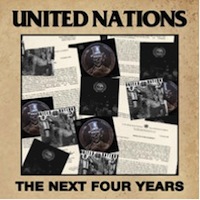 6. United Nations – The Next Four Years
(Temporary Residence)
Geoff Rickly tears through "Serious Business," (the opening track off United Nations' The Next Four Years) with a blood curdling roar: "I never realized/ that growing up and becoming a man/ meant growing up and becoming/ a white man/ of privilege and taste/ but just look at me/ I'm not free/ though I've had every opportunity/ and for this fact I'll say I'm sorry." And it is at that moment that you know what separates this "screamo/power-violence super group" from the overwhelming list of contemporary acts they draw membership from. United Nations are overtly aware – sometimes in a satirical fashion, but often painfully so – of the modern, complicated state of punk rock. But on The Next Four Years, the members of United Nations shed commercial interests to create the raw sort of punk album that they would want to listen to. And it's one of the most pleasantly devastating releases of this entire year.
---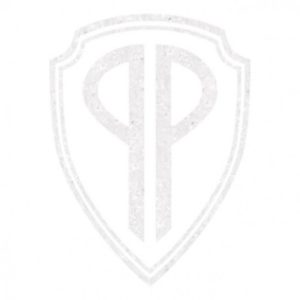 5. Perfect Pussy – Say Yes To Love
(Captured Tracks)
It's not likely that you encountered many opinions on Perfect Pussy this year that weren't polarized in one direction or the other. Fans called them the best, boldest and most original punk band ever while naysayers threw out insults as wide-ranging as 'hipster-punk', 'complete garbage,' and 'a terrible excuse for punk.' Me, I'm more apt to land somewhere in the middle. Say Yes To Love comes across as rather derivative at times, and calling them the most important Syracuse band since Earth Crisis seems to ignore other notable acts among the town's still-blossoming scene. On the other hand, you'd be hard-pressed to find a more visceral, honest and true-to-itself record released this year. And, when it comes down to it, isn't that what punk rock is really all about? So no, Perfect Pussy is not "true" hardcore. And yes, Say Yes To Love was a little bit over-hyped by the online music press. But it's still one of the best punk LPs of the year.
---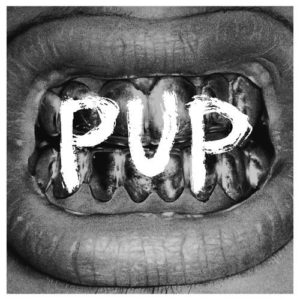 4. PUP – PUP
(SideOneDummy)
Raw, mosh-friendly energy? Check. Infectious hooks? Check. Bold, in your face, confessionals? You bet. PUP has all the makings of a fantastic young punk band, and they also know how to write one incredible rock album. Taking equal levels of influence from classic pop-punk like the Buzzcocks and more angular contemporaries like Fucked Up, PUP's self titled debut contains ten of the catchiest, most hummable punk tunes you'll hear all year. And that's important because, when it comes down to it, you can have all the energy and bombast you want, but it doesn't matter much if your songs suck. PUP writes fun, emotionally resonant pop songs, full of angst, passion and a rather morbid sense of curiosity. They just happen to play them very, very loud.
---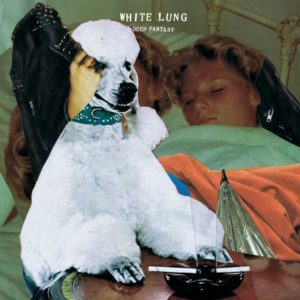 3. White Lung – Deep Fantasy
(Domino)
These Vancouver punks' sophomore effort, Sorry, was a great album; Deep Fantasy is extraordinary. Keeping their focus on laser-sharp, to-the-point song-writing, White Lung took their sound to the next level by enlisting producer Jesse Gander (who worked the boards on Celebration Rock for fellow Vancouver rockers Japandroids) to better represent the band's explosive live sound on record. The result is an adrenaline rush of minor-key riffs, brilliant hooks and an unashamed sense of urgency. Right from the first, pummeling verse of "Drown With The Monster," White Lung grab on to the listener and refuse to let go until the the last chugging chorus of "In Your Home" has long since passed.
---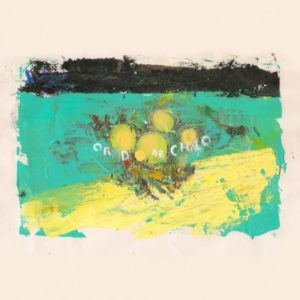 2. Big Ups – Eighteen Hours of Static
(Dead Labour/Tough Love)
If you listen to any ten second segment from their debut full length, New York's Big Ups might sound like many a post-hardcore band from years past. But when blended together as a whole, the sounds on Eighteen Hours of Static gel into a truly unique whole. It's a loud, blistering event, but for all the strained yelling and noisy crescendos, it's not a very aggressive affair. In the place of anger, in a line like "Everybody says/ it's getting better all the time/but it's bad/ still bad" ("Justice"), there's a uniquely millennial take on the punk aesthetic. Big Ups aren't beefed up on their perspective or sure of themselves, they're nervous; being concerned by the status quo doesn't mean that they know what the solution is. And that honest perspective is what makes Eighteen Hours of Static so easy to love. Despite their obvious reverence for Fugazi, Jesus Lizard and all the other post-hardcore legends, this is a band focused on discovering what it means to be a punk in the present, not one overly concerned with the genre's past.
---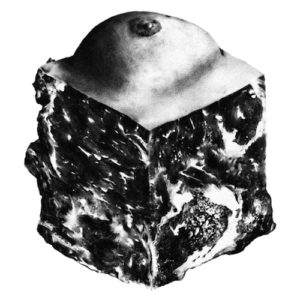 1. Against Me! – Transgender Dysphoria Blues
(Total Treble)
If you would have told me a few years ago that my favorite punk album of 2014 would be by Against Me!, I probably would have laughed in disbelief. As much as I loved their first couple albums, the ex-Gainsville, Fla. folk-punks had fallen into the territory of radio static, writing decent-enough, Americana influenced punk rock, but most recycling the same anarcho-punk themes over and over again. This was fine for die-hard fans, I thought, but it felt a little-phoned in. I wanted to know what was really on the band's mind. I wanted a real rebellion. Had Against Me! lost sight of why they became a band to begin with?
When the press cycle leading up to Transgender Dysphoria Blues began spinning, I felt a little foolish for my assumptions. Laura Jane Grace hadn't been distant because of disinterest, her music had become less honest because she had felt dishonest – with her family, her fans, herself – for the majority of her career. But when she came out as a transgender woman, she not only gave the music world the gift of her honesty; she gave us the gift of her story via the phenomenal Transgender Dysphoria Blues.
That's not to say that this record is a biography or concept album; its songs and stories often venture away from the titular subject matter. But, as a whole, it's an album about being alone but not lonely. It's a record of discovery, of new beginnings, of separating one's self from the pack in order to learn who you are on your own. And regardless of your personal identity, that's something any punk can identify with.
You might also like: