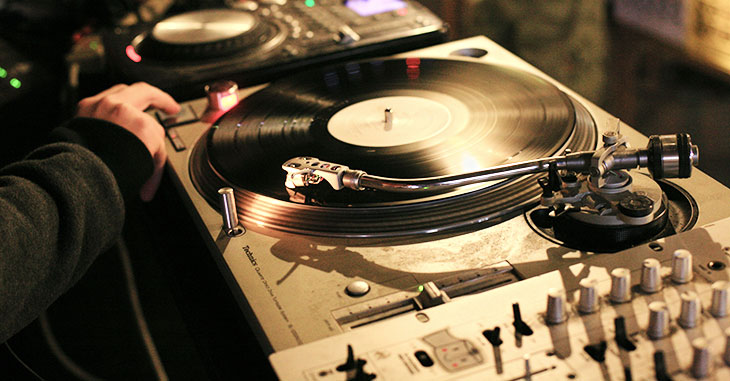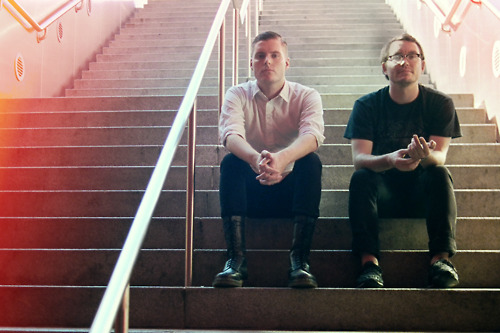 10. Deafheaven – "Dream House"
from Sunbather (Deathwish Inc.)
Buy at iTunes
The pinkish gradient that adorns the cover of Deafheaven's Sunbather is intended to mimic what you see when you're lying on your back, staring at the sun. It's beautiful, dreamlike, but not without its sting or even small-scale self-destruction. It's an apt parallel to the expansive, multi-layered and ultimately crushing sounds that the Bay Area group creates, using black metal as a jumping-off point. "Dream House" is, technically, a metal song, but at various points throughout its nearly ten minutes, becomes so many other things — shoegaze in its dense introduction, post-rock in its serene middle section, even screamo or post-hardcore in its climactic final minutes. And it is most certainly gorgeous. Yet underneath there is bitterness and frustration, vocalist George Clark shredding his vocal cords in an almost inhumanly intense display of emotional directness. At the heart of it is a statement about wealth, status and the unattainable, but it's clouded in the poetry of the song's various movements — less of a defined statement than "Royals" or "Thrift Shop," and for that matter, much more complex.
Yet the coup de grace of "Dream House" is in its climax — a dizzying and soaring spiral of the tragic and the triumphant. Entering one of its most breathtaking sequences, after Clarke has already pushed himself so far, he goes a little farther, offering one last, gut-wrenching, magnificent reflection of beauty and pain:
I'm dying.
Is it blissful?
It's like a dream.
I want to dream. – Jeff Terich
---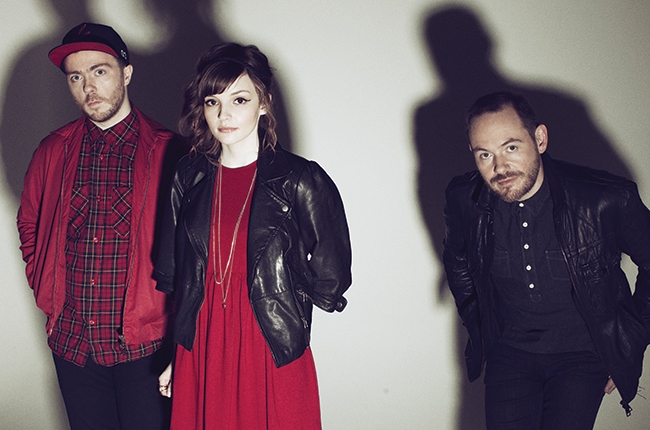 9. Chvrches – "Recover"
from The Bones of What You Believe (Glassnote)
Buy at iTunes
It's difficult to put a finger on "Recover" at first. The track is unmistakably pop, sure, but like the rest of Chvrches' debut album, the textures on this single embody a world foreign to most pop music. That's probably because Chvrches- like a lot of rising indie-pop bands — come from a completely different sonic world than traditional outlets. With its members' previous experience in post-rock and post-punk, Chvrches defy most of the 'rules' of pop music to create a sound equally bold and refreshing.
The beats and synths on "Recover" start at a post-rock pace — striding along slower than usual as modern electronic pop goes, taking their time to ferment rather than pushing the listener forward. Lauren Mayberry's vocal spacing, as well, is more Mogwai than Madonna. The melodies, on the other hand, are brilliant pop, particularly in the driving bridge and anthemic chorus. On top of it all, Mayberry's lyrics ("You can take what you need/ but you know you don't need me") add a brilliant layer of mystery and allure to an already consuming soundscape. – A.T. Bossenger
---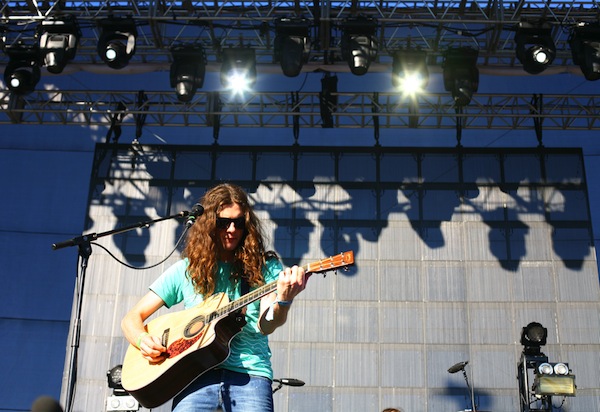 Photo by Candice Eley
8. Kurt Vile – "Wakin on a Pretty Day"
from Wakin on a Pretty Daze (Matador)
Buy at iTunes
Why cut a good thing short? Kurt Vile stumbles across a few golden melodies for "Wakin on a Pretty Day" and decides to give them some room to breathe. At 9:31 seconds, the song is about three times longer than genre-typical efforts but never feels bloated or self-indulgent. Lyrically it's a personal song, but not in a gossipy, tabloid fashion ornamented with peaks at his love life and/or deep insecurities; "Wakin on a Pretty Day" is personal in that it exposes some of Vile's most pervasive daily thoughts: making clever observations, dealing with a constantly ringing phone, communicating with loved ones. Vile's unique form navigation is hook here. As he describes it on "Gold Tone": "I might be adrift, but I'm still alert." – Donny Giovannini
---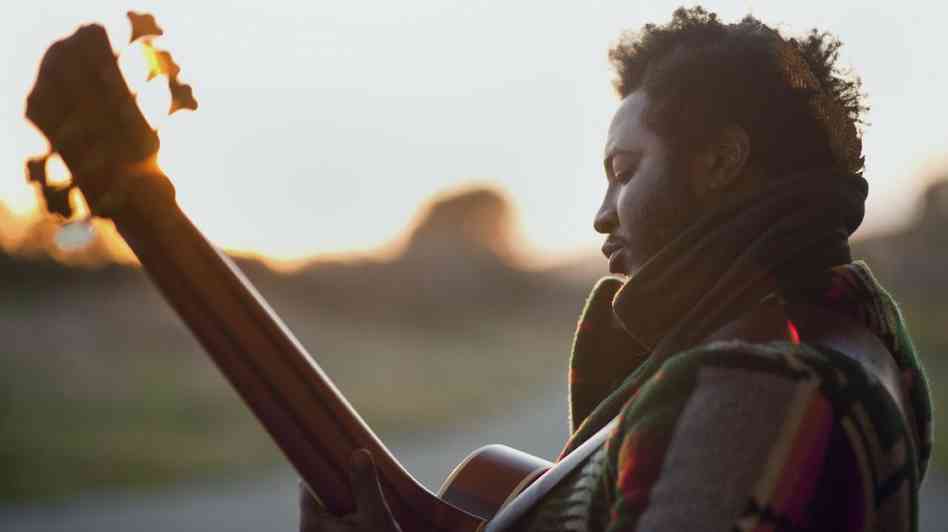 7. Thundercat – "Heartbreaks + Setbacks"
from Apocalypse (Brainfeeder)
Buy at iTunes
There are plenty of songs on Thundercat's excellent Apocalypse that could rightfully place on this list, but the particularly stunning "Heartbreaks + Setbacks" is essential. With Thundercat's soulful and plaintive vocals set against spacey synths (courtesy of co-writer Flying Lotus), this track manages to come off as both atmospheric and exceedingly intimate – not an easy feat. Add in some virtuoso bass playing, and you have one of the best songs of the year. In that sense, the fact that the title and chorus evoke the magisterial work of Marvin Gaye ("Inner City Blues") is unsurprising: Apocalypse is the work of a true inheritor and pioneer of soul music. – Connor Brown
---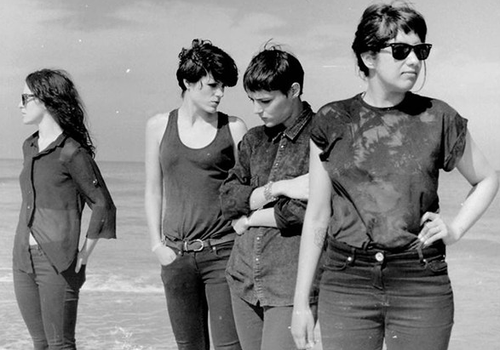 6. Savages – "She Will"
from Silence Yourself (Matador)
Buy at iTunes
It wouldn't be entirely fair to say "She Will" is the strongest track on Savages' debut album, Silence Yourself — that contest is way too close. But this riveting song is an undeniable centerpiece on the record, a catchy-yet-haunting ripper that could very well serve as a mission statement for the UK post-punk act.
"She Will" occupies a sonic-space first pioneered by Joy Division; driving melodic bass lines and dynamic drum patterns holding down the fort for a fierce guitar drone and tense vocals delivered with a sense of urgency. From there, Savages inject their own talents to take the track from a formula to a modern punk-rock anthem in its own right, with Jehnny Beth's croons and shouts declaring a much-needed update on rock's view on female sexuality: "You've got to get used to it." As far as driving, defiant punk-rock songs go, this is about as good as 2013 gets. – A.T. Bossenger
---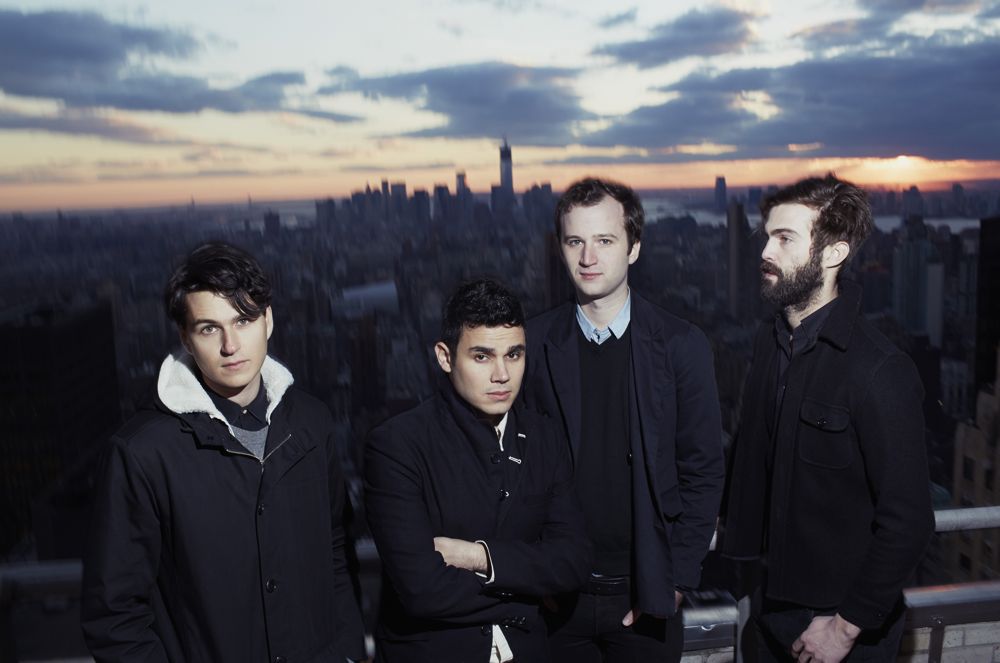 5. Vampire Weekend – "Step"
from Modern Vampires of the City (XL)
Buy at iTunes
It takes a special band to take a sped-up sample of a Bread song, borrow a line from YZ's "Who's That Girl" and turn it into one of the year's best musical moments. The airiness of the song's production gives the impression of causal brilliance, but the music itself tells another story altogether. Painstakingly gorgeous and assembled with masterful precision, Vampire Weekend pull together various disparate elements and turns it into something that feels wholly natural, as if the various pieces belonged together all along. To top it off, the song has one of the most satisfying hooks of anything released this year. – Chris Karman
---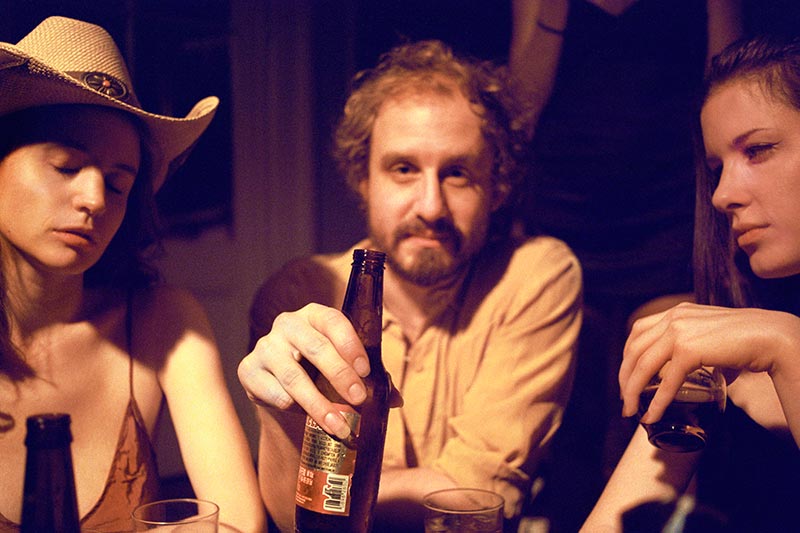 4. Phosphorescent – "Song For Zula"
from Muchacho (Dead Oceans)
Buy at iTunes
Reinvention is a part of Matthew Houck's identity. With every new permutation of Phosphorescent, there's essentially an entirely new definition of what Phosphorescent is — alt-country, ambient folk, roots-rock, et al. And yet, were it not for a choice quote from Johnny Cash's "Ring of Fire" ("Some say love is a burning thing/ That it makes a fiery ring") come from Houck's own ragged voice, it would be difficult to even identify "Song for Zula" as part of the Phosporescent catalog. There are no guitars here — certainly not recognizable ones, anyhow — but rather a series of gorgeous layers of strings over electronic beats. And yet it ultimately turns out to be the performance of Houck's career.
But the Cash quote? It's a red herring. For while there's an air of elegance and romance to "Song for Zula," it's driven by anger, hurt and frustration. And if some equate love with fiery passion, then Houck has his own comparisons to throw out there for consideration. Love is captivity ("See the cage it called/ I said 'come on in'/I will not open up this way again"), it's "disfiguring," and "a killer come to call from some awful dream." And much like Bowie in his own six-minute epic "Heroes," Houck gradually grows more intense and unhinged, offering up a mantra of self determination: "I am not some broken thing/ I do not lay here in the dark waiting for thee." But it's all for naught; there's a telling "if" in the song's closing line, "I could kill you with my bare hands if I was free." But he isn't. If love's a burning thing, then it's also capable of trapping its victims inside an inferno with all the exits blocked. – Jeff Terich
---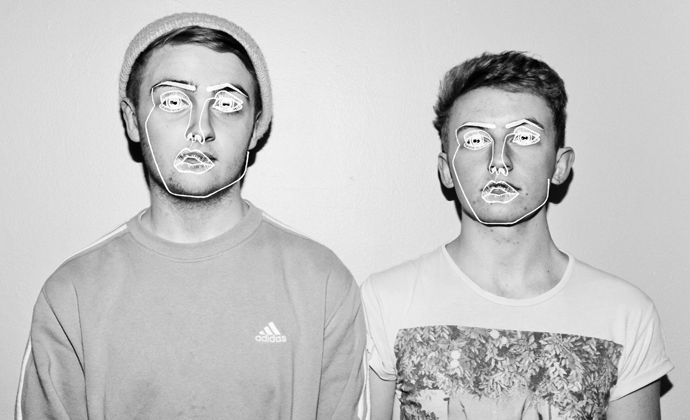 3. Disclosure – "When a Fire Starts to Burn"
from Settle (PMR)
Buy at iTunes
The sample has been bugging me since midsummer. I haven't been able to reconcile it. It's taken from motivational speaker Eric Thomas, aka "The Hip Hop Preacher," and was taped a couple of years ago on the mean streets of Lansing, Michigan: "When a fire starts to burn, right?/And it starts to spread/She gonna bring that attitude home/Don't wanna do nothin' with they life." The last two lines were taken out of context, and out of order for that matter. In the first Thomas is talking about his wife having a bad day of work, and that she's likely to "bring that attitude home." The second is extracted from advice Thomas offers for bettering yourself, that you should stay away from people who are overly negative and "don't wanna do nothin' with (their) (lives)." It's that last sentence that eats away at me. Given that the components of the sample were not randomized – that Disclosure has a message by their shifting into a sudden negative clause in the fourth quatrain – and given that it's impossible not to be swept away by the exactitude of the phrase in the midst of Disclosure's minimalist house beat, is the fire killing my will? Rendering my fire aimless? Or am I just supposed to be consumed by it, letting the implied stasis carry me to some other plane of existence? And could Thomas have approved of this apparent contradiction; did he feel it revealed another aspect of his positive message? I can't figure it out. But I've been trying since summer. Not many songs can sustain that questioning mystery. I'll let the dance floor decide the answer, which I suspect was the original point. – Paul Pearson
---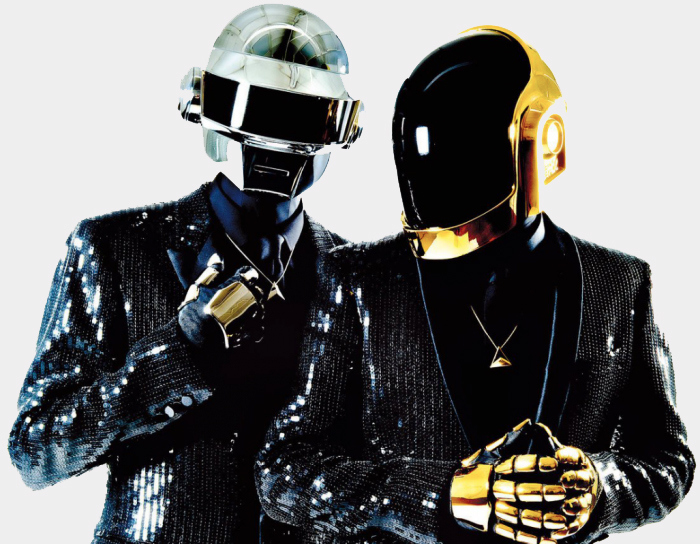 2. Daft Punk – "Get Lucky" [feat. Pharrell Williams] from Random Access Memories (Columbia)
Buy at iTunes
In postmortem discussions of their 2005 album Human After All and the singles from it, the gentlemen under the Daft Punk helmets admitted that this work was purposefully fast, improvised, minimal, and ultimately paranoid. Fan and critical reactions bear that out: Prior to its material getting a stunning rebuild on the duo's subsequent Alive tour, the album was soundly drubbed. Tracks like "Technologic" and "Prime Time of Your Life" were deliberate, repetitive and no fun, needing remix help from artists like Peaches and Para One to breathe life into them. It was a steep and shocking creative drop-off for the guys behind "Da Funk" and "One More Time."
After wrapping up their commitment to the soundtrack for Tron: Legacy in 2011, Guy-Manuel de Homem-Christo and Thomas Bangalter began work to literally turn the Human After All formula on its head. Instead of rushing through their first ideas, they spent parts of the next two years meticulously assembling music and musicians—a songwriter here, a microphone there. Instead of martial sounds from the future, they revisited lush disco and art-pop environments from the 1970s and 1980s. And instead of the cold comfort of songs like "Robot Rock," at the heart of Random Access Memories is a warm slice of soul about best-case scenarios when meeting strangers in bars.
Nile Rodgers and session veteran Nathan East set up a chugging electric vibe reminiscent of Rodgers' old Chic hit "Le Freak" against the Daft Punk-driven beat and vocoder chorus that suggest Zapp's "More Bounce to the Ounce." If there is a standout star in this track, though, it's Pharrell Williams' uplifting vocal. I'm comfortable calling it the best I've ever heard from him. Ultimately twisting the song into a male version of Sister Sledge's "We are Family," it's a far cry from his hip-hop yelps and, thanks to the track's ubiquity, I hope it redefines his career. In a year full of blurred lines and wrecking balls and imagined dragons, I loved this and I didn't care how often I heard it. – Adam Blyweiss
---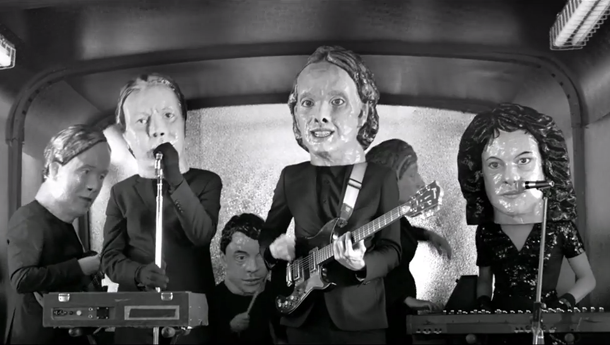 1. Arcade Fire – "Reflektor"
from Reflektor (Merge)
Buy at iTunes
I suppose there were hints that Arcade Fire could throw down a New Wave-tinged dance jam in "Sprawl II (Mountains Beyond Mountains)". And given the fact that the band makes, as James Murphy puts it, "fucking epic" music, I suppose one could assume that they had a pretty expansive dance track in them. Even still, I'm not quite sure I was prepared for the explosive intensity of "Reflektor." As surprising as it may have been, no one had us dancing in 2013 quite like Arcade Fire. The song has Murphy's production stamp all over it — even down to the track's extended length — giving it the strange added bonus of being able to somewhat fill the gap missing from the now defunct LCD Soundsystem. The buzzing synths, pad washes, baritone sax (courtesy of Colin Stetson) and disco strings culminate into one of the most diverse tracks in the band's catalog. The song also features some of the most creative back-and-forth vocals from Win Butler and Régine Chassagne to date. If the last half of "Reflektor" doesn't make you move, I'm not sure what will; it's one insane climactic moment after another. Throw in a cameo from David Bowie and this track is pretty much impossible to beat. – Chris Karman
You Might Also Like: