Treble's Holiday Gift Guide 2012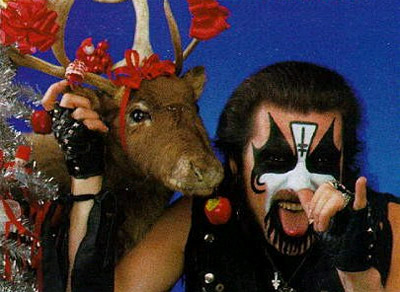 It's only mid-November, and you're probably already sick to death of Christmas. Radio stations have already switched their formats to the all-Yuletide hit parade. Shopping centers are strewn with tinsel and lights. And retailers are going to bludgeon you with holiday ads for the next 35 days. Whether you're prepared for it or not, here it comes.
That said, we make our own holiday fun, and for a lot of us that means getting silly on wassail, gorging on roast beast and, most importantly, exchanging gifts. As we've done in the past, this year we assembled a shopping list for music lovers of all kinds. Those who dig reading, play music or can never have too much vinyl — they're all included. This runs a wide range of prices and formats, so there's something for almost everyone. And we used the most honest measure of how to judge whether or not something is a good gift — we'd be stoked to see any of these items under our tree.

William Basinski – The Disintegration Loops
In 2002, experimental electronic musician William Basinski began a project of transferring old analog recordings to digital storage. Yet as he began to undergo the process of digitizing his old reel-to-reel music, the tape, which dated back a couple decades, started to decay before him. The impermanence and process of disintegration thus informed his next series of recordings, which he dubbed The Disintegration Loops. It's a gorgeous and affecting series of ambient recordings, and one of the most groundbreaking works to have emerged in the last decade, but until this year, they weren't available on vinyl. Temporary Residence, however, has reissued the entire series on vinyl, in a gorgeous but limited package. At $225, it's a bit more than the typical box, but given all that it contains, it's actually kind of a bargain. Included in the Disintegration Loops collection: 9 LPs, 5 CDs, 1 DVD and a 144-page book with photos and liner notes from the likes of Basinski, Antony Hegarty and Current 93's David Tibet. They're pretty limited, however, so it's best not to wait until next Christmas. Also, anyone wanna buy us one? ($225, Temporary Residence)
---

The Beatles – The Beatles In Stereo vinyl box
Three years ago, Capitol reissued the Beatles catalog in mono, but one slight oversight in the campaign was that the albums were on CD only. This year, however, vinyl collectors are very likely topping their X-mas lists with the long-awaited Beatles vinyl box set. The box features all 12 studio albums, as well as the Yellow Submarine soundtrack and the Past Masters compilation, which compiles all of the non-album singles material. Additionally, the box features a 252-page hardbound book, and Sgt. Pepper's Lonely Hearts Club Band has an additional inner sleeve. However, given that the box is a little on the pricey side, those on a budget will take solace in the fact that each LP will be available individually as well. And we're pretty confident that the music fan in your life will be perfectly happy finding The White Album, Rubber Soul or Abbey Road in his or her stocking. (Box: $457.99, individual LPs: $22.99, Insound)
---

Blur – 21
It really has been a great year for box sets, hasn't it? And as discographies go, Blur's has almost no weak spots, save for the slightly less impressive first outing, Leisure. On 21, the band's sprawling retrospective box, that becomes abundantly clear, with each of the band's seven albums packaged with a bonus disc of unreleased material, as well as an additional four discs of rarities, three DVDs, a seven-inch and a book. That's a lot of stuff. In fact, it's said to contain three and a half hours of unreleased material, which is almost like having four new Blur albums. In any case, maybe the Britpop-ster in your life already knows Parklife and Blur like the back of his hand, but even so, they'll be sufficiently blown away by this huge collection. ($232.99, Insound)
---

The Books – A Dot In Time
If we wanted to, we could have filled this entire feature with all the awesome box sets and reissues that Temporary Residence has released this year, but if we had to narrow it down to just a handful, The Books' A Dot In Time makes the cut pretty easily. Having recently ended their decade of making music together, the electronic/acoustic duo has compiled their entire collected works into one beautifully designed vinyl set. A Dot In Time contains all four studio albums — Thought for Food, The Lemon of Pink, Lost and Safe and The Way Out — as well as a 45-track collection of outtakes and rarities, a DVD, and a USB drive containing every track from the set. That's a lot of good stuff right there, so why not thrill someone in your life with this massive treasure trove? ($150, Temporary Residence)
---

Codeine – When I See The Sun
When Codeine opted to slow down their dark, sometimes abrasive indie rock to a chilling crawl back in the early '90s, such a move was essentially radical. Sure, now, it's not that unusual, and in fact, slowcore became a pretty widespread movement (whether anyone chose to call it that or not). The band, ironically, had a pretty short career, but amassed a pretty impressive amount of material in their half-decade, issuing a trio of stunning full-length albums and a series of EPs. When I See the Sun, a new box compiled and released on the Numero Group label, features the entire recorded works of Codeine on six LPs and three CDs, featuring rare and unreleased material, a poster and a display box. Though their name might not be recognized in all households, their sound is one of legend. ($71.99, Insound)
---

DIY Guitar Pick Punch
If you're buying a gift for a guitarist, there are lots of options available at your disposal — straps, pedals, strings, etc. But how about a personalized guitar pick punch? It'll take pretty much anything you put under it and stamp it into a guitar pick. Credit cards, ticket stubs, CD sleeves — you name it! It's a handy way to never worry about losing a pick again. After all, you can always just stamp a new one. ($24.99, ThinkGeek.com)
---

The First Time I Ever Heard… e-books
One of the great communal experiences in music fandom is re-telling that first time you heard something that really had an impact on you. Sometimes they catch you by surprise, sometimes you anticipate them, but you almost never forget them. This is the premise of the "First Time I Ever Heard" e-books as compiled by author Scott Heim ("Mysterious Skin"). In these compilation books, various writers and musicians share those very experiences with the reader, often conjuring up nostalgic feelings that we all have from time to time, looking back on turning the radio on at a fortuitous instance, or receiving a mixtape with a surprise gem. Five of these editions are currently available in e-book form (so you can't really wrap them but still, they make awesome gifts), on David Bowie, The Smiths, Cocteau Twins, Kate Bush and Joy Division/New Order. And the tales themselves are simultaneously entertaining and relatable, from Shudder to Think's Nathan Larson describing his experience hearing Ziggy Stardust dubbed on the back of a Flipper cassette, Anomie Belle creating a couch-cushion shuttle while listening to "Space Oddity," Lush's Miki Berenyi celebrating Morrissey's wry humor and Caroline Leavitt politely giving a go at the album handed to her by a fellow Greyhound rider. The stories are funny, touching, often priceless, which is only to be expected when the music behind them is still worth talking about after all these decades. ($2.99 each, Amazon)
---

GZA/Genius – Liquid Swords box
There are arguments for Raekwon, Ghostface Killah and Ol' Dirty Bastard solo albums as being the best of the Wu-Tang bunch, but GZA/Genius' Liquid Swords is more or less perfect. Gary Grice got the nickname Genius for a reason — his fluid hardcore rhymes are some of the most jaw-dropping feats of lyrical wizardry in all of Wu-Tang. Plus, dude is a mastermind chess player. So, why not listen to his classic album while mastering your own chess game? This year, Geffen reissued GZA's Liquid Swords with expanded liner notes, an instrumental version of the album, and, YES, a chess set! But as cool as that is, this album belongs in the collection of anyone to whom hip-hop means something. The extra stuff is just the icing on the cake. ($30.99, Insound)
---

LCD Soundsystem – Shut Up and Play the Hits/LCD
Yeah, we were all bummed when LCD Soundsystem broke up a year after releasing This Is Happening, but that doesn't mean fans can't still relive those glory days with the band's concert documentary, Shut Up and Play the Hits. The film follows James Murphy around in the 48 hour period spanning the day of their last show ever to the day immediately afterward, with footage from the show and intermittent interviews with Murphy. Additionally, this year sees the release of a new book of photographs of the band called LCD, with photography by Ruvan Wijesooriya and an intro by James Murphy. (book: $29.95, Powerhouse Books; DVD: $34.99, Insound)
---

Pete McKee prints
Illustrator and poster artist Pete McKee's work spans a lot of different subject matter — dogs, mod culture, football (as in soccer) and kitschy pulp covers to name a few. But McKee is also a music fan, and it shows. His website contains a large array of cartoon images of the Stone Roses, John Peel, Jimi Hendrix, David Bowie, the Smiths and Johnny Cash, in addition to some awesome record store scenes. In fact, those are the most fun — they make their own "name that LP" game. (around $55 each, PeteMcKee.com)
---

Record Label Subscriptions
Tangible music is a great gift, of course, but say you want to give someone the music gift that keeps on giving. That's where Drip.fm comes in. A service for independent labels to offer monthly digital content to subscribers, Drip has a lengthy lineup of awesome labels with music available for monthly delivery, including Luaka Bop, Mad Decent, Jagjaguwar, Dead Oceans, Stones Throw, Polyvinyl, Now-Again and Ghostly International. And unlike download cards that come with vinyl, these downloads and streams are available anywhere at anytime, with unlimited access. And many labels even offer extras, like LP giveaways and other bonuses. It's a pretty awesome way to beef up your music library. ($10-15/month for most labels, Drip.fm)
---

Roxy Music – The Complete Studio Recordings
Veteran glam rock, art rock, new romantic and new wave pioneers Roxy Music created a lot of influential music in a relatively short amount of time. Of the band's eight albums, not a single one is bad, and at least six are absolutely essential. That's a track record worthy of envy. But Roxy Music's catalog isn't just good; look to their first three or four records and "groundbreaking" is really the word you're looking for. The Complete Studio Recordings is exactly how it sounds — a full set of the band's studio recordings, all in one box. Additionally, the box set includes two discs of bonus tracks. Pretty awesome. The downside is that there is no vinyl version of the box set, though For Your Pleasure, Stranded, Roxy Music, Country Life and Avalon have all been recently reissued on LP, so that's also an option, and a pretty good one. ($97.99, Insound)
---

Satan Is Alive: A Tribute to Mercyful Fate
I wouldn't go so far as to say that metalheads have more fun than other music lovers, but they definitely have an irreverence that other musical folks could learn from. To wit: Satan Is Alive, an illustrated tribute to Mercyful Fate. Launched on Kickstarter, this book, helmed by comic illustrator Mark Rudolph, features a long list of writers and artists paying homage to a some classic metal icons, which means lots of cool cartoons of King Diamond & Co. Additionally, it features forewords by Fenriz of Darkthrone and Scott Carlson of Repulsion, as well as an afterword by Phil Anselmo of Pantera and Down. Make sure that King Diamond's "No Presents for Christmas" plays when it's being unwrapped, though. ($20, CVComics)
---

We Got Power!: Hardcore Punk Scenes from 1980s Southern California
The Los Angeles punk scene of the '80s may not be alive in the same way it was back then, though with Henry Rollins' radio show on KCRW and Keith Morris still being a total badass in OFF!, its spirit definitely lives on. In the interest of preserving a more thorough examination of the L.A. punk scene, however, Jordan Schwartz and David Markey have compiled an incredible, hard-bound document of the era, featuring 400 photographs and essays from the likes of Henry Rollins, Mike Watt, Black Flag's Chuck Dukowski and Tony Adolescent. And it comes with bonuses, as well, including a tote bag, a badge and a press pass. ($34.95, Bazillion Points)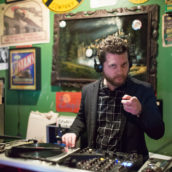 Jeff Terich
Jeff Terich is the founder and editor of Treble. He's been writing about music for 20 years and has been published at American Songwriter, Bandcamp Daily, Reverb, Spin, Stereogum, uDiscoverMusic, VinylMePlease and some others that he's forgetting right now. He's still not tired of it.