Truly Great: Echo and the Bunnymen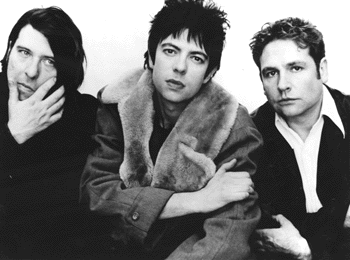 The early eighties was a virtual wasteland of keyboard driven one-hit wonders. For some, it was a musical renaissance in which any doofus with a Casio could have a Top 40 song. This `new wave' was a reaction to punk, which was in itself a reaction to disco, etc. As the early eighties came to a close without Mr. Orwell's prescience coming true (if he had named it 2004 it would have been a different story, methinks), 1985 struck me in particular like a thunderbolt.
It was a flashy and disposable culture. Neon colors abounded in jelly shoes and Swatch watches and the ridiculous addition of watch guards (what better than to buy something for two bucks that made it hard to read your own watch?). Madonna, Michael Jackson, and Duran Duran ruled the airwaves. But in 1985, those days were ending and a new day was dawning. The keyboard sound that drove A Flock of Seagulls, Thomas Dolby, Soft Cell, and Kajagoogoo was growing up (not to mention Taco and Men Without Hats!). New Order released the breakthrough Low-life, The Cure released the turning point album The Head on the Door, and `college' rock began to make its name with The Smiths' fan-favorite "How Soon is Now" and the album Meat is Murder. Also, R.E.M. put out Reconstruction of the Fables (or Fables of the Reconstruction or both, whatever) and U2 took a short break between The Unforgettable Fire and the landmark The Joshua Tree with a small EP release. Depeche Mode gathered together some hits, singles, and b-sides on Catching up with Depeche Mode and a four piece band from Liverpool (no, not that one) did the same with a collection called Songs to Learn & Sing.
Echo & the Bunnymen had been around since 1978, had released four albums, and had a cult following. In late 1985 and early 1986, a song captured my attention like few had before. "Bring on the Dancing Horses" was a sonic masterpiece of layered vocals, simple yet complex lyrics, harps and strings. At this point in my life I cannot for the life of me remember whether I first heard the song on the radio or on the Pretty in Pink soundtrack. What is interesting is that both on Songs to Learn & Sing and Pretty in Pink, the song appears last and second to last respectively, almost as an afterthought. The song is anything but. For most, having been exposed to Echo by John Hughes, they found the song at the end of a strange lineup of tracks. OMD's now famous sickly sweet "If You Leave", INXS' forgettable "Do Wot You Do", the Psychedelic Furs' title track, and New Order's sub par "Shellshock" among them. The only song following Echo's is of course the equally magnificent "Please Please Please Let Me Get What I Want" by the Smiths. From whatever source I first heard "Horses" I knew that the song was special and had to find more music by this band with the cool name. It must be noted at this point that many of you are probably noticing that I did not get in on the ground floor, and that I was not into this band from the beginning like everyone claims to have been. One major reason for this was the fact that I was only in the eighth grade. I mean, come on, I was just proud to know all the lyrics to Til Tuesday's "Voices Carry" album!
Time passed, as it does, and in 1987 Echo & the Bunnymen released their self titled `gray album'. The world asked of Echo, `what is the next level?' and thus Echo replied, `Aw yeah …it's on." Or some such like that. "Lips Like Sugar" became earworm for the alternative kids and in a move that still has me at odds with myself, Ian McCulloch got his Mr. Mojo Risin' on in the track "Bedbugs and Ballyhoo". For gosh sakes, they even had Ray Manzarek play keyboards. In chicken and the egg fashion, I of course can't tell you whether I hated the Doors to the extent that I do before or after 1987, (actually the answer is after, but who really cares?) but I do know that it didn't bother me too much then (aside from the fact that "Bedbugs" remains one of my least favorite songs). I even liked their cover of "People are Strange" from The Lost Boys soundtrack. The 12 inch single release of "Bedbugs and Ballyhoo" had some great covers too including the Velvet Underground's "Run, Run, Run", the Stones' "Paint it Black" and Television's "Friction".
Exploring the future led to Ian McCulloch's solo album Candleland, Pete de Freitas' death, and some mediocre Echo releases. The past was where the mining needed to be done and mined it was. I went backwards rather than start at the beginning by picking up the Ocean Rain album, which is incidentally, my favorite album of theirs. With the exception of one or two songs, Ocean Rain is a gem of an album, containing one of their best songs ever, "The Killing Moon". To my displeasure I found that their third album Porcupine was out of print, so I moved on to Heaven Up Here, and then their first album, Crocodiles. I was not disappointed with any of these albums. To put it briefly, Echo & the Bunnymen is Truly Great.
There is a current Echo resurgence going on right now. Last year saw the release of Crystal Days: 1979-1999, a box set of every album track, alternate cuts, live songs, and covers. Recently, the first five albums were also remastered and re-released with a slew of bonus songs on each album. Alternative darlings Coldplay play "Lips Like Sugar" in concert and their recent tour posters were a huge homage (read: rip-off) of the cover of the `gray album'. (Coldplay fans stay your anger, I am one of you). Lancashire band Starsailor has just released an album that relies heavily on imitating the great Echo in sound and vision alike. Just set Silence is Easy and Heaven Up Here side by side and take a look at those covers. Hmmm. Not to mention the new "Four to the Floor" single cover. At a recent show at New York's Irving Plaza, Starsailor introduced themselves as "Warmplay". Alright already, the self-reflexivity is getting crazy! Courtney Love was an unabashed fan of Echo which goes to prove that not all of Echo's influence is positive, but hey, a huge amount of popular acts would not be here were it not for Echo. I have always said that influence is a huge measuring stick for if a band will make it to Truly Great status, from the Pixies to Echo to Jeff Buckley and beyond.
Last but not least, as smart fans will never let greatness fade, it seems that there is a rumor that Echo will once again bring out those dancing horses and issue a new album this year. Here's hoping that it's going to be as good as or better than we all are waiting for.