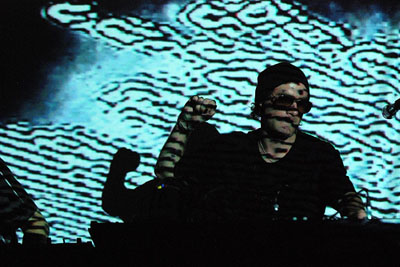 I expected quite a bit to happen during my evening at the UNKLE show in San Francisco, one of a few U.S. shows in which the electronica duo were set to introduce themselves as a live band. I expected the setting to be perfect, as the Mezzanine is best utilized when hosting DJ and electronic acts. I expected Halloween garb and décor and crackling energy from the upcoming holiday, a nice compliment to the evening's already-special circumstances. I expected a solid, stimulating performance from a reputable music group, and I expected a fun and satisfying evening. What I did not expect, however, was for UNKLE to rock so hard and electrify the crowd with such intensity, and for the band's set to pulse and thrill and haunt and hypnotize all at once. I did not expect my expectations to be exceeded, and the fact that they were leaves the impression that UNKLE have found a new niche as a touring band.
The setting for the show was as follows – UNKLE, having been as such since the mid '90s, took the guiding hand of James Lavelle to turn into a live touring band for the first time ever. This is a loaded premise, as UNKLE are by no means new to the scene and boast an all-star past and present list of musicians as collaborators (DJ Shadow, Josh Homme, 3D, Thom Yorke, to name just a few). Therefore, in this current time when it is rare NOT to tour and many bands spend over a year on the road, the questions arise about whether or not the highly regarded duo have brought something new to the table on their debut tour. To bands in which touring is old hat, the live show is often start, play, jump around, sweat, encore, finish, bing bang boom. However, UNKLE have taken their induction to the live show world very seriously, transforming the traditional concert into a spectacle for both the ears and eyes of an eager audience.
UNKLE began the show in San Francisco without hesitance, as if the touring band had been doing this for years. The guitars, drums, bass, and synth that give War Stories its forceful yet melodic sound transitioned smoothly to a concert setting, and the set list peppered with songs from both old and new albums was skillfully augmented by an electrifying background of lights and AV screens. The band members played with infectious fervor, and as they melted into their instruments and played against each other with notable chemistry, they smashed open the divider that formerly stood between the efficacious live show and UNKLE's recorded works. I can only hope at this point that the band's handful of tour dates is only a sampling of what's to come, as they've proven themselves to be new masters of the live experience.
View more of Jason Krueger's mad photographer skills.