Precluded Predecessors, Vol. 1: Heatmiser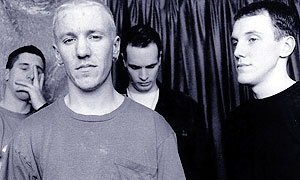 Before Elliott Smith became the poet laureate of a generation of introverts with existential dread, he fronted an energetic and effusive grunge band – Heatmiser. Smith, along with co-front man Neil Gust founded Heatmiser in 1992 at Hampshire College. The group moved back to Portland, Oregon and recruited Brandt Peterson and Tony Lash, former bandmates of Smith's, to complete the lineup. The band released their first LP, Dead Air, on Frontier Records in 1993. The record is a furious mixture of Fugazi-esque guitar work with well-crafted pop melodies. (Must Hear: "Dirt") But while the band was masquerading as a powerful rock unit, the man behind many of the songs was becoming less comfortable with his role and increasingly more withdrawn.
The following year, Smith released Roman Candle, his first solo collection of stripped-down acoustic songs. Gust would later note the stark difference between audiences' intensely personal reaction to Smith's solo material and Heatmiser crowds that were filled with people that "would have beat me and Elliott up in high school." By the time Heatmiser released 1994's Cop and Speeder the band had crafted a sound all their own. Gone were the grunge conventions that made Dead Air sound safe and familiar; now Heatmiser sounded like a band that struggled to play heavy, powerful rock but were hampered by their own introversion. The results are an uneven album with several gems and more than a few stinkers. (Must Hear: "Collect to NYC").
The following year, Smith released another solo album, Elliott Smith. The record is a masterpiece of minimal folk-pop regarded by many to be one of the greatest albums of all time. So much success on his own led to tension within the band. Peterson left the band and was replaced by Sam Coomes (Quasi). Lash took exception to the way Smith wanted the drums mic'ed. Gust grew, understandably, to question his own merits as a songwriter. Despite all of the turmoil, Heatmiser was signed to major lalbel Virgin Records (reputedly so that Virgin could eventually control Smith's solo work). By 1996, tensions had effectively destroyed Heatmiser. However, needing to fulfill their contract the band released Mic City Sons, a widely regarded classic that preceded the Pacific Northwest sound of the late '90s and early '00s. The album contained Elliott Smith classics, "Not Half Right," "Plainclothes Man," "You Gotta Move" and "See You Later," all of which Smith would play live well after the band's demise. Gust, as well, contributed classics of his own in the eerie "Rest My Head Against the Wall" and the brutal "Cruel Reminder." (Must Hear: ALL [for real]) The album is the definitive statement of a band whose elements had outgrown their initial vision.
As we all know, Elliott became as close to a household name as the indie community could have. Either/Or and XO are universally revered by critics and fans alike. Heatmiser may not have been Nirvana, but their attempts at melodic rock were more than mere practice for Smith – their albums hold their own as some of the best music of the mid-1990s.