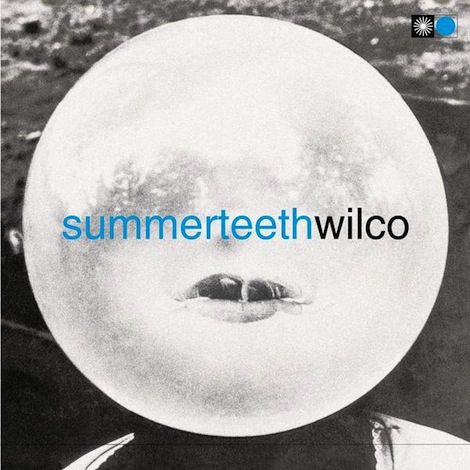 Truly Great
The first album I ever owned by Wilco was actually summerteeth. I was not yet converted to the idea of alt-country and had never really been exposed to Uncle Tupelo. I first heard "Can't Stand It" on a compilation and was struck by two things: Jeff Tweedy's voice, at times subdued and at others exuberant, later overlapping, yet always gravelly; and the various bells and keyboard noodling by Jay Bennett. It was a pop song to be sure, but one that resembled a combination of the alt-country found in similar bands such as the Old 97's and BR-549, and the pop sensibilities of bands like The Beatles, The Beach Boys, and more recently, Beulah. It is an oddly musically upbeat song for its hopeless lyrics such as "Your prayers will never be answered again," and "No love's as random as God's love."
The second song I ever heard from the band was also featured on the Girl, Interrupted soundtrack. Director James Mangold and actress Winona Ryder were both big fans of Wilco and the song "How to Fight Loneliness" soon became one of their favorites and it became part of the living soundtrack to the film as it became part of the Mangold's daily listening on the way to the State Hospital for filming. Having only heard the much poppier "Can't Stand It" previously, I was thrown by the change. When I heard the song playing over the film, it fit in so well that I assumed it was a song from the time period of the film, meaning the sixties. When I hear a song I like in a film, I usually hang around for the credits to find out what the song was. I was shocked to discover that Wilco was the source for this beautifully written stark view of life. Its quiet acoustic guitar and keyboard, delicate backing vocals, and depressing lyrics make for a classic of a song.
I had no other decision to make but to buy their latest record summerteeth if merely to own the previous two songs, if not to find what else the band had to offer. What I found was more sadness, hopelessness, loneliness, and love gone wrong wrapped up in pop, country, rock, and soul. In other words, the album quickly became one of my favorites, and to this day is still my favorite Wilco record.
The hushed menace of "She's a Jar" ends abruptly with the line "She begs me not to hit her" as an answer to original line "She begs me not to miss her," which shows that Tweedy is a clever poet and dangerously introspective and confessional. The following song, a tremendously written cry for help, "A Shot in the Arm," is equally disturbing. Tweedy writes in both first and second person speaking of a 'you' that could easily be himself in the mirror, or a loved one, and also the 'I' of himself or the narrator. He laments "You've changed" and that "What you once were isn't what you want to be any more," while during the bridge of the song he cries, "Maybe all I need is a shot in the arm," the escape of the lost and hopeless. Just to be clear he's referring to drugs, he then sings, "Something in my veins, bloodier than blood."
Two songs of lost love follow with the weepy "We're Just Friends" and the catchy and deceptively fun "I'm Always in Love", the first being a self-convincing test of getting over a broken relationship and the second being a look in the mirror at one's own mistakes of constant infatuation. They are great bookends on similar themes. One would think that the following song, "Nothing'severgonnastandinmyway(again)", would be much more upbeat, and it is, but still with the caveat that "I'm a bomb regardless," as Tweedy shows that the glass is always half-empty.
"Via Chicago" is a perfect follow-up to "How to Fight Loneliness" with more sleepy guitar and dour vocals beginning with "I dreamed about killing you again last night and it felt alright to me." Yeesh. Tweedy bares all in his love/hate relationship with his hometown / base of Chicago and how returning is both a blessing and a curse. "ELT" stands for Every Little Thing and follows the same pattern of upbeat music / downcast lyrics. "My Darling" is a song that Jay Bennett has performed solo at Wilco shows, as he does in recorded performances in Sam Jones' documentary, but is sung by Tweedy on the album. It is by far the most hopeful song on the album and the simplest, being a lullaby sung to a child.
"When You Wake Up Feeling Old" with its Wurlitzer organ and peppy background vocals is both Beatles pastiche and a little akin to fellow townies Chicago's "Does Anybody Really Know What Time It Is?" The title track is more sunny sixties pop with memorable repeated choruses such as "It's just a dream he keeps having."
Most of the pressings of this album now have hidden tracks "Candyfloss," a live staple and great song in its own right, despite its being 'hidden', and alternate versions of "Summer Teeth" and "In a Future Age". Mine came with "Candyfloss" and an alternate version of one of my favorites, "A Shot in the Arm." Why the difference or the change, I'm not sure.
To me, this album is genius due to the collaboration of the dark side of Tweedy and the sunnier disposition of Bennett. The former's great unique vocal style and guitar work, added to the latter's anachronistic keyboards make for a harmonious mixture. It might have been necessary to part ways with Bennett to be able to take an even larger leap with Yankee Hotel Foxtrot, but like some may miss the combo of Tweedy and Farrar, I miss Tweedy and Bennett. Besides, you'd almost swear that, watching the documentary, Bennett was actually played in dramatic recreation by Philip Seymour Hoffman. Not that that really means anything, it's just weird.
summerteeth is the poppiest and most radio-friendly of Wilco's albums. It might not have the edge or ambition of Yankee Hotel Foxtrot or A Ghost is Born, and it might not have the alt-country feel of Uncle Tupelo or A.M., but it does have some of their best pop songwriting featuring great lyrics that tear at the heart while getting you up to dance, or down to your pillow crying. If nothing else, summerteeth is the best Wilco starter album — one which will open the door to all the others. Its more accessible than their first album, shorter and more concise than their second, and more listener friendly than their fourth and fifth. If you don't own any Wilco do yourself a favor and pick up summerteeth. You won't regret it.
Similar Albums:


Neil Young – After the Gold Rush


Ryan Adams and the Cardinals – Cold Roses


The Beatles – Revolver