Yeah Yeah Yeahs : It's Blitz!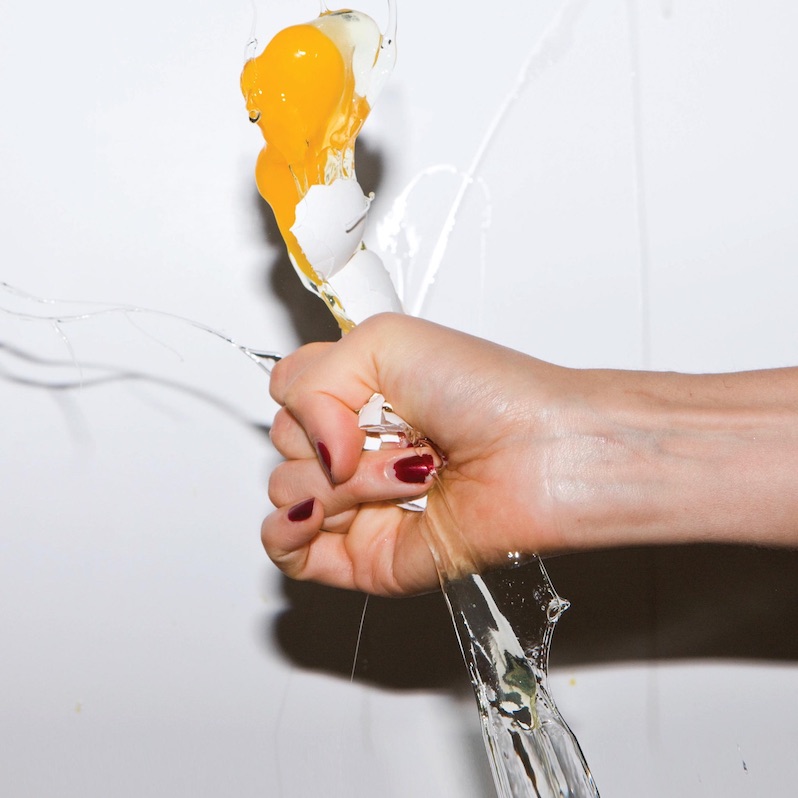 Over three slender, increasingly elevated records Yeah Yeah Yeahs have become one of our most important bands by a measured frailty that's maybe the product of no bass lines. Or maybe it's that Karen O's voice is such a breakable alembic they've always sounded smaller, not bigger, than the sound. At any rate Yeah Yeah Yeahs have never been as rock `n' roll as they seem, Nick Zinner's thorny guitar imagery aside. Yeah Yeahs Yeahs are exactly the pop band their hooky name evokes and It's Blitz! is the album to prove it. Although: 'electro-pop' is used for everyone from Dan Deacon to Cut Copy and might be as bereft as every other lame categorization, so I won't call It's Blitz! electro-pop. (Except it is, mostly.)
In making It's Blitz! Zinner ostensibly occupied the Ed O'Brien role on Kid A, addressing synths and consoles without much attendant training. Given his range of tastes, however, it shouldn't surprise that he's a brewer of sounds; the zippery identities he creates for tracks like "Soft Shock" and "Dragon Queen" are approximately as stunning and fancied as his iconic guitar overlays. You could almost consider Zinner and drummer Brian Chase as the most impeccable of character actors, resetting themselves almost entirely. Chase's typical bullwhip snare and lightning-fast set pieces are almost gone, replaced by lots of process and fussy timing.
Karen O, now dirty 30, is still Karen O. She's doing the same softcore shilly-shally, the same lunatic lullabies, and has maybe been listening to Arcade Fire a lot: to wit, "Skeletons" and "Little Shadow" which seem to be her most exclusive properties on It's Blitz!. Allegedly she handles keyboards herself on some of these and "Skeletons" would be the most logical pick. In short her writing is as beautifully wasted as ever, all filchy couplets ("you've got an attitude/ you've got a way"; "in your room/ in my room") and singsong gibberish ("soon comes rain/ dry your eyes/ frost or flame," whatever "Dragon Queen'"s hallucinatory chorus is on about). Vocally she allows herself a case of early-round American Idol jitters on "Runaway," the shakiest song here, and induces a kind of self-hypnosis on "Dragon Queen," which is a personal favorite. (Of mine, not hers, was that clear?) Perhaps fortunately for Karen, this isn't a lyrics record; there aren't any corners she needs to write herself out of.
A couple tracks would sit nicely next to older YYYs luxuries like "Y Control"; the likeliest of these is probably the rattling, bratty single "Zero" or "Dull Life" where Zinner doubles down on his erstwhile snarl and Karen's black tongue may or may not utter the words "thizzing queen." There's also "Hysteric," a dramatically windswept ballad that's as lush and kindly as "Maps" was, and "Soft Shock," the xylo-riffs and guitar-noodling of which should dispel the false memory of Show Your Bones as a 'post-punk' record. But the best song on It's Blitz! is "Heads Will Roll," a disco'd changeling the bloggier DJs are already killing themselves to remix. Advice: don't. It's fine the way it is.
What's curious about the perceived new direction is that it isn't, really. Large swaths of the album don't stand out, sonically, from its predecessor; it's mostly every bit as shiny and gothic as Bones. If your first record is to cultivate an original fanbase and the second is to extend the brand, the third should be about reconciling the two and It's Blitz! does that flawlessly by adding new techniques and textures to what was already a fine, if insolent, aesthetic. All three YYYs have their heads on swivels, culturally, and there's enough creative dissonance between the three of them to make music that's both reminiscent and, y'know, modern. It's nothing new but it's cutting-edge anyway. Pop music: they're doin' it right.
---
Label: Interscope
Year: 2009
---
Similar Albums: