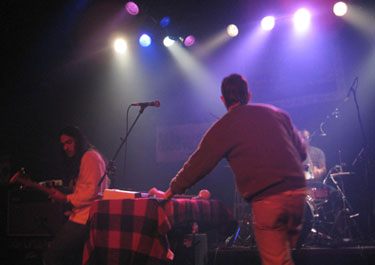 "I was just playing with him," Yeasayer vocalist/keyboardist Chris Keating assured the mostly-drunk crowd. `He' being a loosely affixed mic-stand that spun away from his hand every time the singer reached for it. A quick adjustment from a techie settled things between Keating and microphone.
Said singer may have had a beer or two beforehand himself (the walls of the Showbox practically dripped with alcohol, so it was difficult to tell), but was only the more ecstatic for it. On their first West Coast appearance, the Brooklyn band animated the material from debut All Hour Cymbals with a rifling intensity that only built as the set went on.
Yeasayer opened their performance with a restrained rendition of "Forgiveness," vocalist/guitarist Anand Wilder's earnest pleas of "I've come to beg for forgiveness, so forgive me" casting frozen waves through the boozy haze. All four members chimed in for the Beach Boy-harmonies that transformed the live version into a gilded lullaby.
Throughout the set, which was part of a benefit concert for local independent radio station KEXP, Keating's energy guided the audience through the Middle-Eastern and African influenced rhythms wielded by fretless-bass player Ira Wolf Tuton and drummer Luke Fasano. Tuton's thrumming and Fasano's percussive frenzy, which still offered plenty of breathing room for guitars and keyboards to weave effortlessly, securely anchored Keating's emphatic thrashing.
In the throes of blog buzz-tune "2080," clearly a crowd favorite and which the band incarnated for the show as a sort of chugging Krautrock workout, Keating seemed absolutely touched, his eyes raised and rolled back in what may or may not have been pre-mature enlightenment. Had it not been for the obliterated 40-somethings dry humping next to me, I might have reached a similar state. Still, it was impressive. The song, not the grope-fest.
The minimalist "No Need To Worry" calmed the riled audience enough for Wilder's guitar machismo to flare and for more vocal harmonies a la fellow Brooklynites Grizzly Bear to peer through the ambiance. Darker shades in "Wait For The Wintertime" matched the weather outside, bouncing along a buoyant bass line and nearly inducing a narco-trance awareness.
Yeasayer's innate talent to transcribe such disparate influences (particularly world rhythms and traditional pop structures) and embody them cohesively (and unpretensiously) in a live setting is astounding. The only thing more surprising was perhaps a drunk Santa (who was supposed to introduce the band) trying to convince a woman of his superiority over her boyfriend: "I've got bigger presents than him" and then "Want to ride on my sleigh after the show?" Nevermind, that was just creepy.