10 Essential Doom Metal Albums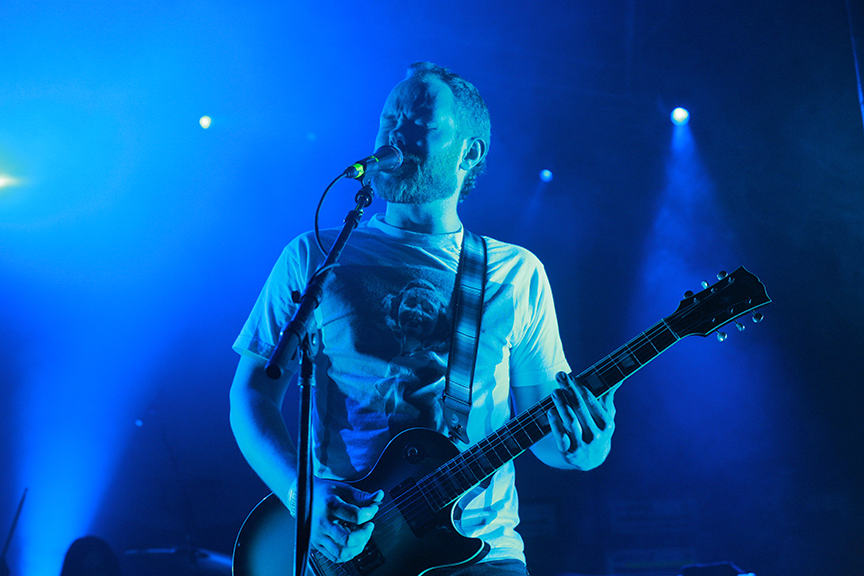 Candice Eley
There's a funny irony in putting up a list of essential doom metal records on the week of Valentine's Day, though it's just a coincidence. This week also happens to mark the 48th anniversary of the debut album by Black Sabbath, the patron saints of doom metal. Though Sabbath is often considered more of a proto-doom band, they essentially invented the sound through Tony Iommi's low-tuned riffs and dark dirges. Over the years, doom progressed from the bluesy Sabbath sound into variations that got heavier, slower, sometimes more emotionally driven and frequently more ornate. Doom metal has many subgenres: Funeral doom, death doom, traditional doom, etc. Though one thing they all have in common is a slower, darker, heavier take on metal than various other genres. Peruse our picks for the genre's 10 best places to start, and dive into the ominous, diverse world of doom.
---
Black Sabbath – Black Sabbath
(1970; Warner Bros.)
This is the genesis of doom metal. Though it didn't have a name yet, and heavy metal itself was still just coming to life, doom metal takes its shape in the ominous grooves and Tony Iommi's bluesy riffs on Black Sabbath's monumental debut. The opening title track is eerie and grim, slowly creeping with Ozzy Osbourne's narration of terrifying visions. But when the song explodes into a climax, it's the sound of doom metal being conjured from the beyond and given unholy life. Though the album fluctuates between blues-rock boogie ("The Wizard"), psychedelic swing ("Behind the Wall of Sleep") and heavy metal thunder ("N.I.B."), Black Sabbath's debut is the most crucial recording in the history of doom.- JT
---
Saint Vitus – Saint Vitus
(1984; SST)
The early '80s was a pivotal time for doom metal with bands such as Witchfinder General shaping a new doom sound in the UK while back in the states, punk label SST was getting in on doom's ground floor. Saint Vitus took a pretty major influence from Black Sabbath, naturally—Sabbath did have a song called "St. Vitus Dance" after all. Yet the California band's sonic makeup carried more than a little punk rawness with it, their fuzzed-out riffs only a few BPMs off from the stoner rock jams of Black Flag's later releases. While Born Too Late might be an equally strong choice, given that it's the band's first album with Scott "Wino" Weinrich, their debut (featuring vocalist Scott Reagers) is doom metal in classic form—dark, raw and ominous. – JT
---
Candlemass – Nightfall
(1987; Axis/Metal Blade)
It's not possible to be a traditional or a doom metal band without citing Candlemass as an influence. The Swedish outfit's epic doom was groundbreaking in the mid to late '80s. Messiah Marcolin was Candlemass' best vocalist, and his performance on Nightfall undoubtedly stands as one of the defining moments in doom in its entirety. It might not have happened at all had he not auditioned for Candlemass by singing "Solitude" to Leif Edling through a phone that his mother held for him. Nevertheless, Nightfall packs some of the richest examples of doom and traditional metal ever to be made. "Bewitched" alone bests most bands' entire discographies. – CD
---
Cathedral – Forest of Equilibrium
(1991; Earache)
Lee Dorrian left Napalm Death for a change of scenery in the late 80's. The result of his new explorations came in the form of Cathedral. Dorrian and bandmate Mark Griffiths built the band out of a mutual admiration for bands like Black Sabbath and Candlemass. Their resultant, full-length debut, Forest of Equilibrium, certainly captured much of that essence. Fuzzy, thick riffs churn about in tracks such as "Commiserating the Celebration" and "A Funeral Request." Dorrian's dynamic vocal range in addition to the diversity of arrangements throughout much of the record create an aural adventure for the listener. – CD
---
dISEMBOWELMENT – Transcendence Into the Peripheral
(1993; Relapse)
While bands such as Paradise Lost and My Dying Bride were making gothic death doom in the UK, Australia's diSEMBOWELMENT was working on something far more sinister. Their lone full-length record, Transcendence into the Peripheral, spun a deeper and more ominous strain of death doom. The quartet was the epitome of the term "sepulchral." Tracks like "The Tree of Life and Death" recruit a burst of death metal and marry it to lurching doom. Album finale, "Cerulean Transience of All My Imagined Shores," in hindsight, gave an early glimpse into the impending force of funeral doom. Ultimately, Transcendence into the Peripheral has become transcendent itself. In the 25 years since its release, it continues to influence many of today's brightest bands. – CD
---
Thergothon – Stream from the Heavens
(1994; Avantgarde)
Funeral doom was born from the minds of Finland's Thergothon. The Kaarina trio took the foundational aspects of death doom and the emotive touches of dirge music and slowed them to a glacial trudge. Though Thergothon was unfortunately short-lived, they pioneered a genre with their one and only full-length album, Streams from the Heavens. Densely layered keyboards and minimal instrumentation all seemed so new at that time. That, in conjunction with vocals that seemed to be a byproduct of violent regurgitation—it is amazing something so slow could be so heavy and evocative. – CD
---
Electric Wizard – Dopethrone
(2000; Rise Above)
I don't do stoner doom, but I do love Dopethrone. Dorset, England's Electric Wizard reached the hazy summit with their 2000 masterwork. Everything clicked in a rage of drug-fueled hate for the then trio of musicians. Jus Oborn's riffs drip with THC resin strong enough to plunge a listener into psychosis. Electric Wizard's employment of sludge styling added a touch of ferocity to their music as well. The murky feedback and hazy riffs combined to create an almost viscous atmosphere. It became a tone that would frequently appear in many young bands looking to break through in stoner metal. Yet, it stands to reason that anything remotely stoner in doom that isn't Dopethrone is simply imitation. – CD
---
Warning – Watching from a Distance
(2006; Miskatonic)
During their 15-year career, Warning only released two albums, which makes them one of the least prolific to be featured among the bands here. Yet the UK doom metal outfit's streak is two for two, with 1999's The Strength to Dream being a strong introduction and follow-up Watching from a Distance their true masterpiece. Comprising five lengthy tracks that move at a gradual pace, Watching from a Distance took the template of moody, Candlemass-style doom and gave it a kind of mournful grace that translated into something as beautiful as it is mighty. Vocalist Patrick Walker shied away from the more acid-laced visions of Ozzy or more fantastical narrations of later doom bands, instead opting for a dark level of introspection. It all works together in a gorgeously devastating symphony of melancholy. – JT
---
Pallbearer – Sorrow & Extinction

(2012; Profound Lore)
Pallbearer thank Black Sabbath in the liner notes of their debut album, Sorrow & Extinction, though the slow, mournful and theatrical sound of the album evokes any number of doom bands from throughout the decades, from Pagan Altar and Candlemass on up to Warning. For that matter, Pallbearer bears a heavy prog influence that's only grown on later releases. Yet for while the Little Rock band take influence from some decidedly non-commercial sources, they've become an important band in contemporary doom, their music becoming an introduction for many recent converts to the sound's massive gloom. It certainly helps that the album is magnificent, comprising five tracks of epic, beautifully composed dirges that balance melody with instrumental prowess. It's because of albums like this that Pallbearer have become torchbearers for a new generation of doom. – JT
---
YOB – Clearing the Path to Ascend
(2014; Neurot)
YOB is proof that "doom" can sometimes be a misleading description for a style of music. Certainly, the Eugene, Oregon trio's slow-moving rhythms and crushing riffs descend from the same bloodline as the other albums featured here. But there's a spirituality that courses through the psychedelic dirges that YOB craft. Clearing the Path to Ascend found them achieving a new level of enlightenment and power, transforming the burly grooves of past records into temples of transcendence. In particular, the closing side-long track "Marrow" is one of the most breathtaking moments in any corner of metal, its gradually ascending progression as close to a religious experience as doom metal gets. – JT
---
Support our Site—Subscribe to Our Patreon: Become one of our monthly patrons and help support an independent media resource while gaining access to exclusive content, shirts, playlists, mixtapes and more.