Underworld : Dubnobasswithmyheadman (20th Anniversary Remaster)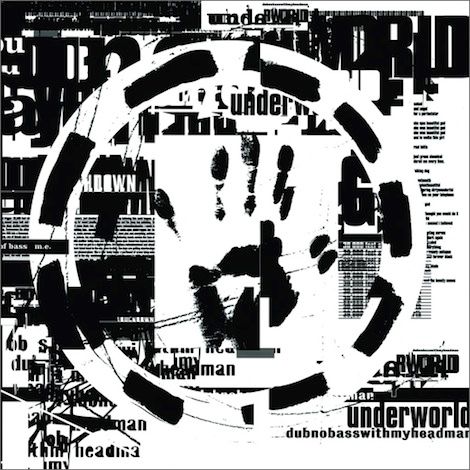 The 1980s were a strange time for Karl Hyde and Rick Smith. For at least part of the decade, the duo stumbled upon good fortune as members of new wave outfit Freur, who squeezed out a light and airy hit single by the name of "Doot Doot." But after that band came to an end just a few years later, Hyde and Smith made a shaky attempt a fresh start in 1988 with a new band, Underworld, and a debut album, Underneath the Radar, marked by a bouncy guitar-and-synth mixture that sounded edgy in comparison to that of their old band, though not actually edgy in any real sense. That album ended up being something of a false start, garnering the group little in the way of commercial success or critical acclaim, and though its 1989 follow-up Change the Weather led to a tour with The Eurythmics, they made little progress beyond that, taking a long hiatus and retiring the band until further notice.
As Hyde and Smith crossed over into the '90s, they were faced with both mundane realities and unlimited promise. Underworld may have been indefinitely on hold, which led Hyde to at least keep up a professional, if less exciting career touring as a member of Deborah Harry's band. Smith, on the other hand, met up with a young DJ named Darren Emerson, with whom he began to trade ideas with. And when Hyde eventually returned to the UK, the three musicians sparked up a new project that saw the release of a series of singles under both the names Lemon Interrupt and Underworld. And though the name lived on, this was very much a different group; on "Mother Earth," their jangle and bounce was replaced with an ethereal dub sound, pocked by a bright field of synthesizers, while the 10-minute "Rez" was all rave, no rock — its gradual but thrilling build-up climaxing in an ecstatic techno pulse.
The newly revamped and reinvented Underworld unleashed an impressive eight singles before finally unveiling their third full-length album, 1994's dubnobasswithmyheadman. And with this, an entirely new entity was born. Not that Underworld's evolution was an entirely unique phenomenon in the British electronic music landscape; Primal Scream made a similar, if less drastic transition into a dance-music aesthetic, while former Housemartin Norman Cook traded his bass for turntables and eventually adopted the name Fatboy Slim. For Underworld, however, this change wasn't just an exciting new phase, it was an absolute necessity for survival. The Underworld of 1988 likely wouldn't have had a home in the '90s, but the one you hear on dubnobasswithmyheadman didn't just keep up with contemporary trends, they actually remained ahead of them.
Released fortuitously during a time when rave culture was beginning to cross over into pop music as a whole, dubnobasswithmyheadman found Underworld both adopting the conventions of techno and house music and rewriting them at the same time. Each of its nine tracks is massive in its own right, save for the comparatively brief centerpiece "Tongue," and a standalone thing of sampler-driven beauty. There's life in these tracks, but there's a lot more than that. They're more than beats and loops, they're masterfully constructed songs, which no doubt reflects Hyde and Smith's history writing rock tunes in the prior decade. With Emerson, they helped translate that talent into the creation of a series of dancefloor monoliths, the majority of which happen to be simply great songs.
The first such song, album opener "Dark & Long," is a compelling introduction to Underworld Mk. 2, and a stunning work of mood and restraint. Strip away the beat and you'd still have a fantastic piece of gothic ambiance, but it's much more fun to keep the bass-drum thump in there, of course. The group's rock roots shine through on "Mmm…Skyscraper I Love You," a 13-minute prog-disco wonder that begins with squealing guitar feedback and, with a little sleight of hand, quickly waves that away in favor of conga drums and a filtered reading of the song's title. There's throbbing synth on "Surfboy," an effects-treatment playground on "Spoonman," and a blissed out pop exercise on the wonderful "Dirty Epic." The greatest A-side to launch from dubno — and there were many — is arguably "Cowgirl," which ranks with "Pearl's Girl" and "Born Slippy" as one of the most fun of Underworld's singles. Part of that is thanks to the propulsive rhythm, but a lot of it has to do with Karl Hyde's cut-and-paste chants ("I'm invisible… I'm an eraser of love").
An Underworld dubnobasswithmyheadman reissue has been released to coincide with the album's 20th anniversary, and if the 73 minutes of the original album seems like a wealth of material, then just imagine what happens when you double it — or better yet, quintuple it! Released as both a two-disc reissue and a 44-track Super Deluxe edition, each version of dubnobasswithmyheadman features extra goodies. The former is the more practical of the two, housing essential early singles like "Rez" and "Spikee," the latter goes buck wild with remixes, live improvisations and other unreleased recordings. Granted the five-disc version costs more and probably won't garner the same amount of listens, but it at least avoids the weird studio deconstructions and rehearsals a la the Beach Boys' Smile; there are no isolated vocal Karl Hyde vocal tracks as far as I know. Not that it would be so bad of a thing; when dubnobasswithmyheadman was released, it was groundbreaking, and it's remarkable that it's aged so well. Having another window into how an album so important came into being might only make the experience richer.
---
Label: Junior Boys Own/Universal
Year: 1994/2014
---
Similar Albums:


LCD Soundsystem – Sound of Silver


Aphex Twin – SYRO


Chemical Brothers – Exit Planet Dust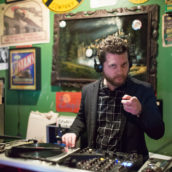 Jeff Terich
Jeff Terich is the founder and editor of Treble. He's been writing about music for 20 years and has been published at American Songwriter, Bandcamp Daily, Reverb, Spin, Stereogum, uDiscoverMusic, VinylMePlease and some others that he's forgetting right now. He's still not tired of it.