Endless Playlist: Sleater-Kinney "Bury Our Friends"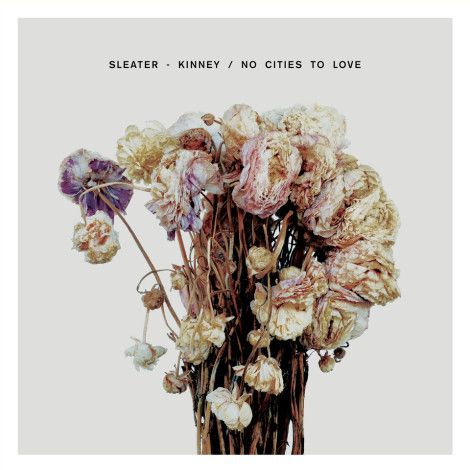 It's not a coincidence that Sleater-Kinney's reunion takes place just as we were getting comfortable with their break up. In the near-decade since their phenomenal The Woods and the band's final tour, Corin Tucker, Janet Weiss and Carrie Brownstein have been busier than ever. Tucker has released two well-received studio albums and collaborated with a mysterious supergroup led by Peter Buck. Weiss — one of indie rock's best active drummers — has kept busy behind the kit for the Jicks, Quasi and Wild Flag. Brownstein further expanded her voice and spotlight, both as a co-bandleader for Wild Flag and as one half of the generation-defining sketch comedy vehicle Portlandia. Not bad for a rebound.
All this is to say that the three women that comprise this band have made it crystal clear that they don't need a Sleater-Kinney reunion. This isn't about record sales or festival shows to pay the bills or make these women household names again, because we never stopped talking about them in the first place. No, this is about Sleater-Kinney wanting to do Sleater-Kinney again. It's about passion for their own music and their love for writing and playing as a unit. It's about having enjoyed being apart but still missing this band as much as their fans do.
On "Bury Our Friends," the first single from No Cities To Love, that foundational passion couldn't be more clear. From Brownstein's understated, ass-kicking riffs to Tucker's enraged crooning to Weiss' jagged rhythms, the band's formula is back in full force. That's not to say the trio hasn't learned something in their time apart; soaring synth lines, subtle harmonic blending and a pop-oriented breakdown are all evidence that Sleater-Kinney's other projects have rubbed off on their overarching sound. But all in all, this is a fire that could only be lit by these three women.
And damn if that fire doesn't burn. "Bury Our Friends" wouldn't be a Sleater-Kinney song if it wasn't lashing out against something — a feeling, a disappointment, a societal norm. So it's fitting that the band's first new track is a 'comin-back-atcha' anthem of sorts, a declaration of one's persistence to "climb out from under concrete" and start anew. When we last left the band with The Woods, they were bold, fantastic and almost otherworldly in sound and message. Here, we have the trio back on solid ground, knocking out punches like "only I get to be sickened by me" and "your voice is a crumb; it leads me into wilderness." One gets the sense that the narrator here has overcome something far more drastic than a nine-year hiatus, but the words are flexible enough to be clear in multiple lights: Whatever situation is at hand, whoever has struck you down, you can and will overcome it.
The song's climax finds the band shouting for the listener to "make me a headline, I want to feel bold," and the true beauty of this song can be summed up by the sincerity of that single line. Sleater-Kinney — together and apart — are far beyond the need to earn attention or praise. Yet here they are, giving it their all in hopes of striking a chord with old and new fans alike. It's that combination of spunk and earnestness that make this band one of a kind, and "Bury Our Friends" a truly great song. Welcome back, old friends, it's good to see you.
[from No Cities to Love, out Jan. 20; Sub Pop]