Treble's Top 200 Songs of the '70s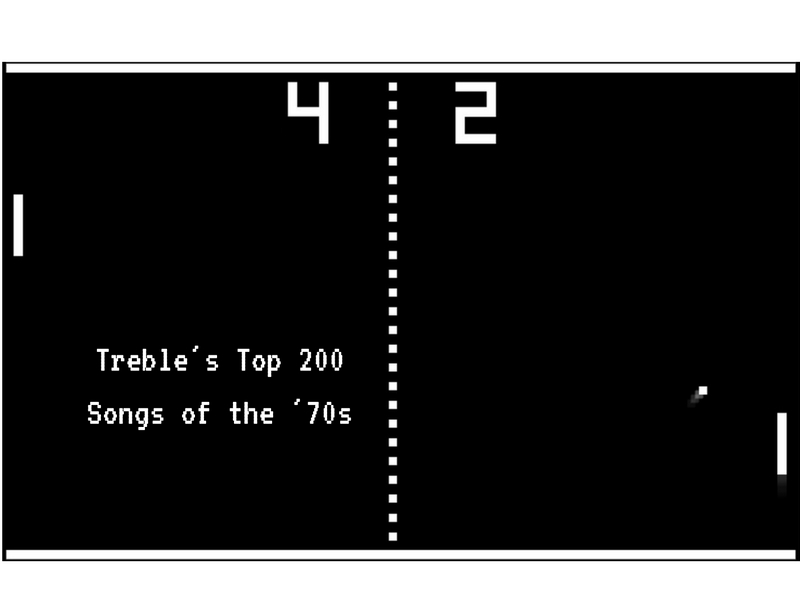 For Treble, summer (and sometimes spring) usually means devoting at least one week to a lengthy best-of-decade list. In our nine years as a website, we've covered a lot of ground in that respect, having at least covered 50 years worth of albums, and three decades worth of songs, most recently having assembled our favorite songs of the '80s. And this week, we're adding another decade-long songs list to the archives.
Viewed from just about any angle, the 1970s unearthed some of the most radical and innovative sounds in popular music. As much as the '60s were a revolution for rock music, soul and jazz, the '70s were a time of experimentation and pushing extreme boundaries in music. Punk rock, though having officially been birthed in 1976, celebrates 35 years of a genuine phenomenon this year, for one. Though that's only scratching the surface of how much reinvention and button-pushing happened in the '70s.
As the Summer of Love faded into the past and many of the heroes of the '60s either grew jaded, moved on or, more tragically, had their lives cut short, there was a gradual shift of mood and of direction. The influence of Bob Dylan gave rise to a burgeoning singer-songwriter movement, whose introspective lyricism stood in stark contrast to the protest songs of the prior decade. Soul and funk artists, meanwhile, took up a more socially conscious stance, sometimes in the form of Blaxploitation soundtracks a la Curtis Mayfield's Superfly, and sometimes in the form of poetic cynicism, as Gil Scott-Heron did. Progressive rock became a household term. Punk rock thumbed its nose at the system. Industrial was born. Disco became an unstoppable phenomenon and subsequently was met with an almost irrational level of hostility. In fact, attempting to tell the whole story in 200 songs is a lot harder than it sounds. As such we imposed a five-song limit per artist to help streamline it, though interestingly enough, only one artist ended up warranting the rule (and you'll find out who soon enough).
Because most of Treble's writers were either born after the '70s were over, or a bit too young to fully remember it all, this list isn't so much an exercise in nostalgia as it is an appraisal of the impact that the decade's songs had on the decades of music to come. Spoiler alert: it was pretty huge. But the underlying rule here is that every song included here is one we will stand by and, for that matter, actually enjoy. And we hope you enjoy the feature, too.
For the sake of allowing readers to get even more out of the feature, we've included YouTube links with each song entry. We've also included a complete Spotify playlist of every available song on the list. Enjoy our list of the best songs of the 70s.
[
#150-101
]
[
#100-51
]
[
#50-21
]
[
#20-1
]
---
200. Neil Young
"My My Hey Hey (Out of the Blue)"
(1979; Reprise)
Available on Rust Never Sleeps


Our program begins with a sole troubadour, taking the stage armed with nothing more than an acoustic guitar and a harmonica. "My my, hey hey," he sings, "Rock and roll is here to stay." But if "My My Hey Hey" is a celebration of rock `n' roll, why does it feel like a wake? The melancholy folk tune seems to lament the passing of time and mortality itself ("The King is gone, but he's not forgotten"), yet also acts as a kind of satirical mockery of the stereotypes with which Young wallpapers his verses. Is it better to burn out than it is to rust? Maybe. But with this tune, released more than a decade into his career (as well as its noisier album-closing companion), Young calls bullshit, effortlessly and elegantly. – Jeff Terich
---
199. ABBA
"Dancing Queen"
(1976; Polydor)
Available on Arrival


There's a reason ABBA is the music aficionado's classic go-to "guilty pleasure" and the reason is there's absolutely nothing to feel guilty about when there's this much pleasure. The band's biggest hit was teeming with hooks destined to stay lodged in your brain for days. The lush strings, descending piano hits and bass grooves each contain their own version of an earworm, not to mention the flawless harmonies that abound. And to call the melody infectious doesn't even begin to capture its contagiousness. Even if it can still manage to induce a handful of cringe-worthy moments when played among large audiences, you can't deny its sheer pop power. – Chris Karman
---
198. Stevie Wonder
"Higher Ground"
(1973; Tamla)
Available on Innervisions


In 1973, Stevie Wonder was unstoppable. Even a near fatal car accident just days after the release of Innervisions only served to slow him down, but it certainly didn't take him out of the game for long. If it was hope and faith that got him through the difficult recovery process, it was also faith and hope that helped buoy the contagious funk of "Higher Ground." The song proved that even on an album tackling dark subject matter like social justice, racism and drug addiction, Wonder couldn't help but let his optimistic side shine through. – Chris Karman
---
197. Pere Ubu
"Final Solution"
(1976; Hearpen)
Available on Terminal Tower: An Archival Collection


For a number of years, Pere Ubu stopped playing "Final Solution" to avoid attracting neo-Nazi factions who had become infatuated with punk's flirtation with fascist aesthetics. But while David Thomas was surely, as he has said, inspired by Conan Doyle's Sherlock Holmes Story, "The Final Problem," there is no denying the uneasy atmosphere diffused by those two words. But this is this final solution to the teenage problem. And the teenage problem erupts at odd angles in the land of Pere Ubu: the girls don't like you, but it's because you've got a misdirection. The problem with mom is that she refuses to approve of your strange kind of wit. "Final Solution" is explosive to this day, charged by both an almost feral garage rock angst and oblique gestures toward high art's resistance to consumable meanings. – Tyler Parks
---
196. Derek and the Dominos
"Layla"
(1970; Atco)
Available on Layla and Other Assorted Love Songs


Eric Clapton's passionate plea to Pattie Boyd Harrison is a triumph of conflict. It's a love song delivered with the throat-shredding and heart-rending intensity of lust, by a man desperately seeking the affection of a woman who has no interest. Then there's the self-disgust underlying the lyrics, wanting what he knows he shouldn't desire, especially (feminists forgive me) his best friend's girl. Then there's the dichotomy of the first half of the song, very much in a rock-music, guitar oriented form, and the second half, of an almost classical music influenced piano-driven nature. The song, written by Clapton with Jim Gordon, and the riff composed by Duane Allman, represents the duality of romance: passion versus lust. Sadly, Clapton was hardly ever this passionate again. – Nick Ulbrickson
---
195. Michael Jackson
"Rock With You"
(1979; Epic)
Available on Off the Wall


Hitting the Billboard chart at No. 1 when it first debuted, Michael Jackson's "Rock With You" is a genuine and impeccably crafted pop song. With its sprightly, snapping disco beat and simple, yet emotional lyrics, the tail end of the '70s would be nothing without this, one of Jackson's greatest contributions to pop music. Aside from the stellar vocal performance, there's Quincy Jones behind the boards perfecting production, Rod Temperton's songwriting being put to good use, not to mention Louis Johnson's slick basslines. "Rock With You" integrates so much in such a small amount of time. It's funky and soulful. It's romantic and simple. Whichever way one chooses to describes it, this is a monument in pop music. – Giovanni Martinez
---
194. Rolling Stones
"Beast of Burden"
(1978; Rolling Stones)
Available on Some Girls


Without a doubt one of the Stones' gentler songs, "Beast of Burden," while not as romantic as the moving "Angie," does (thankfully) contrast greatly with the quite frankly misogynistic "Under My Thumb." "Beast of Burden" finds Jagger begging, whining and pleading for the woman he loves to make love to him. There's no poetic pretense in the lyrics; Jagger wants one thing and he's not afraid to ask for it. As with a lot of their `70s material, on "Beast" the Stones infuse their music with a more soulful element, rather than simply being rock for rock's sake. This control and restraint is what makes so many of their songs, this in particular, so oddly moving. – Grace Barber-Plentie
---
193. Joe Jackson
"Is She Really Going Out With Him?"
(1978; A&M)
Available on Look Sharp!


There are a lot of serious tracks on this list, but we've got to get our laughs somewhere, right? Joe Jackson had a unique talent of combining edgy new wave with a wry sense of humor (not much unlike later acts ranging from Blink 182 and Ben Folds). And "Is She Really Going Out With Him?" is a track that anyone who grew up as a hopelessly romantic outcast can appreciate. So if your amorous plans ever fail, worry not, you at least have this track for commiseration. – A.T. Bossenger
---
192. Freda Payne
"Band of Gold"
(1970; ZYX)
Available on Band of Gold


Poor girl can't catch a break. In her breakthrough hit, penned by famed Motown songwriting team Holland-Dozier-Holland, Freda Payne is "filled with sadness, filled with gloom" over the seeming absence or departure of her lover. Or so it seems — as it turns out in the pre-Viagra era, her man just isn't up to the task: "That night on our honeymoon/ we stayed in separate rooms." Ouch. As paeans to dissatisfaction go, however, "Band of Gold" is only slightly less upbeat than Elastica's "Stutter," its soulful strut and almost metal-sounding guitar riffs with sitar effects combining for an unusual slice of `70s soul. If it's any consolation, "Band of Gold" most likely soundtracked its share of physical intimacy in the past 40 years. – Jeff Terich
---
191. Carole King
"It's Too Late"
(1971; A&M)
Available on Tapestry


A break-up song, but one without all of the spite, egomania and resentment, Carole King's "It's Too Late" provided audiences with a genuine look at a relationship that merely drifted apart instead of crashed. The tender and thoughtful lyrics sync with a memorable guitar melody and laid-back piano hook to draw audiences' sympathies with Carole — after all, what jerk let this classy, beautiful chanteuse slip away? – Donny Giovannini