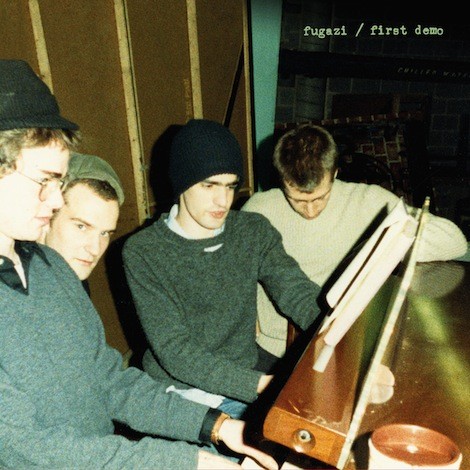 In the interest of full disclosure, I'll go ahead and admit there's no universe in which I wasn't going to thoroughly enjoy this record. I'm a long time listener (first time caller?) of Fugazi. I admire everything the Washington, D.C. post-hardcore band has touched (even the somewhat self indulgent documentary Instrument), collect their records on vinyl and keep in touch with the band members' current projects. For fuck's sake, I have lyrics from "Merchandise" permanently inked into my right forearm. So yeah, I'm a Fugazi fanatic and biased to an undeniable degree. So the question wasn't if I was going to enjoy First Demo, but how.
Born from the resourceful D.I.Y. culture of D.C. hardcore, Fugazi have always approached the business side of music with a seemingly calculated sense of awareness. While still an active group, the quartet would play nontraditional venues and serve as their own tour staff (drivers, roadies, management, etc.) in order to cut costs and keep tickets cheap for their growing audiences. In the same light, the band had the foresight to record enough of their live shows that they are still releasing recordings of those sets over a decade after their hiatus. So it's no surprise that Fugazi held on to their first demo for so many years before officially releasing it to the public.
Some elements on First Demo, namely the sub-par recording quality and occasional moments of misdirected, unrestrained chord vamping, play out as you'd expect on any band's first attempt at recording their music. But what's shocking about First Demo is the amount of material and influences on these recordings that Fugazi would visit much further down their career path. While the band was always heavily inspired by certain elements of hip-hop and dub, those elements were played down quite a bit on their first EPs, as well as the excellent Repeater, in favor of the bolder, more immediate satisfaction of hardcore. But, while it was easy to assume those influences crept out in stronger manifestations over time, one listen to First Demo proves the exact opposite. The dub-heavy version of "Waiting Room," for instance would feel more at home among the more subtle tracks on End Hits, while the piano runs on the more sprawling take on "Merchandise" recall something we might have heard on Red Medicine. Even the less striking tracks here, like "And The Same," boast the sort of eruptive background noise that would make albums like The Argument such a mesmerizing affair. While I can't speak for Fugazi's members, it's almost as if the band decided to hold off on those more experimental elements, patiently waiting until they were sonically mature enough to pull off such moves with the flawless execution they would later reach.
Other tracks on First Demo (such as "Furniture," later re-recorded and released as an EP shortly before the release of The Argument) show just how long a tune could stay in the band's rotation before it made an official release. It's decisions like this that show what separated Fugazi from the pack of punk bands in the late '80s and early '90s. They didn't get lucky or accidentally stumble upon a new and exciting sound. They were deliberate, to such an extent that the 1988 version of the band heard here decided to hold back a little bit of their experimental edge by the time they hit the studio again less than six months later. First Demo turns out to be more than a smile-inducing look back at the younger version of one of my favorite bands. It's a solid verification of all the reasons I fell in love with Fugazi in the first place.
Similar Albums:


Fugazi – Red Medicine


Jawbox – For Your Own Special Sweetheart


The Dismemberment Plan – Emergency & I