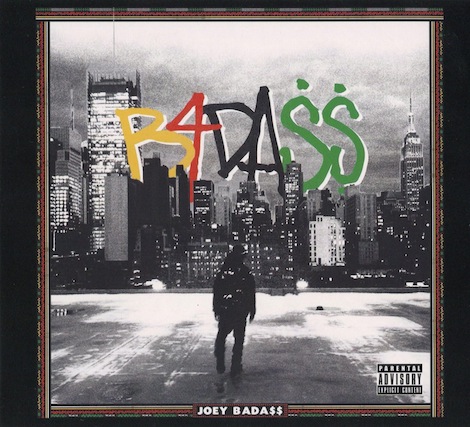 With only a handful of releases to his name, Joey Bada$$ has managed to build up a respectable fan base and more than a few positive nods from critics. His brilliant 1999 mixtape had resurrected boom-bap era rap along with verses spit over instrumentals by MF DOOM and J Dilla, two artists he reveres. His last mixtape, Summer Knights, while still maintaining the aura of '90s hip-hop, featured a darker tone and was mostly rooted in his grief with the loss of close friend and Pro Era co-founder, Capital STEEZ. With B4.DA.$$, Joey's studio debut, he finds comfortable ground and sharpens his skill sets enough to remind listeners what made him a likeable personality in the first place.
Teamed up with his usual collaborators (Static Selektor, Kirk Knight, Lee Bannon), Joey benefits from a proper studio record, since the work featured is more polished and the crafted beats are tailored to his dynamic skills as an MC. Here, the production is full-bodied and matches well with Joey's energetic flows littered throughout. Opener "Save The Children" begins with enormous vitality as he recites his message. "Like Me," a track featuring production from The Roots and J Dilla, is Joey's most socially conscious and fully introspective track. As he muses, "Cats get decapitated for actin' a fool/Blacks get their ass sprayed just for makin' a move," and continues, "I pray there hope for a nigga like me," in a verse that yearns for change in a society that desperately needs it. Similarly, "Paper Trail$," an excellent collaboration with DJ Premier, finds Joey turning his attention to the continuing theme of money. Joey cleverly interpolates Wu-Tang's notable classic, "C.R.E.A.M." while expressing his frustrations in a capitalist society, such as "Before the money, there was love/But before the money it was tough." "Christ Conscious" takes Joey to new levels, not only with the tight beats provided by Basquiat, but Joey's extensive boasting claiming he's not finished with rap til he reaches the third dimension, a reference to theory of Christ Consciousness. For someone so young, Joey Bada$$ has become remarkably self-aware, and his reflection on his immediate successes and love from the the hip-hop community makes for great storytelling.
While his mixtapes were merely showcasing some early rap muscle, B4.DA.$$ is the beginning of something new for Joey and slowly but surely shapes his imprint on music. Joey's rap skills make him versatile, and he continues push forward for more growth creatively. "Teach Me," a jazzy track featuring Canadian Pop artist Kiesza, is one of the few pieces of music that works because of its simplicity. It further proves Joey can squirm his way through straightforward songs, still hanging on to his swift rapping techniques and one that can reach other audiences. It's really only a matter of time until he hits his bigger creative watermarks. His earlier releases and collaborations barely scraped the surface — with B4.DA.$$, he's finally coming into his own.
Similar Albums:


Schoolboy Q – Oxymoron

The Underachievers – Cellar Door: Terminus Ut Exordium


NehruvianDOOM – NehruvianDOOM