Unknown Mortal Orchestra : Multi-Love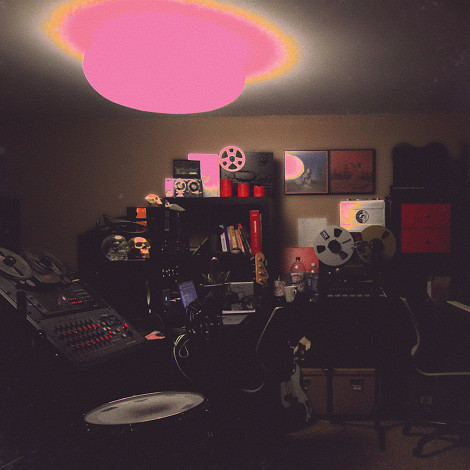 The third album from Unknown Mortal Orchestra marks a move away from the disillusioned tales of loneliness and failure in love that filled their work to date; for eight of the nine tracks on Multi-Love, it is the anxieties that afflict relationships themselves that come under the microscope. Coupled with this shift toward more candid, personal themes, however, is a turn toward lyrical abstraction—principal songwriter and producer Ruban Nielson may invite you into his headspace, but you'll have a job interpreting his innermost thoughts. Many of the songs here read like riddles that you might churn out mid-trip, only to dig out a few days later and puzzle over. And yes, drugs remain very much at the core of UMO's constitution.
Nielson—a New Zealander now based in Portland—created Multi-Love from scratch in his basement (as depicted on the album's sleeve), reputedly rewiring old broken-down synthesizers in an effort to formulate new sounds to articulate his organized madness. The emphasis therefore has switched away from a live-band aesthetic, and towards the most 21st Century of things, a bedroom recording. This allows for far greater exploration both thematically and musically, and Nielson should be commended for his willingness to scrutinize new areas of his own creativity rather than relying on a proven formula that frankly could have worked for him for at least another two or three records. What results may lack much of the addictive Nuggets-y pop psychedelia catnip of UMO's previous music, but what has replaced it may prove more nourishing.
Lead single and opening track "Multi-Love" serves as a liaison between the two UMO worlds. After a typically fluttery piano opening, there is a honeyed melody that throws back to 2013's II, but whirling synths suggest at the progression that lies ahead. "It's not that this song's about her, all songs are about her," sings Nielson, more akin to contemporary R&B in the vein of FKA twigs or Shamir than to the '60s luminaries that older UMO tracks routinely evoked ("The World is Crowded," a smooth funk jam that belongs in 1972 is perhaps the one exception).
"Ur Life One Night" is the clarion call for the new UMO, blustering in with a drum sound that calls to mind Martin Hannett's clattering echo-laden production on Joy Division's Unknown Pleasures. The heavy trippiness is still here in force, but now with a more business-like determination. Nielson's holed-up production process has infused the music with a focus and efficiency that had never previously been apparent, and the result is a strange combination of looseness and discipline. Later in the album, the catchy "Stage or Screen" resists wallowing in its faraway daydreaming, keeping the reins tight when previously there may have been indulgence.
The album centers on the one-two punch of "Can't Keep Checking My Phone" and "Extreme Wealth and Casual Cruelty." The former is a percussive, rhythmic concoction, reminiscent of 80s post-disco beatniks ESG, which as it stretches its legs reveals itself as a Panda Bear-style scattered array of processed sounds that are lovingly assembled into a heady mix of body-shifting energy. Nielson has stated that both Yeezus and Arca's Xen were particular influences, and they are felt here. If that is the night out, then "Extreme Wealth" is very much the comedown. A fur-lined, fuzzily produced painkiller, it concludes with 45 seconds of muted bass pounding to guide us through the tender hangover.
The one outlier on Multi-Love is its final song 'Puzzles'. It is hard to hear any U.S.-based artist who opens a track with the sound of a window smashing in the night, and not infer some level of political comment. And so it proves, as Nielson presents a plea for common sense: "America, open up your door/Is it always right to fight against the other?" he sings, as an angry guitar dominates the mix for the only time on the album, and a crisper drumbeat drives the point home. "What is a 'person of color'/Is it wrong to have a zone that isn't monochrome?" he continues. As anger dissipates into confusion, one is reminded of Sly & the Family Stone's great There's a Riot Goin' On. "I don't want to solve your puzzles anymore," Nielson repeats in resignation.
While Multi-Love is susceptible to some of the common shortcomings of home-produced albums, namely the absence of a truly soulful rhythm section or a sense of spontaneity that is synonymous with their live sets, this is real progress for Unknown Mortal Orchestra, and for many, this is the record that will seal them as one of this era's great bands.
Similar Albums:


Tame Impala – Lonerism


Pond – Hobo Rocket


Thundercat – Apocalypse